Before and After: HGTV's "Call the Closer" Created an All-White Kitchen That Meets These "Perfectionists'" High Standards
We independently select these products—if you buy from one of our links, we may earn a commission. All prices were accurate at the time of publishing.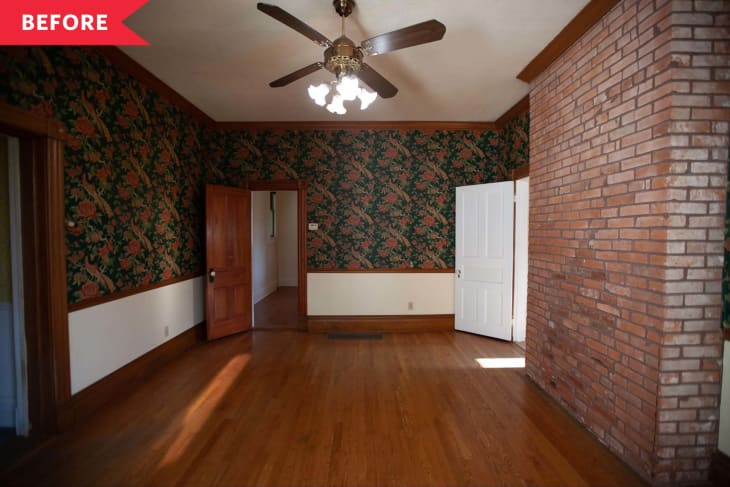 Some prospective homeowners just can't decide on a new place. That's where real estate expert Lauren Risley of HGTV's new series "Call the Closer" comes in. During the series premiere on Nov. 8 titled "The Perfectionists", she isn't phased at all by a couple with four children who have worked with five agents, but still can't pick a home. Instead, she uses some psychology, a bit of marriage counseling, and a lot of creativity to help Arin and Sam in St. Louis finally achieve their dream home.
After showing the couple homes in their price range, which only meet some of the specifications they've outlined (and there are many), she decides to show them a more expensive home to see if that will appease them. When it doesn't, she realizes that they aren't going to settle until they have more control over the finishes, decor, and every tiny detail of a home. So, she steers them towards a fixer-upper with major potential, begging them to keep an open mind as they tour stain-filled rooms and a closed concept layout. It pays off — the couple agrees to fix up their new home, and two rooms in particular got a major makeover, the kitchen and the foyer.
Upon entering the foyer, the couple encountered dirty carpet, strange ball decor on the staircase, outdated tile, and an old-fashioned brown and white color scheme. Just weeks later, her team would turn this outdated foyer into a character-filled but much trendier version of the original.
Turns out, it was never the ball banister that was really the problem, but everything around it. The designers created a "modern welcoming feel at the entrance," including high contrast black stairs and accents and beautiful new flooring. Shabby chic decor softens the stark black and white color scheme with dark browns and creams, and the banister became a quirky trait the homeowners never even knew they'd love.
Another major makeover was the kitchen, which not only moved rooms entirely, but checked off each of Arin's specific requirements, including an all-white color scheme and ceiling-high cabinets (a request she added on halfway through the renovation).
There's only one feature of this outdated living space that made it into the homeowners' new space, and that's the charming brick wall, which was painted a darker stain than it appears in the before photo. The floors, and the entire rest of the room were completely redone.
The sleek, clean, and updated all-white kitchen with gold accents checked all the boxes for the homeowners, who hadn't found a single kitchen that would meet their needs and preferences before. Risley taught the couple that they could soften the all-white look with a light wood-colored hood, which "warms up" the space. They also chose a textured backsplash that extends to the ceiling. Risley's interior designer friend recommended a variety of knobs and pulls, rather than all pulls, which she says lowers the cost and also creates a softer look. Golds and browns play easily off one another in this otherwise pristine white kitchen.
The white oak floors and walk-in pantry make this a seriously enviable space that the couple never would have found without renovations, Risley, and an open mind. After all, Sam jokes that even after this whole process, he still has no idea what his wife Arin means by "character."