Easy, Inexpensive Ways to Boost Your Curb Appeal, According to HGTV's Dave and Jenny Marrs
We independently select these products—if you buy from one of our links, we may earn a commission. All prices were accurate at the time of publishing.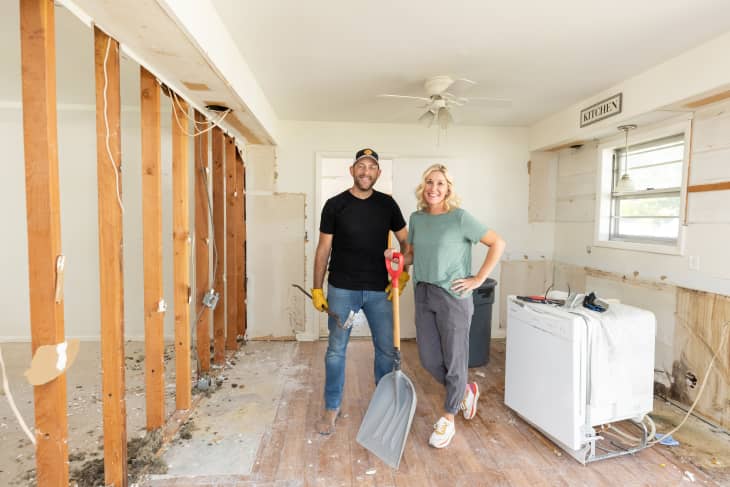 It's easy to get caught up in the interior of your home during a renovation. The focus of the renovation is most likely on the inside of the house, and exterior factors — including basic curb appeal — can fall by the wayside. 
In "Fixer to Fabulous," which returns to HGTV for Season 4 this week, hosts Dave and Jenny Marrs have become experts on addressing the entirety of a home, including the outside. In a recent interview with Apartment Therapy, the duo shared that the key to boosting the curb appeal of your house is in the details. Their recommendations focus on the small changes that can make a big difference, as opposed to major renovations.
"I think quick things, obviously, are adding potted plants on your front porch and updating your landscaping outside," Jenny said. "I think plants are probably the biggest thing. Anything green." She suggested incorporating pops of color, flowers, shutters, and window boxes to help enhance the exterior. She noted that changing your front door, or even just painting it, can also be a quick and easy way to help boost curb appeal.
"I think swapping out lighting [is important]," she said. "Sometimes you buy a house and you have some builder grade lighting on the front porch and that really is the first thing people see." 
"Like Jenny said, to put a corbel on or put on some shutters… it's not expensive, but it really is a big impact without having to change the structure of the house," Dave said.
In terms of bigger projects, porches are always an asset to a property, according to Dave. For homeowners who already have one, he suggested putting a swing or some rocking chairs out, which are both functional and stylish. He also recommended adding trim or other little details, which help "take an ordinary house and make it something different."
"Fixer to Fabulous" airs Tuesdays at 9 p.m. ET/PT on HGTV and discovery+.