HGTV Star Egypt Sherrod on Flipping Homes—and the Best Real Estate Advice She's Ever Received
We
independently
select these products—if you buy from one of our links, we may earn a commission. All prices were accurate at the time of publishing.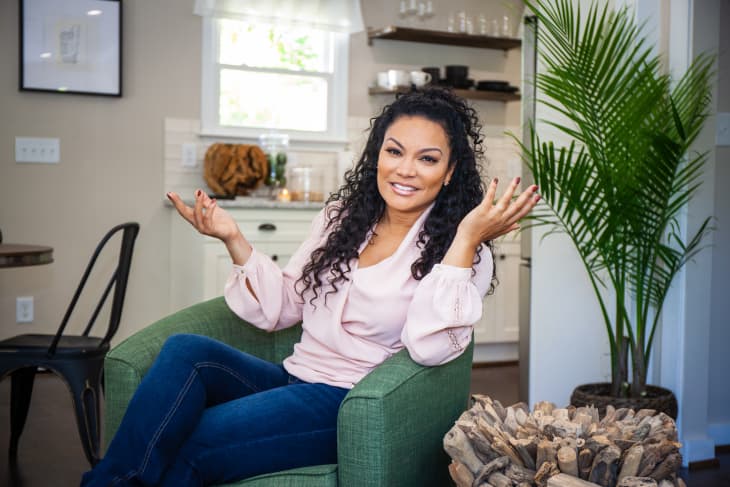 Egypt Sherrod knows how to create opportunities. Before hosting two of HGTV's most popular shows, "Property Virgins" and "Flipping Virgins," she was a radio host at one of New York's most listened-to stations, WBLS 107.5. Eventually, Sherrod had the chance to use her radio experience interviewing celebrities like Prince and Oprah to nail her audition for a new HGTV show that would go on to be "Property Virgins." 
Sherrod was already a licensed real estate agent and homeowner, having bought her first property at 24. With her bubbly personality and practical advice, Sherrod guided first time buyers and flippers, and in the process offered viewers at home a helpful guide to real estate. Today, she's a successful author, speaker, and CEO of her own real estate company. 
We sat down with Sherrod to talk about what she's learned in her years of flipping homes, why buyers should take advantage of the current low interest rates, and the best piece of real estate advice she's ever received. 
Apartment Therapy: You have years of experience helping people to buy, flip, and sell homes in addition to your own projects. What do most successful flips have in common?  
Egypt Sherrod: In the business we always say that you either make your money or lose your money when you first acquire the property. With that said, the most successful flips are when the investors have done the homework and the numbers make sense upfront. If you pay too much for the property then you spend the entire flip experience just trying to dig yourself out of a hole. You never want to pay too much for a property. Always leave a buffer for unexpected expenses, get good repair estimates, and complete the process quickly. No matter how much you like a flip property, if the numbers don't work, then neither should you! I cover all of this and more thoroughly in my digital program FlipWithEgypt.com where I take you soup to nuts through the process of successfully flipping property.
AT:  In your book, "Keep Calm…It's Just Real Estate," you write that you were able to purchase your first property at the age of 24 and by 30 you flipped a dozen properties. Today, you're the CEO of the Egypt Sherrod Real Estate group. Do you have any real estate regrets over the years? 
ES: Yes, just like any investor, I have a few regrets and they pretty much revolve around the properties that I let get away.
AT: What role does credit play in house flipping? Can potential buyers with bad credit get into flipping real estate? 
ES: Credit is always important! But believe it or not, you can still flip properties without any credit or with less than perfect credit. Hard money lenders look more into your business plan and the overall opportunity than they do into your personal credit history. Private money lending is also a great field to plow when looking for finance resources when you have less than good credit. Depending on the type of deal you are doing, you can also source crowdfunding. If you have no credit and no money at all, then the wholesaling business may be a good avenue for you. It will allow you to break into the business without the resources, and still get a piece of the pie.
AT: Do you think it's helpful for someone who wants to flip their first property to be a homeowner first? Are there lessons from being a homeowner that can prepare someone to flip a home? 
ES: There are pros and cons with each. I was a flipper before I owned my own home. It allowed me to be unencumbered and take more financial risk since I was cash heavy. But if I had to do it all over again I would have secured my own home first. As a homeowner, you are building equity and can borrow against your own home with a home equity line of credit. That's another great way to scrape together cash to invest. The key here is to make sure you pay your home equity line back once you profit.
AT: Mortgage rates are still very low right now. Do you think now is a favorable time to buy, sell, and flip real estate? Or are there other factors that determine a good time to flip? 
ES: Yes, rates are historically low. As a matter of fact, they are lower than they've been my entire life. In my opinion, it is always a good time to invest in real estate. If you talk to almost anyone who has amassed a great deal of wealth, you can bet that a good part of their portfolio is in real estate. The one thing they will never make anymore of is land. So own as much of it as you can. Just make sure you have run the comps and learn your market territory. Understand what type of properties are appreciating, renting at top dollar, and get the most development offers. You make the largest profit when you are willing to be brave and explore opportunities that others may be afraid of.
AT: What's the best piece of advice you've received about buying real estate? 
ES: Never get emotionally attached, always have an exit plan, and if the property pays for itself, never sell it!