Before and After: HGTV's "Home Town" Fills This Dark, Empty Space with Light and Personality
We
independently
select these products—if you buy from one of our links, we may earn a commission. All prices were accurate at the time of publishing.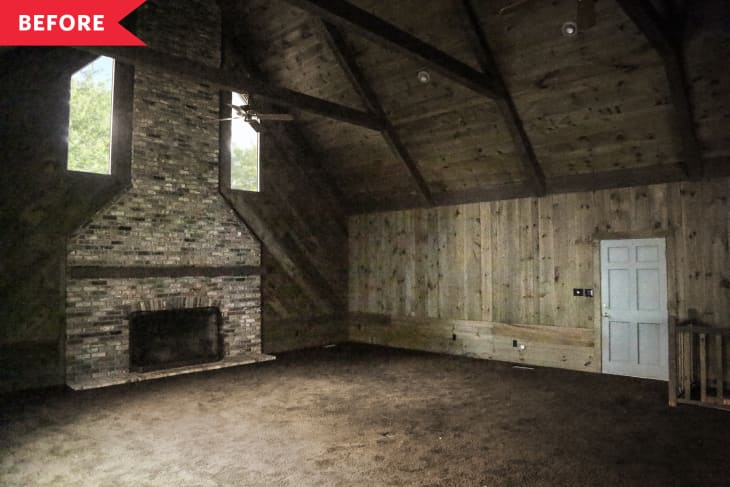 Ben and Erin Napier of HGTV's "Home Town" take viewers through the process of updating historic properties into charming homes in their hometown of Laurel, Mississippi. Season five just premiered earlier this week, and as you can see from the photo above, the duo had their work cut out for them in the first episode—but it was nothing they couldn't handle.
Brooke and Robbie had just gotten married, and as a family of three with her son Kingston, they wanted to start their life together in a new house that was their own. Ben and Erin had been longtime friends with Brooke and her late husband, who had passed away a few years before, so they wanted to help Brooke start this new chapter by renovating a dated 1940 home that had a lot of potential.
What they called the "fancy formal living room" was a rectangular room painted a deep red with white built-in shelving, cabinets, and fireplace. The first thing they noticed was how dark the room was with the walls and wood flooring combo. The Napiers decided to paint the walls a creamy white, then the shelves and cabinets a soft green that reminded Erin of springtime—a vibe that she wanted to create throughout the interiors. Green patterned curtains were added to connect the palette further, and new lighting fixtures as well as neutral furniture to help add extra brightness.
As an added surprise, Ben and Erin worked with a family member of Brooke's to create a piece of art depicting a family tree, with her, Robbie, and Kingston portrayed as foxes, and Brooke's late husband a stag in the distance, always watching over them.
The vaulted family room was part of the reason Brooke and Robbie bought the house, despite it being dark, empty, and dull. To bring in more light in, they knocked down a wall leading to the backyard and added a glass sliding door. Ben and Erin painted the walls and fireplace the same creme color as the living room, creating a flow between the two, and kept the vaulted ceiling unpainted so it connected nicely with the floors.
With their newly renovated spaces, it seemed like spending family time together for Brooke, Robbie, and Kingston was not going to be a problem. You can watch the entire process and full reveal on HGTV and discovery+ (and don't forget to bring your tissues for this one).
Home Town airs Sundays at 8/7 central on HGTV.