Ben and Erin Napier From HGTV's "Home Town" Don't Agree On Everything When It Comes to Their Perfect Night In
We independently select these products—if you buy from one of our links, we may earn a commission. All prices were accurate at the time of publishing.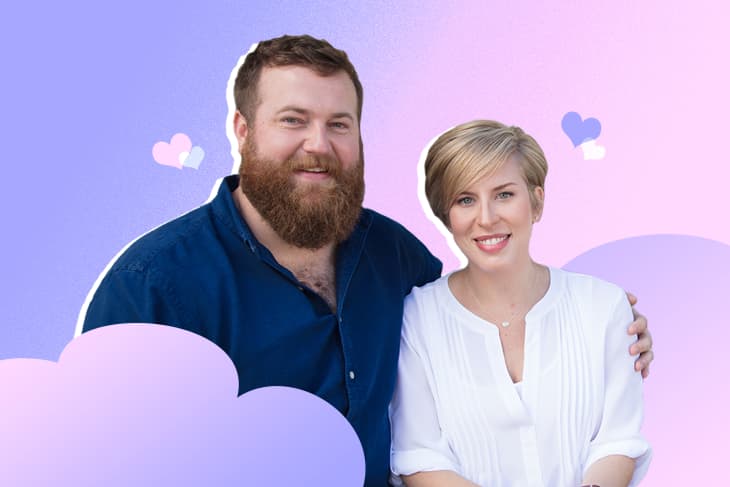 Perfect Night In is a series where we ask actors, artists, entrepreneurs, and beyond how they'd spend the ultimate luxury—a blissful evening at home.
Follow Topics for more like this
Follow for more stories like this
HGTV hosts Ben and Erin Napier are having quite the year already. Their new spinoff "Home Town Takeover" was announced, which involves them revitalizing an entire town (no pressure). Plus, the fourth season of "Home Town" just aired on January 20, 2020. It's safe to say they have their hands full this year.
When they're not helping renovate homes in their hometown of Laurel, Mississippi, they're picking up projects like a collaboration with Home Depot to spread love for home restoration and renovation. And if that doesn't sound like enough, they also have a two-year-old daughter Helen to (happily!) take care of full-time.
So when Ben and Erin aren't running around, they're just like everybody else and like to have cozy nights in with each other and Helen. We interviewed them both separately to find out how their perfect nights in align and how they differ. And hey, they're like every couple—they don't agree on everything!
Describe your perfect homebody scene in five words:
Ben: Living room, fireplace, TV, Erin, snacks.
Erin: Bath, pajamas, fire, candle, breakfast.
Are you alone or with someone else?
What's your night-in uniform?
Ben: Boxers or pajama pants and a robe and house shoes.
Erin: His t-shirt, my huge pajama pants, and then a really cozy sweatshirt over it.
What two people, dead or alive, would you let crash your night?
Ben: If dead, either the grandparents that I never met of Erin's or the grandparents of mine that she never met. I also might invite Ernest Hemingway over. If alive, the problem is that I have three brothers, so I can't be like, "I would invite Tom over or Jesse over or Sam over."
Erin: I love James Gandolfini. I think he would be fun to just hang out with at home and not in a public place. I love Joan Didion. I think she's elderly now, but as a young woman, I wonder what she would have been like to visit with.
Ben: I like to have a robe and I also like to wear house shoes. I built our coffee table, and I like to lay a pillow on it and prop my feet on it. Is that weird?
Erin: There's a blanket on the sofa that was made for me. Our church has a circle of ladies, they call it a circle when it's a group of them who do knitting. They make cozy blankets for people who are sick or having to have a surgery and take them to the hospital. I had appendicitis, and they brought me the blanket, it's the softest. It's really thick and chunky like cable knit.
Ben: If it's a regular night of the week, TV. If it's a weekend and we're feeling crazy, it's a movie.
Ben: If it's a movie, it's going to be a romantic comedy.
Ben: If the TV isn't on, we always do music. If we're cooking or something, then it's Django Reinhardt, jazzy. If we're just hanging out, it's something like Chris Stapleton or bluesy, country type stuff.
Erin: Music. If it's the spring when it's still a little bit cold, we do Django Reinhardt. But if it's the fall, it's going to be The Decemberists.
E-books or the real deal?
Ben: Real deal. The first thing we did when we bought our house was add bookshelves in our living room den. So, we have a really big selection of books.
Ben: No. We didn't really play them growing up either. I love the idea of board games, but just never did it.
Erin: Scrabble was probably the last board game I played, and that was like 100 years ago. I don't have a problem with them, so I'll say yeah.
Order in or cook for yourself?
Ben: I would grill a steak, or [Erin] would cook Italian.
Erin: We would either pick up Italian or he would cook something eggy, like an omelet.
What drink are you pouring?
Erin: Welch's grape juice.
Ben: Well, [Erin] doesn't do dessert, but I would do cake or ice cream. Halo Top salted caramel, or the chocolate chip cookie dough…yeah.
Erin: Lucky Charms is dessert for me usually. That's breakfast, lunch, dinner, and dessert.
Ben: I always try to do low carb. Recently we were at this appliance store that's a town over from us in Hattiesburg, Mississippi. They have a café and this chef works there. We were there one day, and she was making these low-carb peanut butter cups, but it's not like the stuff you buy at Duane Reade or Walgreens. There's no preservatives or anything, so it has to stay in the fridge. It's really good.
Erin: Puff corn. And pickles. I eat a lot of pickles late at night, which is weird, but I've loved pickles since I was a little kid.
Do you have a self-care ritual?
Ben: Before I go to bed, I shower every night and in the morning. I shampoo and condition my beard. I put lotion on my face. Erin says I need to moisturize more.
Erin: Yes, actually. This is how it goes every single night: at 6:30 or 7, after we give Helen her bath, I take her up to bed. While I am putting her to bed, Ben runs me a bath with Epsom salts.
What do you try to avoid at all costs?
Ben: Phone calls and emails.
Erin: I don't love to entertain. The days are already stressful, at night I don't want to think about needing to cook dinner, setting a table, and inviting people over, then cleaning up. That's my nightmare.
Candles: yay or nay? (if yay, what's your favorite?)
Ben: Yeah. Erin designed a candle that we sell called Laurel, and it smells like sweet olives. People in Laurel have sweet olives planted in their yards. It's the greatest scent in the world.
Erin: Yeah. It depends on the season. For spring, our Laurel candle.
Erin: Never. I don't even know what that is.
Ben: I don't do baths. Erin, yes. I run her bath every night.
Ben: Yeah, I would, because we do every night. That's part of our routine: we pick up toys, take the trash out, straighten up furniture, because having [a daughter] now, she goes around pulling on tables and chairs.
Erin: Yeah, I'm obsessive. There can't be dishes in the sink, and I have to pick up all of Helen's toys and put them where they go. Then I can chill out.
Erin: Ideal would be 10 p.m. It never happens.
Thanks for chatting with us, Ben and Erin!