Before and After: HGTV's "Rehab Addict Rescue" Transformed a Dark Bathroom Into a Bright and Timeless Retreat
We
independently
select these products—if you buy from one of our links, we may earn a commission. All prices were accurate at the time of publishing.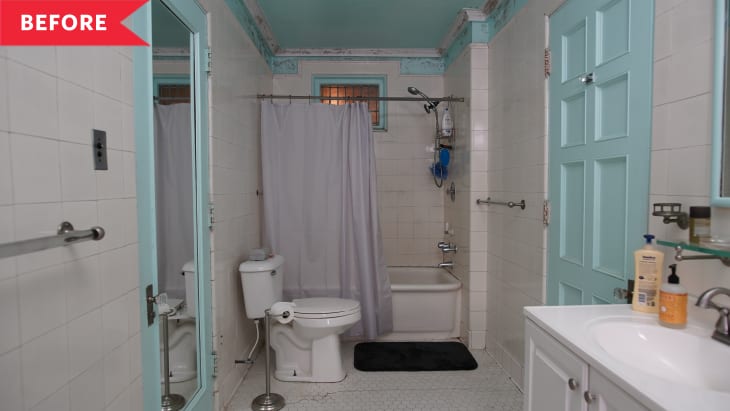 It's not surprising that more home renovation projects have been started over the past year. Staring at the same four walls, it's easy for the thoughts to start creeping in: oh, I should redo all my kitchen cabinets, or ah, it's finally time to try wallpapering the living room like I've always wanted to. But sometimes, you realize halfway through that you're in way over your head, and decide to just take a project hiatus for a day… week… month(s).
HGTV star Nicole Curtis recognized that this is a common problem, especially in today's stay-at-home-age, and so her new show "Rehab Addict Rescue" helps people finish those renovations they set out to do.
In the first episode, Curtis heads to Detroit, Michigan, to help out Sebastian and Gabrielle, who just purchased a home that needed a lot of work. Curtis said that it's common for people to think that they can DIY the renovations to cut on cost, but — as Sebastian and Gabrielle discovered — it leaves you with a bunch of half-baked projects.
"People think, oh I'm going to remove the wallpaper from 1982 out of my dining room today, and then four hours later, they're like f— that," Curtis told Apartment Therapy. "Then they're like, oh you know what I'd really like to do? Change out my countertops! And then it's too much work, so then they go to the next project. We definitely saw that and really illustrate in this new show, like wow, okay, we're here now. Everything's going to be okay."
Sebastian and Gabrielle had a $40K budget to work with, so Curtis made sure to prioritize what they needed first and then work in what they wanted. The kitchen was one of the biggest projects, which had old and broken appliances and lacked overall design functionality — not to mention its dated look that didn't fit the rest of the house's style.
To start, Curtis peeled off the wallpaper and removed the old flooring. She planned to redo all the kitchen cabinets and then, to her entire team's surprise, discovered that they were glass painted over. They removed the paint, spruced up the glass, gave it a nice paint job, and voila! Refreshed cabinets that looked as good as new. That, plus new wooden floors, white painted walls, kitchen island, and dining corner transformed the room into a place for family gatherings.
The bathroom was another space that Curtis made sure to work on. Often, bathrooms serve as a place to escape at the end of the day, whether that's soaking in your tub or applying your favorite beauty mask to help you relax. Curtis wanted to give Sebastian and Gabrielle that space to unwind, and a few easy projects did the trick.
Curtis decided to refresh the tiled walls and flooring, and painted the light blue details over with black chrome. She replaced the dated vanity with a modern, industrial version, with fixtures that Curtis felt matched the rest of the house.
While Sebastian and Gabrielle still have a lot of work to do, Curtis helped the couple check off a bunch of unfinished renovation tasks that gave them the start the needed — and the essentials to comfortably live in the house.