I Hired an Estate Sale Company to Help Me Downsize — And It Was Amazing
We
independently
select these products—if you buy from one of our links, we may earn a commission. All prices were accurate at the time of publishing.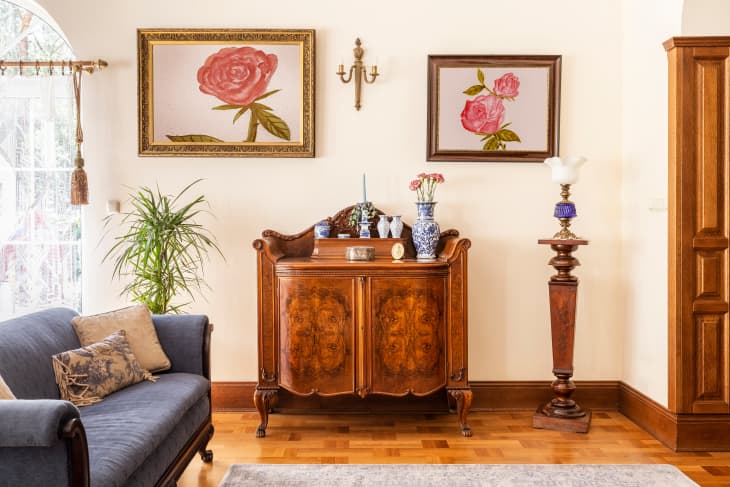 I've moved 16 times in 36 years. Yet hiring an estate sales company to help me downsize before one of those moves was the most profitable and hassle-free moving experience I've ever had. I saved time, made money, and kept my sanity. 
Downsizing is quite difficult, even if you're excited about the move. In my case, in 2008, I moved from Alexandria to Arlington, Virginia. I had lived in my Alexandria townhome for five years, having chosen it hastily to downsize after my divorce. At the time of the move, my primary concern was minimizing change for my son, who was in the first grade. So I moved to a neighborhood close to his school, my business, and his father. 
By the time my son reached fifth grade, I had emerged from the fog of divorce and began to think about his future and mine. I soon fell in love with a loft in the Village at Shirlington, a retail district in Arlington with a Tony-award-winning regional theater, a library, an art-house movie theater, an eclectic mix of gourmet restaurants, and a coffee shop — all within walking distance of the loft. But to move, I'd need to downsize. Hiring an estate sales company proved the best way to do that. 
When most people hear "estate sale," they probably picture a mansion filled with antiques. But I owned a standard Northern Virginia townhome. 
At a networking event, I heard about the estate sales company Four Sales from its owner, Daniel Sanders, founding member of the National Estate Sales Association. He knew my Realtor, heard about my desire to downsize, and suggested an on-site sale. 
Although I put my home on the market and expected strangers to tour the property, I was concerned about the foot traffic an advertised public sale would bring through my house. To ease my concerns, Sanders showed me a copy of his Four Sales insurance policy, something you want to check out before hiring an estate sales company. 
The Four Sales team curated my items, pricing individual cups and glasses, art, pillows, jewelry, clothing, electronics, outdoor furniture, a barbeque grill, and an elliptical machine. They transformed my home into a retail store, complete with ambience music, staffers in uniforms, a cash register, and shopping bags.
Surveying my life on display — seeing a value assigned to things I'd accumulated over decades — actually felt cathartic. I laughed at the misplaced value I once had for the "must-have" Versace coffee pot I never used. Ridiculous. 
The sale took three days. I could have stayed in the home, returning each evening and departing early in the morning. But I chose to spend the weekend at a hotel walking distance from my house. Relaxing, watching movies, and ordering room service was the most pleasant way to pass the time while someone else unloaded my things. 
After the sale, the Four Sales crew cleaned up and left the place in great shape. A few days later, the owner handed me a check for over $10,000. My cut was minus 30 percent of gross sales, which went to the estate sale company. Some estate sale companies have a sliding scale; the higher the gross sales, the smaller the percentage they take. 
Sure, I could have listed items on Craigslist or had a massive garage sale and kept all the money. However, I'm convinced I made the right choice. People who come to garage sales want something for nothing. Estate sales shoppers seek score bargains, not giveaways. An estate sales professional knows how to price and stage your items to get maximum money. 
Besides, the time saved and headaches avoided were priceless. The process went so smoothly that I wished I'd done it earlier in life. Now, committed to my mid-century modern near-minimalist lifestyle, I doubt I'll ever need to have another estate sale. But if faced with liquidating the belongings of a loved one, my first call would be to an estate sales company.