10 Questions You Should Ask When You're Hiring a House Cleaner
We independently select these products—if you buy from one of our links, we may earn a commission. All prices were accurate at the time of publishing.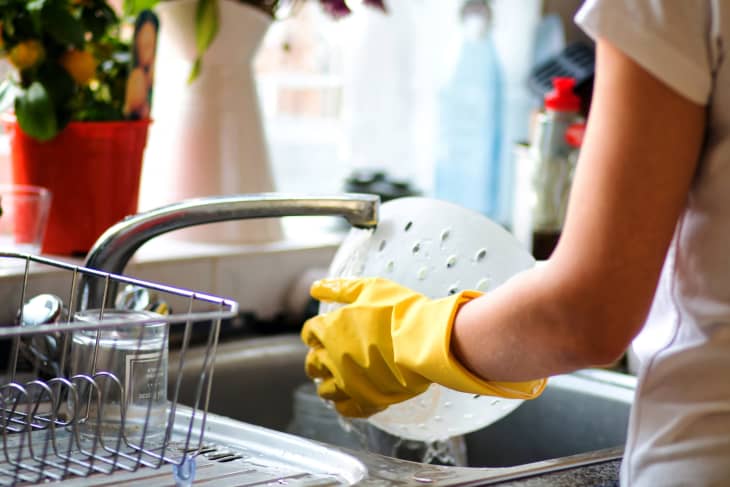 Some people love to show appreciation for their home by cleaning it from top to bottom with their bare (or gloved) hands. And other people… read articles about hiring house cleaners. It's okay! Hiring a professional house cleaner is a great way to save time, reduce stress, and improve the health of your home. Plus, you have a chance to support a local business. What's not to love?
But how do you find a house cleaner you'll work well with? Here are some questions to ask a potential cleaner and help you find the right fit for both of you.
Follow Topics for more like this
Follow for more stories like this
1. Do you have references?
Whether they've been cleaning homes for 20 years or 20 days, you can ask your cleaner to provide references from past customers. Just because someone is new to the business doesn't mean you should cross them off your list. They may be able to provide testimonials from friends and family. Everyone has to start somewhere. 
Skip this step by asking around for the names of highly recommended cleaners from your friends and family. Gina Romanelli has been cleaning homes for 12 years and is the owner of GLR Cleaning Services, LLC. "All my business has been referral and word of mouth. I don't do any advertising," she says. "A lot of times, those are the best people to get as your cleaners."
2. How much do you charge?
Ah, money. The big question! Most cleaners will provide a free in-home estimate so they can give you an accurate quote. Typically, the bigger the home, the more it costs to clean. However, you can often negotiate a lower price by leaving certain areas out (like the basement or the kids' rooms). It may sound strange, but cleaners will usually charge less if you book them weekly or biweekly. Why? It's much easier to clean a well-maintained home.
Here are some other money questions you might want to ask: How does the cleaner prefer to be paid? Will they accept payment through an app like PayPal or Venmo? And, as you're figuring out what fits your budget, don't forget about tips.
3. What types of cleaning products do you use?
If you're concerned about environmentally-friendly supplies or family members with allergies, ask what products your cleaner uses. Some cleaners will provide gentle, natural, or fragrance-free products but may charge extra to cover the cost. Jessica Deery, an editorial manager and mom, deals with both animal and food allergies in her home. "With allergies, I want a cleaner to use my cloths and all-natural products," she says. "Someone else's cleaning cloths or vacuum could easily carry dander or food residues even after a thorough laundering." If you'd rather a house cleaner use your supplies, then make sure that's not an issue up front.
4. Who owns your cleaning company?
In other words: Are you dealing with a hands-on entrepreneur? Or a big franchise with teams of cleaners on staff? There are pros and cons to each, so it depends on your priorities. A larger company can usually clean your home quicker, but a smaller company is able to offer more personal service. "When you hire people that own their own company — the boss is doing the cleaning with their workers, or it's just one person — that's their bread and butter," says Romanelli. "They take it seriously."
5. Anything I should put away before you get here?
It's helpful to ask what pre-work you can do to make cleaning easier. For example, does the cleaner want everything off the floor? Would they prefer all surfaces to be clear? Cleaning takes time. So, the more items you leave out, the more time your cleaner has to spend decluttering. People joke about "cleaning for the cleaner," but most professionals don't expect everything to be in perfect condition when they arrive. "When you're a cleaner, you're going to be picking up things anyway," Romanelli says. "To me, that's part of the job, as long as it's not out of hand."
6. How will you access my home?
When you're trusting someone to be in your space, security may be on your mind. If the cleaner is working with a team, who else will have access to codes and keys? Who will be in charge of opening the house? Locking up? Most house cleaners will have a procedure for keeping your home safe.
7. What does a cleaning include?
This is an essential question that you shouldn't leave up to assumption, especially if there are must-clean areas in your home. Do you clean ceiling fans? Will you vacuum pet hair off the couch? Will you change bedsheets? 
If you want a service that's not included, ask to add it for an extra charge. Maybe you want someone to do your laundry and put it away. Or scrub the inside of appliances. "With anything extra, you should always let the cleaner know ahead of time, so it doesn't cause any confusion," Romanelli says. Remember, if your house cleaner shows up, starts unloading supplies, and finds out you also expect them to clean out your garage, it's not going to start things off on a positive note.
8. Are you insured if an item is broken?
Accidents happen, even to professionals. When Kristen Miller, a teacher and mom of four, used a cleaning company several years ago, they unintentionally broke a few of her knickknacks. "They were really good about it and gave us a credit for the value of the items," Miller says. "I would tell others to make sure your company would do the same." Ask potential cleaners if they are insured or bonded. Or if they have a policy to replace damaged items. Worried about your collection of priceless heirloom vases? You can always mention you don't want certain items dusted or moved.
9. What's your cancellation policy?
Life happens, and sometimes you need to call things off. So, it helps to know upfront how to handle things with your cleaner. How far in advance should you cancel a scheduled cleaning? What happens if you're sick or just need to cancel last minute? Do they charge a cancellation fee? "I personally don't charge a fee," says Romanelli. "But people need to keep in mind that it's like a doctor's office — if you call and cancel last minute, you may be charged."
10. What can I do to make you more comfortable? 
Once you've found the perfect house cleaner, ask how you can make them feel more at home while they're working in your home. Do they prefer a specific temperature? Can you show them how light switches work? Where trash cans are located? Communication is important to maintain a good rapport. "It's relationship building," says Romanelli. "With all my customers or customers past, I still talk to them. It's almost like they become friends."