The Warm and Fuzzy History of the American "Family Room"
We independently select these products—if you buy from one of our links, we may earn a commission. All prices were accurate at the time of publishing.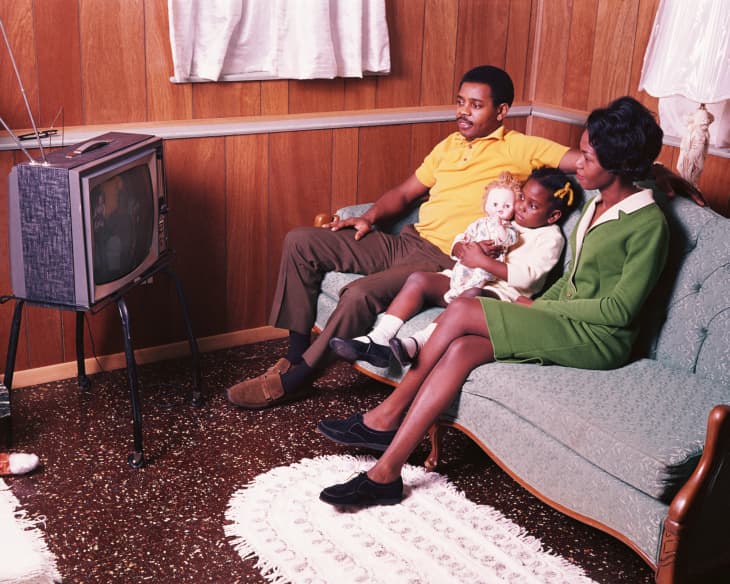 Throughout my childhood, there were countless occasions when my mom would deposit me at a friend's home for playdate, and for a short afternoon, I'd be immersed in the customs of another household. An anxious child by nature, I sought clues as to how our families "did things differently." Do the Johnsons cut the crust off of sandwiches? Will the Washingtons let us have soda? Can we watch PG-13 movies at the Garcias' house? But one household custom seemed strangely universal: the sanctity of the pristine living room. 
In many homes existed a spotless living room, with the vacuum's streaks still evident on the carpet, and decades-old wedding china displayed gingerly on dust-free shelving. This room? Off-limits. Friends would be scolded if a mere footprint was discovered on the plush carpet. We kids were relegated to a far more comfortable, welcoming, and informal room: the family room. The history of this communal landing space—the wholesome alternative to the living room—is rooted in the history of the evolving American family.
Let's take it back to the era directly following the end of World War II. As American military personnel returned home after enduring the brutal challenges of global warfare, folks had one objective in mind: starting their lives. Marriages (and then birth rates) boomed and produced the aptly-named Baby Boom generation. Families rapidly expanded, and the nation enjoyed the economic prosperity that earned the title "Golden Age of Capitalism." With comfortable budgets, growing broods, and the horrors of war behind them, families dreamed of more.
In the late 1800s and early 1900s, formal living rooms—also referred to as parlors or drawing rooms—served as the home's designated space for entertaining guests (think "Downton Abbey" or "The Crown"). But the postwar population had become far more modern and informal than their elders, and a shift in values managed to reshape the very structure of the American home. In the postwar 1940s and 1950s, an upwardly mobile, mostly white middle-class population ventured from the metropolitan city centers out to the suburbs, where life was slower and land was ample. 
Whereas previous generations of parents exhibited a more regimented and authoritarian approach to childrearing, gradually parental involvement in child development became the norm. As households sought an outlet for family togetherness, the addition of the family room was born. A low-stakes environment for play, recreation, and community helped cultivate quality time shared among family members both young and old, and took the pressure off of parents to maintain order in the formal entertaining spaces. 
Soon, these separate spaces became a sort of status symbol, proving that some more privileged families really could have it all—a space for sticky hands, games, and snack crumbs, separate from the highly-curated and well-maintained living room for neighborhood cocktail parties and visiting great aunts. Whereas the living room showcased knickknacks on doilies and eternal silk floral arrangements, the family room displays tattered board game boxes stacked on entertainment centers, a focal-point television set, and cozy sofas strewn with blankets meant to withstand soda spills and sick days.
The legacy of the American family room's evolution is on display literally in the walls of our homes. Chicago-based realtor Amy Wu walks her clients—literally and figuratively—through this history. "The living room is typically the main common area closest to the front door and, in a house that has both a living room and a family room, may function as a more formal space for entertaining guests," Wu says.
Positioning the formal living space closer to the entranceway allows for a simplified facilitation of entertaining guests, and keeps rambunctious kids tucked away further into the home, where they're less likely to create commotion. They're ushered into a room where a little chaos is encouraged. 
In regions where basements are popular, more compact homes often delegate this family space below ground. In popular culture, this shift materializes in the setting for the Dungeons and Dragons battles of "Stranger Things," and the insinuated delinquency of
"That '70s Show"'s band of misfit characters. Regional colloquialisms are important to consider, says Wu, who shares that interpretations of this space vary.
"When it comes to real estate properties for sale, sometimes listing agents or sellers may call a family room by another name, such as den, bonus room, recreation room (although this one tends to be in the basement)," she says. All serve the same purpose: to provide a space for families to be just that—family.