This Common Architectural Feature Has a History That Dates Back to Ancient Rome
We independently select these products—if you buy from one of our links, we may earn a commission. All prices were accurate at the time of publishing.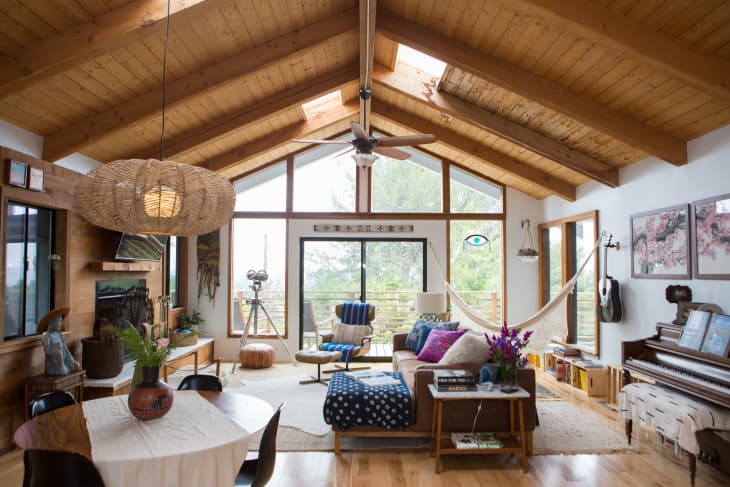 There are very few things I'd change about my home. Sure, the refrigerator makes ominous sounds at night that leave me wondering if it's somehow haunted. The wooden floors are scuffed in spots I've yet to memorize, which leads me to constantly inspect the kitchen for tracked dirt. And the master bathroom's tile is woefully dated. But I'm happy to live with these minor quirks — it's the upstairs neighbors I want relocated.
To be clear: the humans who inhabit the two units above me are lovely. My partner and I truly hit the condo building neighbor jackpot. But if I were to cut a square through the ceiling (as one does), I wouldn't see the sky. I'd see… Frank and Lucille. Again, lovely! But as a first-floor gal, I'm losing out on skylights. 
I've lived in a handful of homes before my current place, and they've always seemed to have skylights. Whether constructed in the mid-1970s or early 1990s, this same feature popped up again and again, in a kitchen or living room or even laundry room. As it turns out, the origins of skylights extend significantly further back than 1973… to 120 A.D., to be exact!  
I was shocked to learn that skylights weren't invented to catch raindrops and create an ASMR-inducing pitter patter as I read steamy romance novels under a wool blanket with my favorite candle lit and tea steeping. They began with the ancient Roman emperor Hadrian, who ordered the construction of the Pantheon. An invaluable architectural marvel, the Pantheon has withstood the test of time. It also gave us the skylight.
Through the next several centuries, artists and architects developed and perfected glassmaking, solving that pesky open air issue. Among the many structures depicting the first examples of what would become modern skylights, the most famous were constructed in France in the 1700s and 1800s. These include the Halle aux blés (1763) in Paris and the Galerie des Batailles at Versailles (1833), which paired glass with often massive sky light sources. This offered the structures light for practical purposes, but also it illuminated and properly showcased the ornate art and decor within. 
Before the Industrial Revolution, which ushered in simplified and expedited manufacturing capabilities for countless materials, glass-making was reserved for artisans. The industrialization of window panes paved the way for consistent quality, increased safety, and widespread use of glass. Skylights became accessible to the average homeowner. 
Following World War II, mid-century modern architecture and design boomed. The movement ushered in open-concept floor plans, displayed massive windows and glass doors, and integrated the interior and exterior. Skylights became a popular tool for connecting the home with the elements above, and inviting plenty of natural light. 
In the 1970s and 1980s, many homeowners responded to the energy crisis by reconsidering building materials and energy costs. Borrowing the Ancient Romans' oculus idea, architects installed skylights to combat energy consumption, utilizing acrylic or fiberglass materials to form "bubble skylights." While inexpensive to manufacture and simple to install, these skylights just don't hold up as well as their glass ancestors. 
When designed strategically, skylights can have a massive impact on a home's interior. No matter where (or when!) you live, I wish you a cozy, joyful home with a window to the skies!