In Some Places, Your Neighborhood Gets to Decide What Color You Paint Your House
We independently select these products—if you buy from one of our links, we may earn a commission. All prices were accurate at the time of publishing.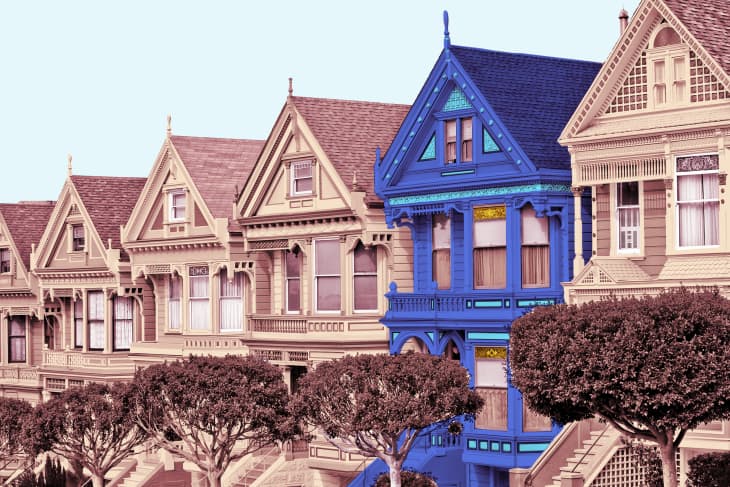 You just bought a home that you really love. (Congrats!) You've been eyeing this particular house for months, dreaming about the day you could move in and paint it a handsome shade of navy blue.
For about 20 percent of people in the United States, making that color scheme dream come true is much more complicated than taking a trip to the store for some paint and brushes. 
About one-fifth of the population lives in a common interest community, or a housing development operating with its own set of local laws. Of that 20 percent, about half of these communities also belong to homeowners associations, or HOAs, according to the Community Associations Institute. HOAs are groups created to govern condominiums, co-ops, and some retirement communities. They charge dues and have a say in a community's aesthetic, too: HOAs create rules relating to everything from keeping lawns healthy to deciding what color you can (and can't) paint your front door.
Like all great bureaucracies, HOAs can be tedious and annoying, but they do serve a larger purpose. Most exist to maintain neighborhood appearances and preserve community amenities like pools and tennis courts, which in turn keeps residents happy and raises property values for when it comes time to resell. Because HOAs are based off of individual charters and guidelines known as "covenants, conditions, and restrictions," there aren't universal color palette rules for all HOAs. So if you wanted to, say, paint your house navy blue, you'd have to approach your local paint officers, or HOA, and fill out some forms.
While it may seem like a flurry of paperwork is an unnecessary step when it comes to painting your house navy blue instead of beige, try to think of it from a neighbor's point of view. How would you feel if someone living next door wanted to paint their house neon pink? 
"Choosing color can be tricky because of its subjective nature, and the more people involved in the decision, the harder it is to agree," says Ann Thomas of the Educational Community for HOA Homeowners. "You probably know how it feels to look at a color palette and immediately have a strong dislike for it without really knowing why. Or, on the other hand, have an immediate liking for it but cannot seem to convince your fellow board members to the same." 
This is why many HOAs have general color palettes residents can choose from. One HOA in Florida, for example, has just five specific shades it allows exteriors to be painted. Some paint companies have even seen neighborhood paint officers as an opportunity: Sherwin-Williams and Behr, among other paint brands, keep an archived file of known HOA color palettes which can be found online. For instance, in Golden, Colorado's The Village at Mountain Ridge, the HOA allows color schemes such as "Sherwin Williams America's Heritage," "Sherwin Williams Suburban Traditional," "Sherwin Williams Northern Shores," and "Sherwin Williams Southern Shores".
"The colors are thoughtfully assembled by professional colorists as manufacturer-recommended combinations so most of them work," The Village at Mountain Ridge's HOA says on their website. "In order to add variety, we ask that you choose colors that are not too similar to your neighbors next-door, across the street or behind you." Residents are asked to abide by a set of guidelines outlining which color combinations are permitted, which finishes are allowed, and more.
In most cases, getting approval from the HOA is not so much an act of kowtowing, as it is preventing getting slapped with fees. HOA laws are fully enforceable, and while penalties range among HOAs, a bold break from a neighborhood's color scheme would require a homeowner to hire painters (again) to paint it back—to say nothing of the fine from the HOA itself. 
Alas, there's still hope. HOA's may seem unnecessarily rigorous to some homeowners, but they are still democratic. Run for election to your local HOA board if you'd rather not budge on the color of your home. You can create a grassroots effort within your small community around revising HOA practices. (Put out yard signs to campaign for the right to put our yard signs!) In the meantime, though, read everything you can about your HOA's ordinances and laws to make sure you can address each concern through the proper channels.