Why I'm Holding Off on My Next Goodwill Donation
We independently select these products—if you buy from one of our links, we may earn a commission. All prices were accurate at the time of publishing.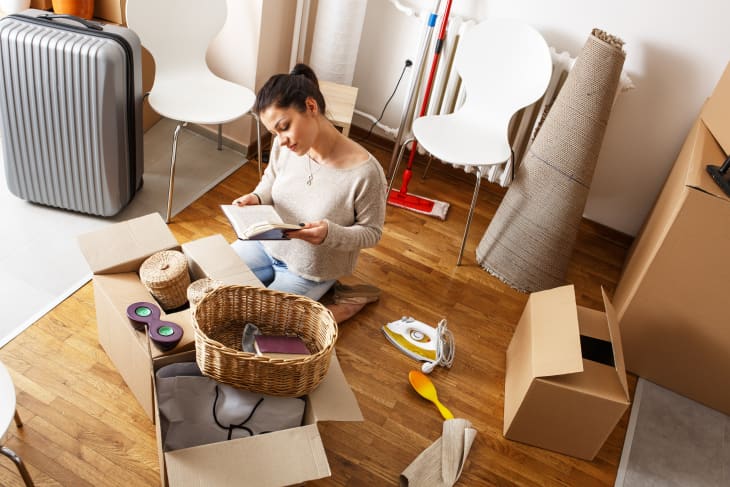 In 2021, I moved four times, and each time I relocated, I downsized my belongings more and more. Inspired by the Marie Kondo method, I made split-second decisions about which items either "sparked joy" or had a clear purpose — a book, for example, needed to be relevant to my career. Whatever didn't make the cut got tossed or donated to Goodwill. I got rid of everything from tote bags to old yearbooks. My goal had been to make moving easier and to keep a decluttered, minimal home. But by the time I settled at my current place in Boston, everything I owned fit in a single suitcase and a backpack — and I realized I'd gone overboard with the purging. 
I regretted getting rid of things like books that didn't have a clear "purpose" despite being significant to me. I felt like I'd erased entire years of my life. I had cut ties with the tangible items connecting me to periods of my life I could never return to. I wanted to be able to look at the contents of my bookshelf or dig through a stationery box and recall the exact when, what, and how. I made a promise to myself that I wouldn't donate anymore; my stuff made me who I was and I was still too young to know what would be important later on.
As a child, I used to love hanging on to meaningful items. I especially took pride in collecting books. Filling shelves, piled by my bed, shoved into bags and totes, books took over my bedroom. Then came paper items, inspired by my mother, whose love for a good handwritten list was a trait I inherited. I kept movie ticket stubs, paper menus, letters from my grandmother, magazine articles, and a collection of vintage stamps. But when I became an adult moving from place to place, what once held significance felt more like a burden than a collection. Did that menu really spark joy? Wasn't minimalism better for my mental health?
A few months ago, I took a virtual art class. The goal of the course was to make a touchstone journal — a collection of all the pieces you might return to to remind yourself who you were, like letters, stamps, poems, magazine clippings, restaurant menus, ticket stubs, and appointment cards. (The exact types of things I used to save before I started downsizing.) I signed up for the course because I enjoy making art, but also because I enjoy archiving: the process of creating something to remember moments of my life by. I had a problem, though. The only papers I had were in a single 5-by-7 envelope. I realized that the items I previously decided didn't spark joy would be bringing me joy now – if only I'd kept them.
My current studio apartment is 200 square feet. That 5-by-7 envelope has since expanded to take over two boxes and a desk drawer. Everything is organized by theme in labeled bags. I have two bookshelves which hold books (color-coded, of course) and various objects picked up at thrift stores, like vases and a collection of tarot decks. My tiny items such as matchbooks, rocks, and pins sit nestled in a cabinet I thrifted for $5. I have a bin under my bed for anything I want to hold onto but don't have room to display. My space remains relatively minimal, but these items make it feel like home.
I can't account for many years of my life by looking at my stuff, but I've started to build up a new history of objects. In the past, if I was going to hold onto anything, it had to have a clear purpose. Now, I make decisions based on what I want in my immediate periphery while also affording myself room for storage, so that I don't have to be too choosy. When I don't feel that immediate spark of joy, I give my item the benefit of the doubt, tucking it away instead of throwing it into a donation pile. I know these items might one day be important to me, and creating space for them is how I've honored that.