My Husband and I Don't Exchange Physical Gifts for Christmas — Here's What We Do Instead
We independently select these products—if you buy from one of our links, we may earn a commission. All prices were accurate at the time of publishing.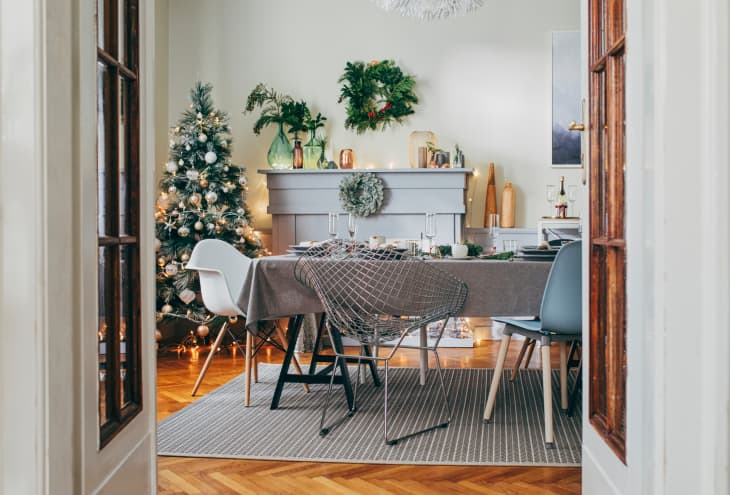 My husband and I are high school sweethearts, and I have fond memories of him surprising me in the morning with hot chocolate in my locker. The gesture always made my 17-year-old heart skip a beat, especially the first time I was greeted by a travel mug and a love note resting on the top of my history textbook. He is a master at finding spur-of-the-moment, everyday gifts to give, that still give me butterflies to this day. 
During this time of year, gift-giving can sometimes feel obligatory, as there's pressure to give loved ones something — anything!— during the holidays. There also seems to be an unspoken rule that you should be giving your partner a large, or especially thoughtful or expensive gift each year. Towards the beginning of our relationship, I saw that my then-boyfriend was visibly stressed trying to figure out what to get me for Christmas. It was the opposite of his care-free, content, everyday-gift-giving self, and honestly, I was feeling that added stress too. 
Follow Topics for more like this
Follow for more stories like this
Then one year, we talked about it and decided to take that year off from giving each other a formal present. "Let's focus on enjoying the holiday together," I remember us saying. My husband let out a big exhale and agreed. We don't love each other any less if we don't do wrapped presents, now we can just focus on spending time with each other. 
While we give gifts to our family and friends, my husband and I have created our own rules for ourselves, and our holidays are now a little less stressful, and a little more fun. Instead of making a mad dash to a department store amidst the holiday shopping rush — here is what we do instead.
We Spend Quality Time Together
My husband is a teacher, and I have a seasonal job that keeps me busy during the holidays; as a result, we often don't see each other during November and December as much as we usually do. What we both want is time spent together, so on our days off, we make sure to schedule time to just relax and be together, and we go on a special holiday date night at our favorite restaurant, too. 
Giving experiences is a great way to create quality time if you're not quite ready to spend the holidays without giving a gift to your partner. Having a winter vacation to look forward to after the holiday season is something my husband and I look forward to. If you'd like to give the gift of quality time, other ideas include tickets to the theater or a sporting event, an Airbnb gift certificate, or a gift certificate to a restaurant they've always wanted to try.
We Talk About What We'd Like or Need as a Household
Part of the fun of giving gifts is seeing the surprise on the recipient's face when they open them. But taking some of the stress off of a typically stressful time is something that my husband and I welcome, and we take time to check in with one another and ask, is there anything you'd like for Christmas? Or even better, we discuss if there's anything we'd like for Christmas that we can both enjoy. 
One year, we decided to give each other a bunch of small gifts, and I ended up with a lot of things I didn't end up using or even wanted, and vice versa. We realized that we were both more concerned about the quantity of the gifts we were giving, and not the quality. Now, we are both open and transparent about what our wants and needs are over the holidays. We are both mindful of not wanting to create clutter in our one-bedroom apartment, plus, we anticipate receiving gifts from our family and friends, so we're really able to decide if there's anything we'd like to receive from each other. 
We Shop Intentionally Together for Our Loved Ones 
For better or for worse, gifts are a big part of the holidays, so my husband and I enjoy focusing our attention on our friends and family. We discuss what we think our loved ones would like, and if our schedules allow, we shop and wrap the gifts together, too. We are not always perfect and some years we've ended up scrambling, but we always end up giving gifts we're happy with. 
Deciding on what to give our family and friends is another way we spend time together, and it's our way of celebrating the season as a couple. Ultimately, the joy we feel comes from being together and giving to others — which is, in its own way, a gift in and of itself.