This Maryland Mansion Has a Full Holiday-Themed Village In The Basement
We
independently
select these products—if you buy from one of our links, we may earn a commission. All prices were accurate at the time of publishing.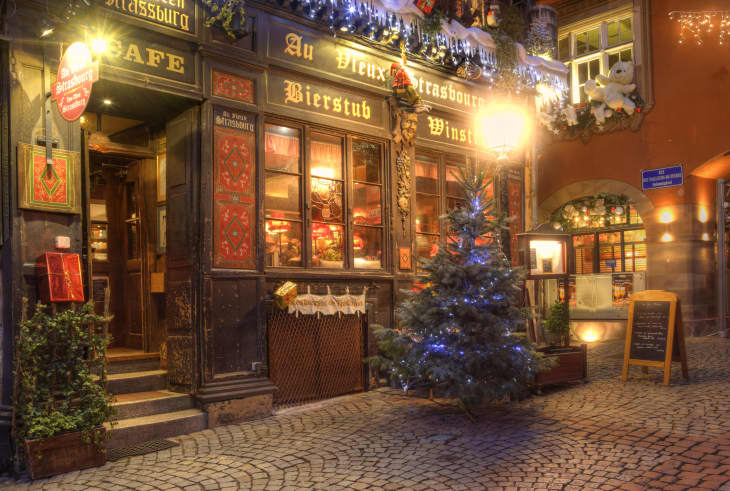 If you're the kinda person that keeps your holiday decor up all year long because you really do want to celebrate Christmas in July, you're going to love this real estate listing in Potomac, Maryland. One eagle-eyed Twitter user found this $4.5 million dollar home up for grabs and while the entire estate is something to behold, the basement features a full hidden holiday village.
Twitter user Jason Shevrin shared that he was "looking at listings for ridiculous mansions, as one does," when he stumbled upon one that contains "a Christmastime small-town main street in its basement," he wrote, clearly bewildered. And it's true: The listing for the 12,089 square foot Potomac palace has all kinds of incredible amenities, but the Christmas village might just be the most unique one of all—and wildly enough, it's not even mentioned in the property listing.
Hidden amidst the listing's 89 photos (that are all more than worthy of a good ogling, just FYI!), you'll find the downstairs "turn of the century" village with a festive cobblestone streets complete with a post office, a double feature movie theater showing "The Exorcist" and "Mary Poppins," a collection of vintage cars parked along the streets, and 15 storefront facades with Christmas decor in the windows and snow-dusted trees lining the walkways.
Aside from the unexpected holiday village, the home features seven bedrooms and eight bathrooms in the main house, with a guest house on the four-acre property that has two bedrooms and one bathroom and a full kitchen. It also has a pool house with a full kitchen and bathroom, along with a fully lit tennis court and heated pool.
If you've got a cool $4.5 million lying around and you're looking for your new digs, the home can be yours. If not, you can always score some inspiration from the home's hidden festive main street.