Home Again Is Out Today, And With It, A New Nancy Meyers Kitchen To Love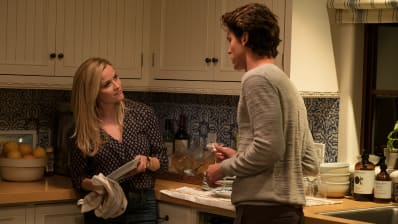 (Image credit: Karen Ballard/Open Road Films)
If your weekend calls for a dose of interior eye candy, allow us to alert you to the existence of Home Again. The latest Nancy Meyers produced film with droolworthy sets (including a stellar kitchen, obviously) is in theaters today.
The film is produced by Meyers and written and directed by her daughter, Hallie Meyers-Shyer, in effect making it sort of like but not quite your average Meyers rom com. Jezebel's Bobby Finger calls it Bizarro Nancy Meyers:
From the setting (a beautiful mansion in a coastal town) to the protagonist (a rich and horny white woman on the verge of a nervous breakdown while trying to sort out her professional life amidst self-imposed personal chaos) to the protagonist's friends (enabling) to the lighting (flat and disarmingly white) to the number of dining areas in a single home (seemingly infinite) to the orange juice (always decanted), this is an imitation of a Nancy Meyers movie, albeit one with a smaller budget and weaker script.
You still get an improbable premise—in this case, interior decorator Alice (Reese Witherspoon) moves her and her two young children back in with her parents (Candace Bergen) after splitting with her music industry husband (Michael Sheen). She gets "wild" celebrating her 40th birthday with her girlfriends, and ends up taking a young filmmaker home (Pico Alexander). He and his buddies (Nat Wolff, Jon Rudnitsky) need a place to stay, and well, you can guess where they end up crashing. A classic Meyers love triangle (actually, more like pentagon with the husband thrown in the mix) ensues.
While the film is getting questionable reviews (Rotten Tomatoes currently has it at 35 percent fresh), we're in it for the interiors. Let's take a look at some of them from the trailer:
(Image credit: Open Road Films)
Living room: Mostly white, pops of pink (we are pro pink rug). A floor to ceiling window overlooking the pool is rich AF.
(Image credit: Open Road Films)
Kitchen: We'll need to see it in all its glory, but this could be a new favorite. Colorful tile, beadboard cabinets, over the sink window—we love it all.
(Image credit: Open Road Films)
Alice's bedroom: Clearly, the star of the show is the headboard and we are here for it. Everything else is a bit boring—or restful, if you prefer.
(Image credit: Open Road Films)
Backyard: Those peacock chairs and plenty of space for a yoga class for you and your seven closest friends.
Where do these interiors rank in the Nancy Meyers-verse? Tell us in the comments.