I Got My Junk Drawer Under Control (For Good!) in 20 Minutes With The New Home Edit Workbook
We
independently
select these products—if you buy from one of our links, we may earn a commission. All prices were accurate at the time of publishing.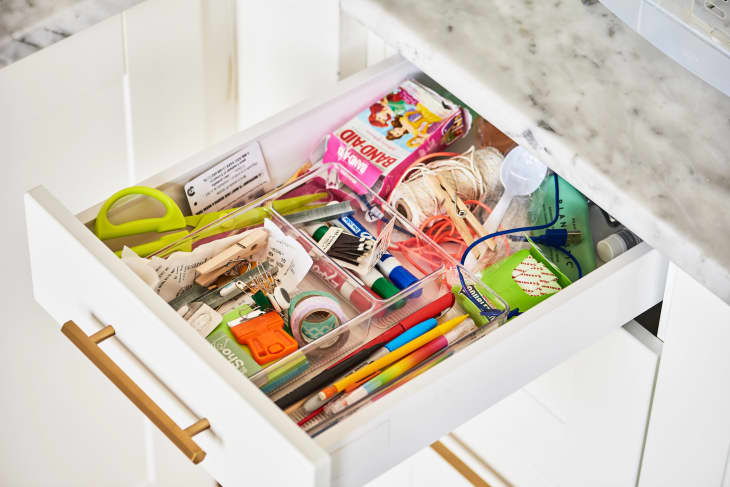 When it comes to organizing fads, I'm the first to admit that I'm almost always intrigued by them. Whether we're talking about the KonMari method from Marie Kondo or tips and tricks from the Instagram-famous Home Edit duo, I will never turn down some easy, trendy, aesthetically-pleasing organization solutions.
Often, though, it's still hard for me to get from point A to point B. Sure, all those clear acrylic containers look gorgeous and yes, I do want my closet to look like Reese Witherspoon's after its Home Edit makeover. But is that always realistic for my lifestyle, budget, or schedule? Not so much. Simple, straightforward versions of these types of organization systems and methods are more my style, but sometimes it's hard to figure out where to start after watching an episode on Netflix or browsing Instagram for a while.
Enter: "The Home Edit Workbook," a new book from organizers Clea Shearer and Joanna Teplin that provides room-by-room prompts and activities to make organizing seem possible.
The publisher sent me a digital copy of "The Home Edit Workbook" for review, and I was excited to peek inside. I browsed through the pages as soon as I could to try to choose some of the tasks that I could do in my own home. Honestly, though, my very first instinct was that this seemed too straight-forward.
I started at the beginning, with their pages on how to make over a dreaded junk drawer and read through the steps: Take everything out of the drawer. Divide into categories. Put them back in a thoughtful way, with specific containers if possible. It seemed obvious. I asked myself: Did I really need a book to tell me this? And did I really need to take every single thing out of my bottomless black hole of a junk drawer in order to improve it?
When I actually followed the steps, though, the answer was abundantly clear: Yes, yes I did need those instructions and yes, I did need to take everything out. Apparently simple and straight-forward instructions were exactly the help I needed to address the most chaotic part of my entire house.
In less than 20 minutes, the drawer that had haunted me for years had been reorganized into something functional. A container for toiletries. An area for keys/wallets. Hats all in the same place. Trash thrown out. The process was quick, satisfying, and incredibly efficient.
At first, though, I felt a bit silly. Why couldn't I have done this myself months ago? Was it really that difficult? The answer was no, that it wasn't difficult, but the truth is that sometimes we put off tasks like these for years simply because they seem more complicated than they actually are in reality. That, I think, is the beauty of "The Home Edit Workbook."
It breaks organizational tasks down by small problem areas throughout your home (junk drawer, night stand, bedroom dresser, charging station, etc.) in a way that makes tackling them seem simple, doable, and affordable. Top-to-bottom house organization seems incredibly overwhelming to most people, but just focusing on one area at a time? Now that seems a little easier. I can easily see someone using this book as a step-by-step guide for organizing their home at their own pace. Who says you have to fix everything in one day, anyway?
The book also provides areas for jotting down how organizing made you feel, what goals you have for certain areas, and mapping out dimensions for spaces to give you room to brainstorm different solutions. The short answer sections might be helpful for people to complete the night before a task, giving them time to put intention and thought behind organization without spending hours on the task. The best part, though, is that most sections only include four or five steps of instructions for how to organize any given area, making everything from overhauling the bedroom closet to furniture arranging seem more doable. Suddenly, organizing a single space feels easy enough to tackle in an afternoon or two at most. 
Really, though, if you want to get an idea of what the workbook might do for you, the before-and-after photos of my junk drawer speak for themself. It's not the fanciest, most Instagram-worthy end result, but compared to the first photos? It's heaven. And the fact that it only took 15 minutes or so to complete makes it that much more satisfying.