The Surprisingly Stylish Home Find That Helps Block Out Street Light (and Noise!) In My NYC Apartment 
We
independently
select these products—if you buy from one of our links, we may earn a commission. All prices were accurate at the time of publishing.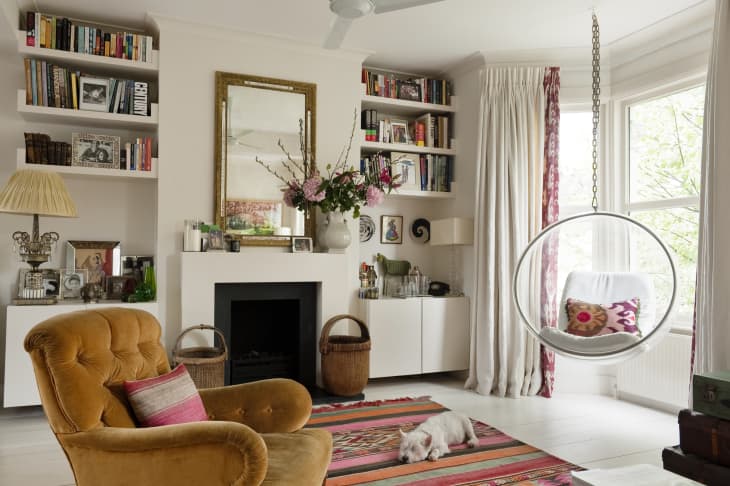 Living in New York City comes with a lot of perks. You get access to some of the best restaurants and bars in the world, a litany of museums and parks, and everything is pretty much accessible by public transportation. However, besides the $7 coffees and exorbitant rent prices, there are some downsides to living in the city: namely, trying to get a good night's sleep. Whether it's noisy neighbors or living above a late-night bar (they're open 'til 4 a.m. here, folks), there's really no hope for total peace and quiet if you live in one of the more congested boroughs. Thankfully, there are a few steps you can take to mitigate some of the more glaring of those problems, one of which is investing in some solid blackout curtains. Not only is having curtains an absolute must in terms of privacy — especially if you live on one of the first floors of your apartment building — but they're also key for dampening noise and blocking light from the street. These, from Best Home Fashion, have been a huge help in getting some much-needed shut-eye. 
The most interesting part about these curtains? Well, they're not actually curtains. Technically, they're curtain liners — which, admittedly, I did not know when I got them — but even though I had no curtains with which to line, I've found these work great on their own, and their neutral color matches pretty much any aesthetic. (In fact, I wasn't even aware these were liners until my editor told me while I was writing this piece — that's how sleek they are.) 
For less than $30 at Home Depot, you can snag these Blackout Rod Pocket Curtain Liner Panels (sold as sets of two) for a steal, right now. They're available in several lengths and widths to fit most any window situation, and they come with included hooks for easy mounting. I had a few tension rods laying around, so I just popped those in the built-in loop, which was a total breeze. You can either pair the liners with your existing curtains to reduce outside noise, block out light, and maximize insulation, or you can just use them standalone, like me. They're also machine-washable, and — as I can tell you from personal experience — the thermal-insulated triple weave actually works really well. Even during the daytime, if I have my curtains drawn, it's practically pitch black in my room, save for a thin, thin outline of light around the outside. At night, there's no light in my room, and if these curtains can block out NYC street light, they'll be great no matter where you live. 
And, I'm not the only one who's into these bad boys. "They washed up like a dream and are easy to put up and take down," one reviewer writes. "I have an East-West oriented house and all of the bedrooms are on the south side. These help reduce heat coming in the hot summer. Highly recommend!" So, if you're looking for affordable ways to help cut down on noise and light, look no further than these Blackout Curtain Liners from Best Home Fashion.