This Is Why Home Prices Won't Drop Dramatically Anytime Soon
We
independently
select these products—if you buy from one of our links, we may earn a commission. All prices were accurate at the time of publishing.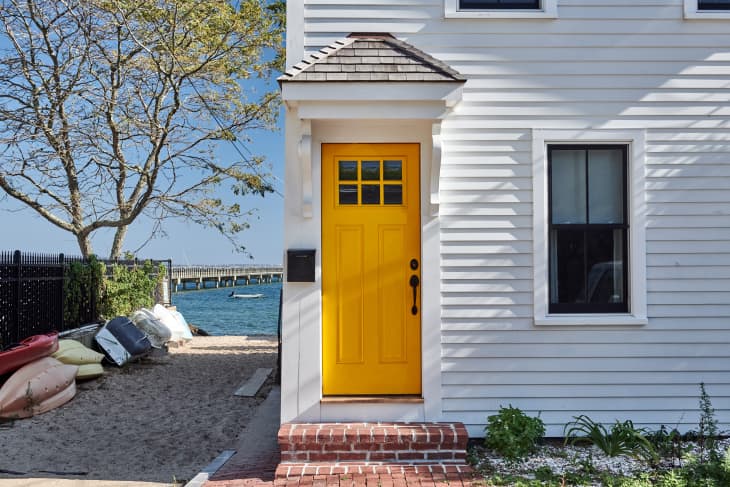 In normal times, homebuyers could sit out a "seller's market" like you would a rain delay at a baseball game. Extend your apartment lease a little longer, and confidently wait for the market to swing back into the favor of buyers before pouncing on listings.
But things look different now as an extreme seller's market has formed. The good news: A combination of more new sellers and higher home costs has meant a growing number of homes available for sale, explains Danielle Hale, the chief economist for Realtor.com. The not-so-good news: The metrics Hale looks at to signal a shift to more buyer-friendly conditions (like time on the market) haven't budged, and in some cases continue to worsen. To put it another way? Even though things are easing up for buyers, the market is so drastically tilted in favor of sellers, it may take several months before buyers see reassurance with things like price and time on the market data.  
So how did we get here — a place where homes sell for over list prices and buyers are trying every trick in the book (Rent backs! Escalation clauses! Waiving property inspections!) to make their offers stand out? You can wag your finger at the acute shortage of homes. 
You see, after the subprime mortgage crisis in 2008, the housing industry became extremely cautious and home construction stalled. Most of the smaller builders that went out of business between 2008 and 2010 never came back at all, says Michael Perna, Realtor with the Perna Real Estate Team in Novi, Michigan.
Home builders produced an incredibly limited supply of new homes between 2009 and 2021, says Bryce Fuller, broker with Baird & Warner in Northbrook, Illinois. This short supply will remain for several years, he says. Plus, with remote work here to stay, many people are moving about the United States, which is compounding shortages in some areas (especially warm climates) that weren't braced for a population surge among would-be homebuyers. 
On top of all this, builders over the past decade have faced challenges including rising costs for land, labor, and materials, Hale explains. 
"Additionally, there was a prevailing narrative that the next generation of homebuyers — the millennials — did not want the suburban single-family homes that previous generations have pursued when trying to balance proximity to jobs and activities with costs and space for growing families," she says. 
The lion's share of millennials are just now hitting ages where they are ready to make first-home purchases, and builders didn't build enough homes even as demand for those homes was growing. 
Another point that bears mentioning is that entry-level homes, Hale says, which are most sought after by first-time home buyers, are even more challenging for builders to build profitably, so there's not only underbuilding, but really a mismatch among what buyers want and what builders can build.
So, while there's no crystal ball, some say the rising interest rates could help shift some power back to buyers within the year. The historic low rates we saw in 2021 brought out droves of buyers who were interested in borrowing money for cheap. Most experts forecast mortgage rates would rise in 2022, but it's happening quickly, with rates on 30-year fixed loans surpassing 5 percent in April to the highest level in more than a decade, according to Bankrate.
If rates continue to climb, inflation remains a factor, and baby boomers begin to sell their homes, this could mean more inventory for serious buyers, says Perna.
A buyer's market, he says, isn't likely in 2023 — but it isn't off the table, either.