6 Home Improvement Projects You Shouldn't Put Off Despite Inflation
We independently select these products—if you buy from one of our links, we may earn a commission. All prices were accurate at the time of publishing.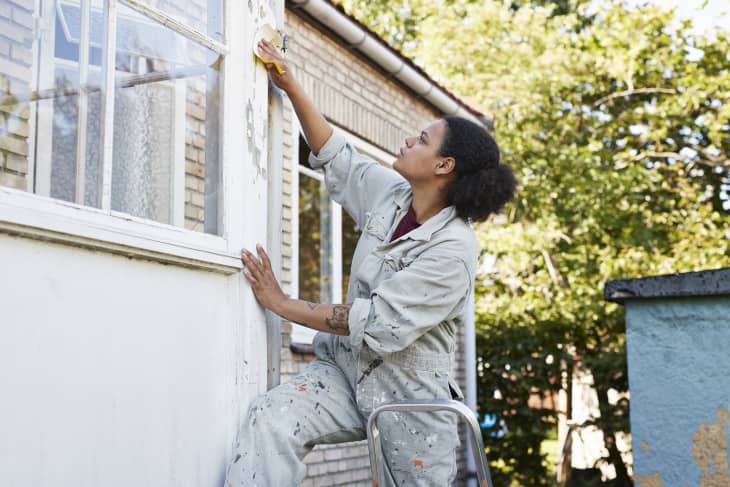 According to property insurance company Hippo Insurance, the inflation rate in the United States — currently at 8.5 percent — is causing homeowners to delay big projects like renovations and improvements. In fact, Hippo's data shows that 43 percent of homeowners delayed projects, and 60 percent are not as comfortable about these projects as they used to be, thanks to rising prices.
Follow Topics for more like this
Follow for more stories like this
But here's the problem resulting from that: Some delays, depending on the project, can have a negative affect on your house's overall value. If you don't tackle these things, it could be harder to sell your house in the long run. These are the projects you need to tackle now and why, according to experts.
Repairing and Maintaining Gutters and Downspouts
"Your gutters and downspouts are responsible for ensuring that water is properly moved away from your home. When gutters get full of debris or fall into disrepair, they can't do their job properly. This can mean water in places that it doesn't belong or where you don't want it. This can lead to leaks, water damage, or wood rot. As we approach winter temperatures, it can also lead to ice dams, roof damage or leaks. Basic maintenance is the best way to keep costs down and avoid unexpected repair bills for larger issues later on." —Kevin Busch, vice president of operations, Mr. Handyman
Window Repair and Replacement
"Apart from repairing broken window panes, updating your windows can go a long way in promoting safety and savings. Even the most basic glass options available now can greatly increase energy savings with their superior ability to maintain internal temperatures. Having the right window glass can increase the home's value, decrease noise pollution, and protect against unwanted UV rays. Home windows serve many purposes. They can either add or detract from its value, look, and appeal to prospective buyers. If the windows are in rough shape, buyers see immediate repairs and are likely to put in an offer under the asking price or ask to repair or replace the windows before signing on the dotted line. Installing new or repairing windows appeals to homeowners who want elevated curb appeal, noise reduction, and energy efficiency in the long run." —Brad Roberson, president, Glass Doctor
"For exterior paint projects, consumers can save money by identifying when to repaint early to avoid when paint starts to peel in several areas. The best time to work on exterior is when surface cracks start appearing, and caulking starts to crack and fade. If caught early-on, this will reduce the amount of front-end prep work such as scraping and caulking, and can potentially save you money. … For interior or exterior paint projects, a way to save money in the long run will be to use high-quality paint and do proper prep work or hire a professional." —Anthony Kulikowski, owner of Five Star Painting of South Bend
"Most homeowners and tenants forget to clean past the dryer's lint trap. Leading appliance manufacturers recommend that dryer vents are thoroughly cleaned once a year to prevent fire and other hazards to your health and property. Having your dryer vents cleaned increases the efficiency of the dryer, saves on the life of the dryer, and reduces energy use." —Jason Kapica, president, Dryer Vent Wizard
"Whole-house surge protectors are built to withstand many power surges over many years. They also protect all the appliances and devices receiving power from the electrical panel it's wired to. True surge protection devices must be hard-wired into your main electrical panel by a licensed electrician. Getting a whole-home surge protection system installed can add appeal to potential home buyers. The electrical upgrade may help homeowners sell their homes. …Many modern homes have an abundance of important and expensive electronics and appliances, including smart refrigerators, air conditioners, clothes dryers, computers, phones, stereos, televisions, and microwaves that can benefit from a whole house surge protector. Damages to these devices can cost thousands to repair or replace." —Ben Kolo, owner of Mr. Electric of Central Iowa
"Pressure washing dramatically improves curb appeal by cleaning away mold and mildew. It's helpful in identifying rotting wood, cracked vinyl, and other problem areas. It also prolongs the life of your siding or paint job. A once-per-year house wash only costs a few hundred dollars instead of repainting your home to the tune of several thousand dollars." —David Flax, president of Window Genie