Don't Skip Out on These Photos During Your Next Home Reno
We
independently
select these products—if you buy from one of our links, we may earn a commission. All prices were accurate at the time of publishing.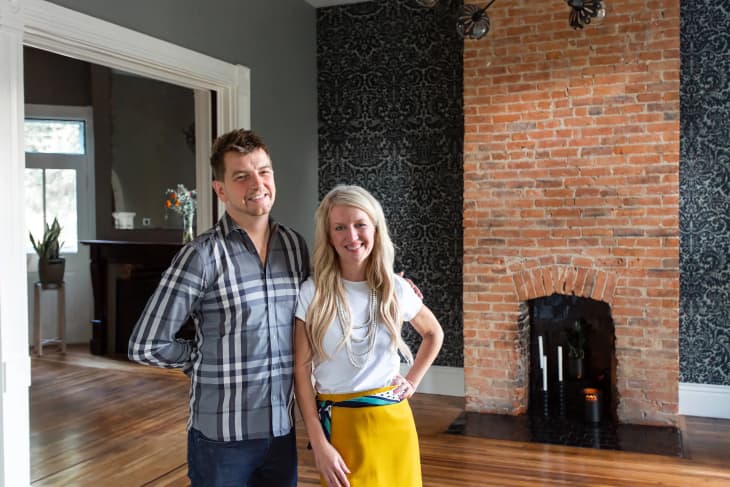 When you're in the middle of a renovation, whether that's a two-week project or a two-year overhaul, it can feel like it will never end. But there's a way to get some quick perspective on how far you've come: Progress pictures. 
Everyone is familiar with progress pictures for everything from growing kids to satisfying recipes, and I would argue that they're just as important during the stress of a renovation project. Seeing the incremental steps of change can help you feel like you will get this phase of your life done so that a new one can start. 
A few months in, I realized that I'd been so thoroughly documenting the progress on this particular room — capturing things like carpet and plaster coming out and drywall going up — that I decided to be more intentional about it and take a photo in the same general area every time we were there. At the moment, small things didn't seem like a big deal. But because I made sure to photograph even the tiniest shifts, we could spot our decisions coming to life over time. There were days I definitely did not feel like taking photos, but I knew it was important to record even (maybe especially) the low points. 
I organized all of these shots into a Google album dubbed "Obligatory Fireplace Photos," and when things slowed down or stalled, I could swipe through them. Seeing how far we'd come would give me the assurance I needed to keep going. 
This process ended up taking 22 months to complete, so in addition to documenting milestones like painting, refinishing floors, installing light fixtures, tiling the hearth, and hanging wallpaper, there was a fun bonus: We saw how we changed over the course of the project, too. 
My initial photos show my friend and I masked and standing apart early in the pandemic. I can almost pinpoint the day we completed our second round of vaccinations because we were (finally!) hugging. Seasons changed, and with it, the light — and not to mention, our hairstyles!
The best part, of course, was that glorious day when we finished. I pulled some of my favorite photos and created a reel for the occasion.
I won't lie, I probably watched it a dozen times that day alone. Yes, the transformation is amazing, but that doesn't tell the whole story. Watching the project unfold in photos helps me remember how much of our hearts we poured into this house. I've teared up more than once reliving it.
I've sworn I'll never do a flip again, but I've also said that about my tattoos. If I ever launch another renovation project, you can be sure that I will start documenting the journey from day one.