6 Things I Learned from Buying a Fixer Upper with a Friend
We independently select these products—if you buy from one of our links, we may earn a commission. All prices were accurate at the time of publishing.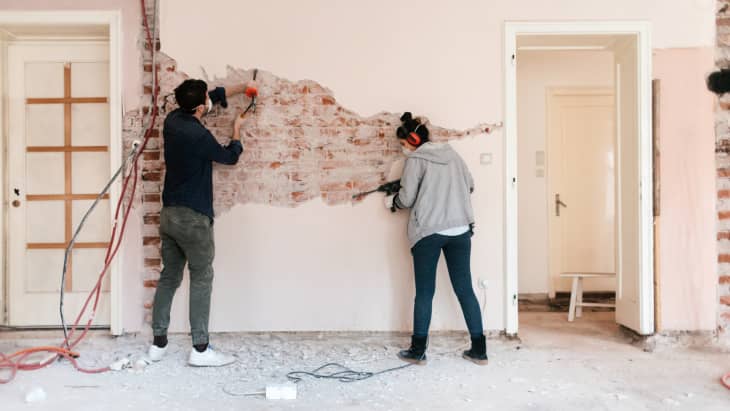 "We should go into business together!" 
That's an exciting—and a scary—thing to hear from a friend. Mixing money and friendship could be a recipe for disaster, so when my best friend Michael first suggested that we fix up a house together, it was a quick no from me. 
But Michael and I share a passion for all things home, design, and real estate, talking incessantly about potential projects. He encouraged me a year ago—when I'd built equity in my home through renovations—to get started in real estate investing, then cheered me on during my first flip. And not just with advice and listening to my contractor woes; he's the kind of friend that comes to the rescue when the distressed property I bought is gushing water from a pipe on closing day, or when my car dies at the job site.
So one day this fall, I woke up ready to take the leap. Within weeks, my long-time realtor happened upon a property he thought was right up my alley. I texted a blurry screenshot of the PVA listing to Michael and told him we could nab it for a price we could afford. "Um. Yes, please," he said. And we were off!
We're just past demo week now, in the third week of work on the behemoth three-story home, and if I thought we were BFFs before, this is a new level. There are no secrets when you've applied for loans together and seen each other's tax returns and bank statements! While the project is young, I've definitely learned a few things already. (Not least of which is how brave he is to be friends and in business with someone who writes about everything she does!)
You have to keep it #friendsfirst, even when it's awkward
We've already had some disagreements. Nothing earth-shattering, but no matter how similar we are, we are going to have differences of opinion on the million and one decisions that come with a renovation. We promised at the start that we'd be friends first, business partners second. That can get tricky when it comes to negotiating compromises, and we're still learning to make our way through uncomfortable conversations.
Sometimes we have to talk things through as business partners and then as friends, but having the same goal makes that easier. It helps that he's the kind of friend who will bring flowers for our "business HQ," aka the cupola in the house's attic that we decorated with found treasures.
You can't let it become all work, no play
When I was in college, my mom and I worked at the same place. We found that we only ever talked about work, so on vacation we made a promise to nix the shop talk for a week. Michael and I have to also be sure we don't talk all business all the time (even though we love to).
We became friends over more than just our real estate fever, so we still walk our dogs and talk about everything from whatever we're binge watching to the state of our city—in between debating the merits of a matte white fridge vs. stainless steel (but seriously Michael, we have to get that pretty white fridge!).
It's just another relationship
We each have partners at home, and a friend/business partner comes with some of the same kind of efforts as family relationships. The attorneys who drafted our operating agreement called it our business pre-nup, after all!
Our work isn't limited to running the renovation; dealing with those awkward conversations (see above!) and figuring out how to build a business and revive a house—all while staying friends—takes work, too. Especially as you're encountering a whole new side of each other.
You learn each others' weaker (and strong!) points
Even in close friendships, there's an element of letting the other person see you mostly at your best. You also see each other's friend personas, not their work ones.
Going through the process of buying the house and the early stages of renovation we've had the chance to see how the other responds in some new scenarios. Michael has learned I'm an even bigger worrier and more impatient than he knew, and I've discovered some of his triggers. I've also seen how great he is at things like talking with bankers, and I've enjoyed the chance to let my friend see how I can manage a job. 
You can't just have it your way because you say so
This is my (both of our) first time collaborating on a project like this. While serving as my own general contractor on other renovations, I've never had to justify my decisions to anyone; if I want the farm sink, or to skip upper cabinets, I just go for it. Now I have to give my reasons and they can't just be "because I like it that way."
We're in this to make a profit—as we also have to keep reminding each other when we want to buy the spendy zellige tiles or replace the perfectly serviceable siding because we don't like the color—so the decisions have to be based on what will best sell. We both bring expertise; serial renovations and writing for places like Apartment Therapy is mine, and 20 years of selling new homes is his. We have to let the other one make their case and decide based on facts, not feelings. 
When it comes to renovating an old house, the more really is the merrier
It comes with its perils, but having a friend as teammate on this project makes it exponentially better. We're forming so many amazing memories and amassing a collection of inside jokes—and best of all, we each have someone who's as excited about fixing up this sleeping beauty as we are.
In the challenging moments (the interest rate on that renovation loan is HOW much!?) knowing someone has your back makes all the difference. We never grow tired of talking about the potential of the house, and chances are if I send a midnight text with some wild idea like "let's put a contemporary floating staircase in an early 1900s Victorian," he's going to reply because he's awake thinking about the house, too. I just wish I hadn't waited so long to take the leap!