The Biggest Mistake You Can Make While Renovating Is Also the Easiest One to Fix
We
independently
select these products—if you buy from one of our links, we may earn a commission. All prices were accurate at the time of publishing.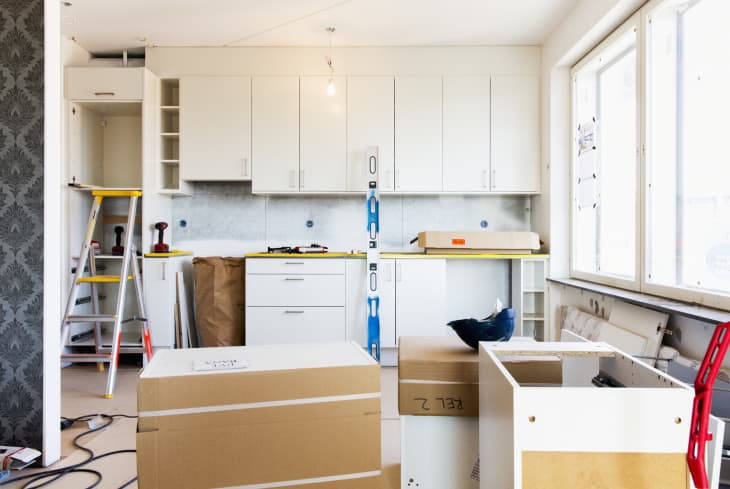 Delivery day is one of the most exciting days in a big home renovation. Here's the thing, though. When your stuff starts coming in, it tends to happen all at once amidst a flurry of other activities. It's tempting to just check off your to-do list that says your bathroom sink, toilet, faucets, dishwasher, stair spindles, or doors are here, and move on to the next 78 things waiting.
Those things I just listed? They arrived at the Victorian my best friend and I were renovating, and stayed unopened until the day they were needed. I'd like to make an excuse, but the reality is that there were so many things happening and so many things arriving late that we were just relieved to have those products on hand so work could continue. So we… didn't take the time to look at them. 
I think you can guess where this is going: It wasn't until the absolute most inopportune time that we found problems with all of those things. 
Exhibit A: The custom staircase was probably the single most challenging project of this reno, and once we were finally ready for the spindles and banister that we'd ordered from a local mill yard, we were only able to have the necessary workers on site for one single weekend — which happened to be a holiday weekend. As I set out the materials minutes before those workers needed them, I got to the end of the boxes and my stomach dropped. While we had spindles, we didn't actually have the number we'd ordered.
My friend and business partner was at his day job, unable to leave. My husband was handling an HVAC emergency with our Airbnb. And I couldn't leave the job site because several things were underway that needed my supervision. After a search online, I was able to locate spindles at Menard's that looked like they would match and order them online for pickup; my friend's partner was kind enough to bring them from the store to the reno site. By then, though, the workers had gone home for the day. 
Our crisis was mostly averted, but not without a lot of turmoil and expense. Similar problems happened when the plumber found that the pedestal sink and toilet we'd had delivered were broken…. just as he was preparing to install them. That set his schedule back while we ordered new ones, and again cost us because we had no way to return the broken items for a refund. 
When the plumber did come back, guess what? He found the faucet we'd bought for another bathroom was also broken. He personally went to pick up a new one, and I don't think I want to know what the hourly rate surcharge was on that! That was also the same day that we learned the dishwasher wasn't going to fit the opening because of the thickness of the floor tile. I was on hold with a local appliance company looking for a dishwasher with an adjustable height that could be delivered immediately at the same time the plumber was blowing up my texts in search of the right faucet. 
If that sounds stressful, I can assure you: it was. 
But the worst was probably the custom-made doors. These were long-lead items that set us back weeks when we discovered — right when it came time to install them — that even though the company had measured for the order, they'd brought us the wrong sizes. 
All of these issues cost us. They added up to pushing back our finish date, which not only ratcheted up our carrying costs on things like the renovation loan interest, insurance, and utilities, but ultimately delayed our listing date on selling the house — all while interest rates were skyrocketing. We finally had to call it done and go on the market even with a missing bedroom door. Ultimately, these were very expensive mistakes that mostly could have been easily avoided if we'd just checked the contents of all those packages the second we received them.
Immediately opening packages allows you plenty of time to contact the relevant companies if something is wrong — whether that's missing pieces, the wrong number of items, broken elements, or completely wrong items altogether. "Inspect materials" is a step you absolutely need to add to your reno checklist, and it's one that you need to check off as soon as possible to avoid the delays, disruptions, and costs that I experienced.
If I learned one lesson on this renovation, it was this: No matter what is going on, no matter how whirlwind the day is, anytime something is delivered, drop everything. Inspect it, count it, measure it, or otherwise make sure it's not going to be an issue before a small problem becomes a huge problem.