See How a Home Stager Ditched Yellow Walls for a Neutral (Yet Glam) Palette
We independently select these products—if you buy from one of our links, we may earn a commission. All prices were accurate at the time of publishing.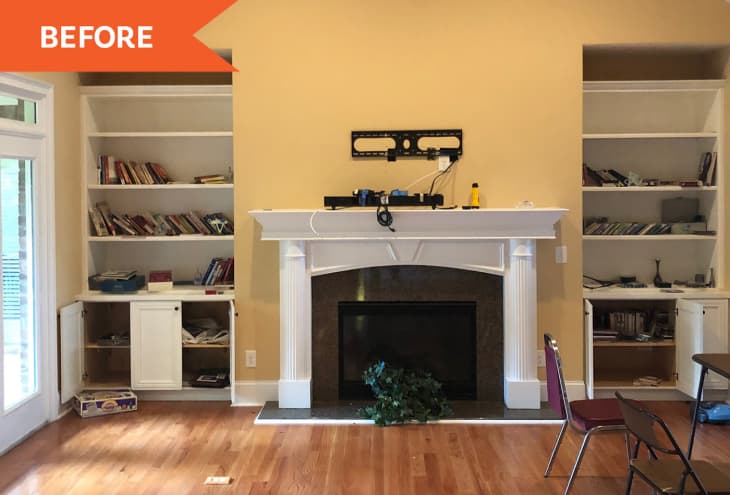 Sylvia Gholston, senior designer at Showhomes of Cobb, knew that getting rid of the outdated hue throughout the home would modernize and refresh the four-bedroom, three-and-a-half-bathroom house. "Staging cannot help inconsistent paint colors," she says. "So we had the entire house painted a balsamic white."
Luckily, the house had great bones and an appealing exterior, so Gholston's goal was to provide a look that was lived-in, yet trendy, so that potential buyers could picture themselves living in the space.
Her approach is immediately clear in the living room, which featured the same dingy yellow walls, as well as exposed wires and hardware from a former wall-mounted TV. These elements eclipsed appealing aspects like the dual built-in bookcases, a sizable fireplace, and vaulted ceilings.
"Our primary goal was to showcase the high ceilings and the openness of this space," Gholston says. "We placed the furniture in the center to indicate that an actual set could be used and fill the space. We wanted a bit of a glam look but not over-the-top."
Painting the walls a soft dove gray with bright white on the fireplace mantle and surround, trim, and bookcases immediately made a difference, and removing old wiring from the TV created a clean slate.
"The bookcases were staged lightly so that the potential owner could see that you do not have to crowd bookshelves," she says, noting that she chose clean-lined silver and white items, like vases and faux plants, to match that minimalist aesthetic. "My philosophy is less is more."
To achieve the desired lived-in look with a glam twist, Gholston chose a furniture set, comprising a sofa, a love seat, and a chair, that was neutral yet plush. "This was important to show that you do not need the traditional staged look — couch and two chairs with two lamps — to highlight a space." Coordinating throw pillows with a bit of sheen invite guests to take a seat and get cozy.
A faux fur area rug in a creamy hue grounds the seating arrangement and adds to the luxe vibe. On top, a square coffee table with silver X-shaped legs and a faux animal skin cushion displays a plush fur throw blanket and a barware set on a silver tray.
The granite on the fireplace pops against the new paint color, while a large-scale piece of abstract art in neutral hues draws the eye upward to the high ceiling. A silver vessel on the ground in front of the fireplace adds further shine.
While the overall color scheme is neutral, the interplay of textures, shapes, and materials keeps things interesting. "The ultimate goal was to show that glam can be functional and does not have to be over-the-top," Gholston says.
Originally, the home was on the market for a month. But after Gholston was hired and worked her magic over the course of two days, it sold within 24 hours for $5,000 over the $850,000 list price. The homeowners were thrilled — and the yellow walls are now nothing but a memory.