Home Stagers Pick 7 Items That Will Upgrade Your Home Office for Less Than $5
We independently select these products—if you buy from one of our links, we may earn a commission. All prices were accurate at the time of publishing.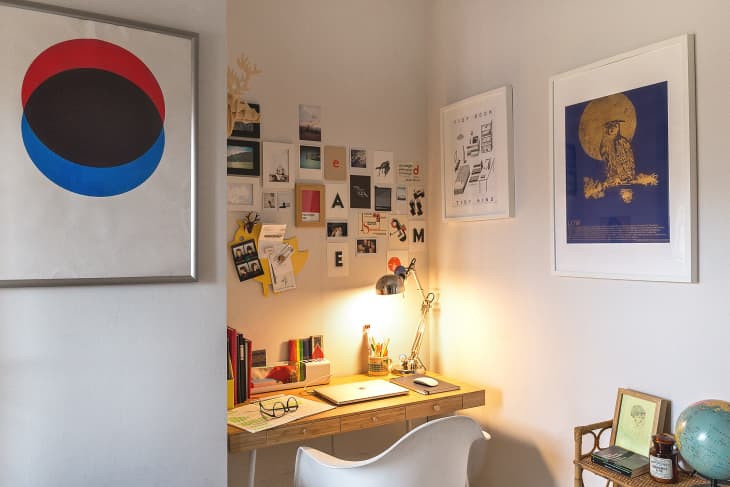 Ah, the home office. Once a fun bonus room, now practically a necessity during the pandemic. Even if you don't have one — and your "office" has taken the shape of a desk nook squeezed between the living and dining room — the spot where you work still deserves love. There are easy (and cheap!) ways to spruce things up, too.
Follow Topics for more like this
Follow for more stories like this
Ahead, two professional home stagers (who zhuzh up lackluster home offices for a living) suggest items you can swipe for $5 or less that will upgrade your space quickly and easily. 
Home Depot is a great place to find affordable plants — and their website makes it easy to filter by care level, sunlight needed, size, and of course, price. The thing that can get expensive, however, is a stylish pot. You can easily get inexpensive terracotta plant pots from Michael's or other craft stores and make a fun project out of painting them. 
Stylish posters or other kinds of art can quickly get expensive. But it's totally free to make your own art or even to press flowers and display them in a glass frame. 
Visser suggests adding postcards to your space. "Collect postcards from trips, ones with inspirational sayings, or places you want to go as a goal," she says. "These can be easily adhered to your wall in a collage as a reminder to take care of yourself or move forward… whatever you want to be reminded of."
If you're anything like me, you have a small but emotionally significant collection of tchotchkes that were gifts, souvenirs from trips, or other trinkets that hold sentimental value. "Add small toys, figurines, crystals, or paperweights to your home office," suggests Visser. "Something that brings you joy or makes you laugh when you look at it — something that reminds you not to take life too seriously."
Lights literally brighten up a room, and inexpensive table lamps can be relatively easy to find. Target, Wayfair, and Bed, Bath & Beyond all have decent collections to choose from for prices that won't break the bank. 
"Desk or floor lamps make spaces not only feel brighter, but more open," Scott says. 
"Weaved or wire baskets serve as a great decorating or organizing tool for hiding away not frequently used items," Scott says. Baskets tend to stand the test of time, so buying used ones is a simple way to save some money. (It's likely that your parents, grandparents or other family members might have some lying around in their basement, too.)
Thrift stores usually have them for sale, but you can also buy new from places like The Container Store, where there's a variety of styles and sizes available. 
Visser suggests purchasing a notebook or journal that you like, fun patterned paper, and a good pen are ways to punch up your home office. These items are often overlooked, but I think it's safe to say writing with a specific good pen just makes the experience that much more enjoyable. 
When in doubt, browse thrift store shelves to fill your own shelves back home. "The thrift stores are full of great books that are collecting dust," Visser says. "Rescue them from the landfill by reading them. You can find just about every subject out there and can often buy them for under $5 easily."