What to Do Before, During, and After Someone (Like a Plumber or Landlord) Enters Your Home
We
independently
select these products—if you buy from one of our links, we may earn a commission. All prices were accurate at the time of publishing.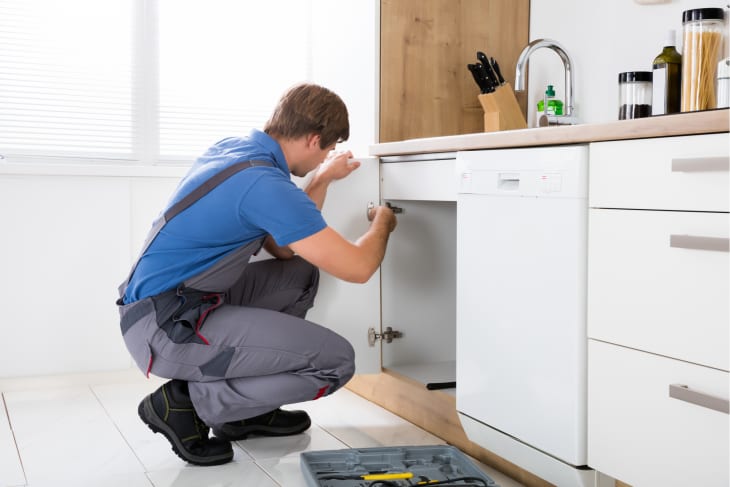 During a public health crisis, everyone has a responsibility to flatten the curve. That means staying at home as much as possible—and avoiding having people in your home. But even if you're taking social distancing seriously, some emergency scenarios may require visitors. What if your apartment's pipe bursts or you need a technician to fix your internet connection so you can work remotely?
While we have a lot of clear guidance for what to do when we go out to run essential errands, there's not any firm guidelines on how to treat these few-and-far-between home visits. Epidemiologist Melissa Hawkins, director of the Public Health Scholars Program at American University, says the most important thing to do is take advantage of the time you have to plan how you'll keep yourself, your home, and your visitor safe. 
"The good news is, you probably won't have any unexpected visits," she says. "There are things you can do before, during, and after the visit that can protect you and that person."
Here are the best practices Hawkins recommends for maintaining health and safety during essential visits.
Before the visit: Disinfect frequently-touched-surfaces
Before your visitor comes over, make sure your home is clean and safe. Before you bleach every corner of your space, think about high-risk areas. Chances are, whoever is coming won't need every room of your house, so take care to disinfect whatever spaces or surfaces are going to be visited or touched. 
If you have any symptoms of sickness, think twice about how important the visit really is. "If you or anyone in your home is sick, then consider postponing," Hawkins says. "Or, if it's an emergency, be up front about the situation with your visitor."
During the visit: Wear masks, maintain distance, and avoid touching the same surfaces
When the visitor arrives, have them take their shoes off at the door (or outside), and skip the handshake greetings. Now that the CDC recommends everyone wear masks, you can wear one and encourage your visitor to, as well. (Although it's likely they may bring their own, since they're out in public.)

Read more: The Easiest Way to Make Your Own No-Sew Cloth Face Mask
While your landlord or cable technician does their work, adhere to social distancing guidelines by staying six feet apart whenever possible. There's probably no need to leave your home unless you totally trust the person. "It's perfectly reasonable to practice safe distancing when you're at home; just stay in another room and make yourself available," Hawkins says. 
During the visit, you can also ask the visitor what their plan is for cleaning the areas they touched or worked on. "It's fair to expect and have a conversation with that person to confirm that they will be cleaning and sanitizing any equipment or surfaces they touch," she says. 
After the visitor leaves: Wash your hands and disinfect
Finally, use targeted hygiene to disinfect any areas the person touched, including doorknobs and light switches. And always thoroughly wash your hands when the person leaves your home. "In all of these measures, it's good to err on the side of caution without giving into paranoia," Hawkins says. "The key is balancing hygiene practices with your own anxiety and what's going to bring you comfort in terms of risk."

Read more: A Microbiologist Shares How "Target Hygiene" Cleaning Can Help When Everyone's Getting Sick