I'm a Style Editor, and I'm Obsessed with This New Sofa Brand (AT Readers Get an Exclusive Discount!)
We independently select these products—if you buy from one of our links, we may earn a commission. All prices were accurate at the time of publishing.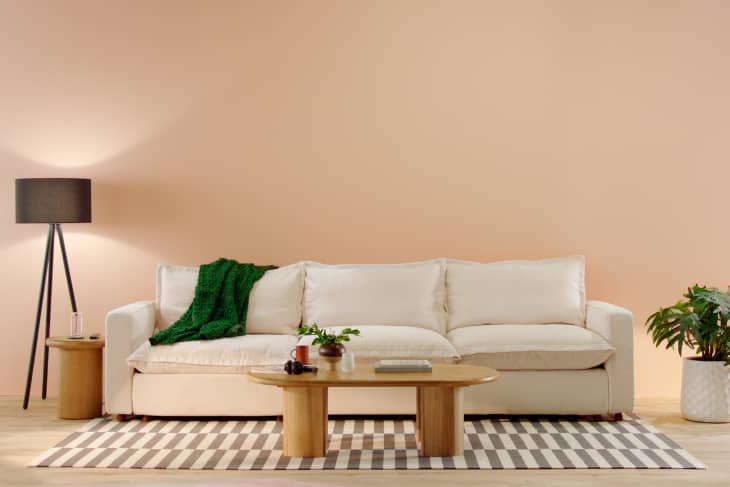 In a world of all-white plush couches, it's hard to actually discern between the modern modular masses, especially when it comes to comfort and upkeep. But if I have anything to say about it, there's one specific sofa standout I've tried that looks, feels, and functions a substantial cut above the rest.
Follow Topics for more like this
Follow for more stories like this
Allow me to introduce you to Homebody, a new environmentally-conscious, California-based furniture startup that currently carries just two minimalist sofa styles: The Couch and The Recliner. Both come in a handful of upholstery options and customizable sizes, from a two-seater to a U-shaped sectional, while the latter also includes your choice of built-in, completely unnoticeable recliners — which require just two inches of wall clearance to fully lean back. Also, note that now through April 28, Apartment Therapy readers get an exclusive 20 percent discount on all Homebody styles with code APT20 at checkout.
I can specifically vouch for the brand's standard, small-space-friendly two-seater Couch, which I tested in the "coconut" linen variation. While Homebody's website does constitute this as a loveseat, don't be fooled: at 90.6 inches wide, it's surprisingly sizable, comprised of two identical conjoined modules (that you can eventually build upon, too). Each features a seat base, super short rounded feet, backing and side arm pieces, headrests, and cushions to sit on and against — all covered in the same stain-resistant (!!!), real-life-approved upholstery. The coconut color does skew slightly more off-white than it appears online, but it still passes for the clean, light-hued aesthetic, albeit much more spillage-friendly.
Both the Homebody delivery and assembly earn 5-star reviews in my book — and as my close friends know leading up to the sofa's arrival, I was stressed. The website didn't specify any delivery measurements, so I had no idea what to expect regarding package sizing and whether it would fit through my 30-inch door frame. I even went so far as to contact the New York Couch Doctor for a quote in advance, just in case, but to my surprise, the couch arrived in six compact, easily carryable boxes. I also had a curbside drop-off experience (although the driver and my landlord helped get everything up to my apartment), but you can choose to pay extra for indoor or White Glove delivery.
As a testament to the building process, I easily put the sofa together by myself after watching a quick YouTube tutorial (I, unfortunately, couldn't find any paper instructions). The individual pieces each came with built-in slots and accompanying grooves — including extras for adding on future configurations — designed to slide perfectly into one another. L- and U-shaped connectors were also included to combine the two seating modules and further lock everything into place. Honestly, the unboxing arguably took up the most time overall, rather than the setup itself.
Now let's talk about this sofa's ultimate appeal: comfort. Folks, I'm not at all being hyperbolic when I tell you that Homebody's design is one of the — if not the — coziest, never-want-to-get-up kind of couches I've experienced in my life thus far (I'm currently even writing this review from it, TBH). I mean, you're essentially lounging on a giant, luxurious, yet supportive pillow. That does lead me to my one (singular!) qualm, which is that you do have to occasionally re-fluff the cushions every few sits or so, but I honestly like that it gives off a lived-in look. And speaking of looks, this style caters to the low-profile silhouette that's now the sofa norm, but it actually runs on the somewhat taller side at 37 inches. Both cushions add a little extra height, too, and I personally think this lends a more timeless appeal overall.
While I'd recommend Homebody's two-seater (which definitely has capacity for three to four people, if you squeeze) in smaller living rooms, you can fully create the best sofa design for your own space, up to seven pieces. Or, shop a la carte for matching ottomans and chaises, too, depending on your seating needs. Additionally, on top of the coconut linen upholstery, choose from six other soft, stain-resistant combinations — including a dark velvet — with fabric samples available before you buy. As for pricing, full transparency, Homebody's sofas are a definite investment, starting at $3,740 for the smallest non-reclining size or $4,490 for the recliner equivalent.
That said if you've wanted to hop on the fluffy white couch bandwagon but feel overwhelmed with options, consider this the ultimate editor-approved, family-friendly frontrunner. You get what you pay for in terms of seating space, style, comfort, and durability — the last of which especially sets this apart from similar high-end equivalents, firmly positioning Homebody as your next forever couch. The brand also offers a free 100-day trial and return period if you're not entirely sold. Don't forget to take advantage of Apartment Therapy's exclusive 20 percent off discount through April 28!