Here's a Smart Strategy to Make Your Small Living Room Feel Larger, According to an Expert
We independently select these products—if you buy from one of our links, we may earn a commission. All prices were accurate at the time of publishing.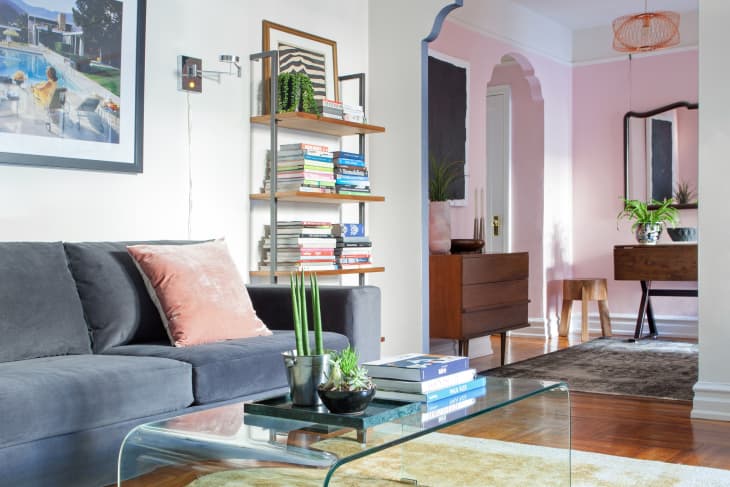 If you have a small living space, there's not much you can do about longing for enough seating to accommodate all your guests or a space large enough to fit that extra-large couch you've been eyeing. However, you can make your living room appear larger with a few visual decorating tricks. 
Follow Topics for more like this
Follow for more stories like this
"By making your small living room feel larger, you remove the feeling of claustrophobia," says Emma Kemper, principal designer at Emma Beryl Interiors in New York City. "It will create a positive, emotional change in your state of mind." To make your living room seem larger and feel as good as it looks, consider these four tips from Kemper:
Use color to expand a room.
Kemper says that she uses a number of different tactics to make her clients' small living rooms feel larger, but her favorite method is using color in clever ways. Kemper says that bright, light, neutral colors (think: whites, light creams, and soft grays) can create the "illusion of expansion." 
But she adds that you don't have to just stick to neutrals, saying, "There are plenty of colors that homeowners can use that will have the same effect." If you'd like to incorporate a non-neutral color in your living room design, such as a breezy blue or soft sage, go with an accent wall instead — if it's not a neutral, painting every wall in the same color can make the room feel smaller.
"A credenza is always a fantastic piece to add to your living room to maximize your space," Kemper observes. "The use of glass doors in furniture creates the illusion that it is light, which in turn, creates the illusion that your living room is larger." Since a glass-front credenza will reveal all the contents inside, Kemper cautions to use care when styling the shelves, avoiding disorganization and excess items. 
Another smart choice is a glass-topped coffee table. Since light bounces off glass, this style of coffee table makes a diminutive space seem larger. Note: All those sharp corners and glass might not be the best approach if you have young kids or pets. 
Lighten up window treatments.
Choosing the right window treatments can make all the difference in a small space. Kemper says that she creates the appearance of a large living space by staying away from heavy drapery. Sometimes, she'll even leave out window treatments altogether as long as there's not a privacy issue. "I maximize the feeling of space in my clients' homes by allowing as much natural light in as possible," she says. "The feeling of natural light and connection to the exterior has the ability to expand any living space significantly." 
Ditch visually heavy furniture.
If you're trying to make your living room look larger, Kemper says that oftentimes cabinets are large and clunky, which causes them to "consume a lot of space from your floor plan." Instead, she recommends floating shelves. "They accomplish virtually the same thing while leaving floor space clear," she says. If you live in a rental and can't make holes in your walls (or just don't want to), you can also approximate the look with a thin-framed, backless bookcase similar to what's shown here.