You Can Get Paid To Drive A Hot Dog Car in 2023
We
independently
select these products—if you buy from one of our links, we may earn a commission. All prices were accurate at the time of publishing.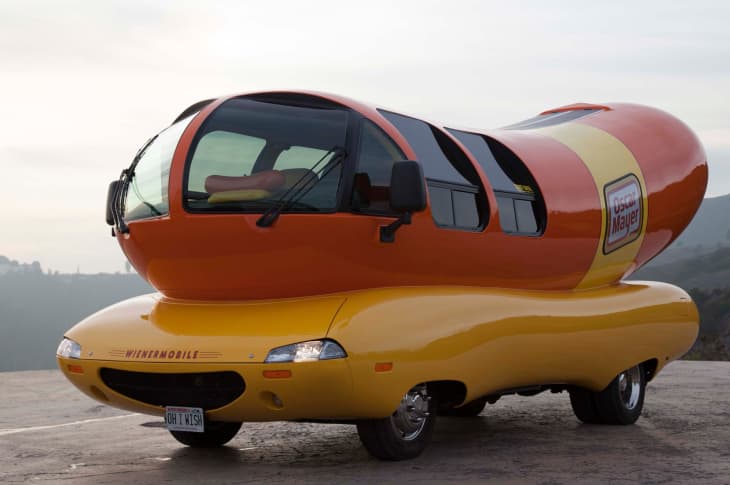 Are you a recent college graduate looking for a new job? Do you love to travel? Then have I got an opportunity for you, provided you're cool with driving a giant hot dog around the continental United States.
That's right — the iconic meat and cold cut producer Oscar Mayer is taking applications for its next round of "Hotdoggers," the, uh, interesting title given to the 12 employees who drive one of their  Wienermobiles around the country during their full-time, year-long tenure.
According to Oscar Mayer, Hotdoggers drive an average of 20,000 miles and visit 20 different states during their time with the company. As employee "Ketchup Kaitlyn" put it in a recent Instagram post, the job is like "the road trip of a lifetime, but in a giant hotdog."
So, what else can you expect from Hotdogger life? Well, apart from the travel, you'll also represent Oscar Mayer as a "brand ambassador" through radio and TV appearances, as well as grocery retail and charity functions, per the official job description. You might even get to drive around some big celebrities — Prince Harry himself rode in a Wienermobile in 2021 and described it as "living the American Dream."
Oscar Mayer is looking for graduating college seniors, preferably individuals with degrees in public relations, journalism, communications, advertising, or marketing. The job description describes being a Hotdogger as essential managing "your own public relations firm," whether you're contributing to brand social content, organizing promotions, or pitching Oscar Mayer advertisements.
The job has a base annual salary of $35,600, with a $150 weekly allowance, 18 paid days off, and a full health benefits package. Another plus? All hotel expenses are covered, so you can travel around the country in hot dog style, without breaking the bank.
Think you've got what it takes to step behind the wheel of a Wienermobile? Then give it your best shot, and submit your resume and cover letter via email to wmrequest@kraftheinzcompany.com before January 31. Alternatively, you can mail your application to Oscar Mayer, Attn: Hotdogger Position, 560 E Verona Ave, Verona, WI, 53593. Good luck!