A Bohemian Hotel in the Heart of Mexico City
We independently select these products—if you buy from one of our links, we may earn a commission. All prices were accurate at the time of publishing.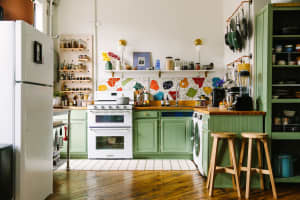 Can't-Miss House Tours Straight to Your Inbox
Keep up with our latest house tours each weekday with our House Tour of the Day newsletter
Name: Chaya B&B
Location: El Centro — Mexico City, Mexico
Type: Two suites and nine rooms
Perched high on the top floor of the trendy and newly renovated Barrio Alameda, Chaya B&B, stands out among a fantastic new crop of boutique hotels that are part of Mexico City's unparalleled design scene. Travel to this part of Mexico City without leaving your home or find inspiration and ideas to add to your own home.
Travelers who ascend the three-story building to Chaya's entrance are rewarded with an indoor-outdoor hotel that offers stunning views above Alameda Central (a sprawling park in the middle of the Centro neighborhood). There are hand-carved wooden chairs with metal backing in the dining room, leather lounges, and wild green plants in clay pots and dangling like jewels from strings of lights and over the edge of the roof. It's a dream location for anyone who loves a well-designed space that fuses bohemian and industrial vibes. Mexico's climate makes lush plant life abundant in these parts, and Chaya is no stranger to incorporating as much of it into its decor as possible.
The main floor entrance steps out onto a beautiful set of wooden slats. As you slink down either side of the hallway, past the colorful hammocks hanging coolly in the center of the floor and the whitewashed stone walls, you'll pass a row of rooms, each accompanied by a maroon umbrella for those pesky rainy days.
It's the details at Chaya that make you really fall in love with it. Walk back further and you'll notice two discreet and elegant mini patio sets in case you choose to enjoy an afternoon coffee or an early morning el desayuno (breakfast). Between them is a lovely staircase of succulent varieties and cacti in pots, flanked by a former cathedral in the background that stands as a tall and impressive golden yellow structure now used to host underground parties for Mexico's in-the-know crowd.
Each room in Chaya varies in size, but averages about 350-450 square feet. The cozy white beds in the center of the rooms are flanked on either side by two re-purposed branches that act as shade-less lamps with a light bulb hanging from them. Slate grey stone floors and walls are accompanied by a tall shower with near-floor-to-ceiling length shower curtains in the bathrooms.
→ And see all of our past house tours here
Updated daily with fresh tours full of photos for you to pin & enjoy!