The 10 Hottest Zip Codes in America, According to Realtor.com
We independently select these products—if you buy from one of our links, we may earn a commission. All prices were accurate at the time of publishing.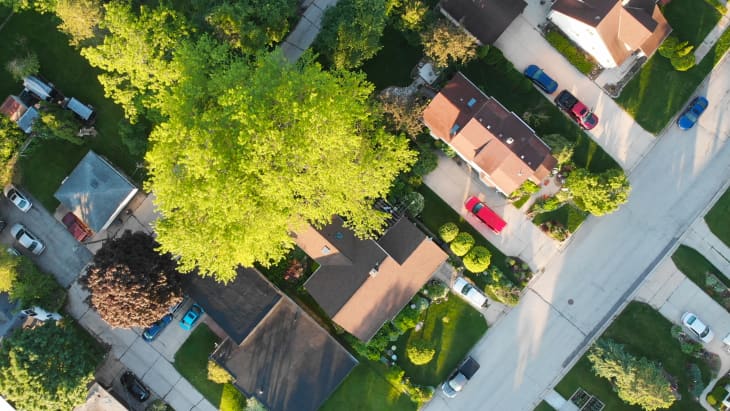 It's no secret that finding your dream home right now isn't necessarily a walk in the park. Inflation continues to drive up average rent costs in the U.S., meaning that many Americans based in prominent, high-cost cities have opted for homes in neighboring towns and suburbs that offer them size and amenities within commuting distance of major metropolitan areas. But which zip codes are in the highest demand right now?
To discover which areas Americans are eyeing in 2023, real estate listings website Realtor.com researched the hottest zip codes where homebuyers are moving. To do so, the Realtor.com team used an algorithm that takes two aspects of the housing market into account: market demand as measured by unique viewers per property on Realtor.com, as well as the pace of the market as measured by the number of days a listing remains active on the site. Data from January to June 2023 was used, and the list of top zip codes was limited to one zip code per metropolitan area.
The study's most recent data found that Gahanna, Ohio (43230), is 2023's hottest zip code. Gahanna is located just outside of Columbus, Ohio, which is home to Ohio State University and the buzzy Short North Arts District. Gahanna boasts a homeownership of 60% with a quarter of its population in the 25 to 34 age bracket, also making it a strong candidate for young renters considering homeownership.
Coming in second place is Southington, Connecticut (06489), which lies within commuting distance of Hartford, Connecticut and Middletown, Connecticut. Roughly one-third of Southington listings' viewership came from the New York City metro area, suggesting that New Yorkers — who are currently living in the most expensive city in the world — are considering moves to more affordable towns in the Northeast.
In third place is Ridgewood, New Jersey (07450), which is an hour-long train ride from the Big Apple. However, a typical listing in this zip code was more than double the size of a New York City listing in June 2023.
Here's the full list of the top 10 hottest U.S. zip codes, according to Realtor.com data.
Zip code: 43230
Metro area: Columbus, OH
Median listing price: $351,000
2. Southington, Connecticut
Zip code: 06489
Metro area: Hartford-East, Hartford-Middletown, CT
Median listing price: $368,000
Zip code: 07450
Metro area: New York-Newark Jersey City, NY-NJ-PA
Median listing price: $1,184,000
4. Andover, Massachusetts
Zip code: 01810
Metro area: Boston-Cambridge-Newton, MA-NH
Median listing price: $992,000
5. Nazareth, Pennsylvania
Zip code: 18064
Metro area: Allentown-Bethlehem-Easton, PA-NJ
Median listing price: $268,000
Zip code: 46322
Metro area: Chicago-Naperville-Elgin, IL-IN-WI
Median listing price: $268,000
Zip code: 48183
Metro area: Detroit-Warren-Dearborn, MI
Median listing price: $238,000
Zip code: 06851
Metro area: Bridgeport-Stamford-Norwalk, CT
Median listing price: $596,000
Zip code: 14534
Metro area: Rochester, NY
Median listing price: $595,000
Zip code: 63021
Metro area: St. Louis, MO-IL
Median listing price: $353,000
You can check out Realtor.com's full study and see if your hometown made the cut here.