Johnny & Stacie's Super Sweet Loft
We independently select these products—if you buy from one of our links, we may earn a commission. All prices were accurate at the time of publishing.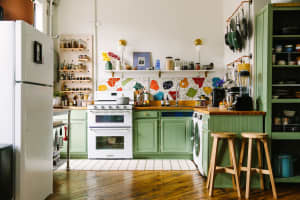 Can't-Miss House Tours Straight to Your Inbox
Keep up with our latest house tours each weekday with our House Tour of the Day newsletter
You may remember Johnny and Stacie's loft from a house call that we published in January. We were thrilled when they agreed to share some more photos of their converted warehouse space with us. It simply is a home that makes us happy – cheerful, sunny and special – we're glad to take a longer look.
From the spots of pink dotted throughout to the globe collection on the kitchen cabinets, you can tell that these are two people who think about the big picture visually (and yes, they are both artists – Johnny is a graphic designer and Stacie is an art teacher). The colors, patterns, furniture styles and shapes are arranged in a way that feels balanced, yet put together with enough quirkiness to keep things interesting.
Their artists eye also helps out when scouting deals – they love craigslist and have managed to furnish this inviting home with a mix of classics and contemporary pieces on a very thrifty budget while decorating it with artwork made by themselves and their friends and fellow artists in the twin cities art scene. A perfect collaboration!
Apartment Therapy Survey:
Our style: Modern and mid century fusion with a pinch of eclectic vintage
Inspiration: We are very inspired by mid century design and really appreciate the simplicity, materials, and functional beauty of that era. We love and are heavily influenced by color; and, as you can see from our apartment, are not afraid to use bold, bright colors in our space. We live in an artist cooperative, and believe that artists and all forms of art are a huge source of inspiration. We like collecting, creating, and living with handmade art and craft and having some sort of connection with the artist is even better.
Favorite Element: The architecture of the building is awesome. The tall ceilings, pine floors, and large wooden beams are beautiful and make a great canvas for interior design.
Biggest Challenge: The kitchen and bathroom counter tops as well as the fixtures and cabinets do not appeal to our design aesthetic. However, being renters has limited our choices due to the permanence and high cost of most options for improvement.
What Friends Say: Our friends love our space! They seem to appreciate our furniture and art collection the most, but they also enjoy the layout and look of the original space. They can't believe how clean we keep our space and they also love the swing and vintage pieces.
Biggest Embarrassment: The kitchen and bathroom cabinets and countertops. They are hideous and look cheap because they are.
Proudest DIY: Johnny built and designed the partner desks/screen-printing unit, shelf, and countertop in our art studio. It was incredibly cheap too because it's made from chip board!
Biggest Indulgence: Our Room and Board sofa, and that wasn't even that much of an indulgence. We're super thrifty, so we don't have to indulge much.
Best advice: Craigslist, Craigslist, Craigslist! We have found so many great deals on that website. Also, don't be afraid to do it yourself. That way you know the quality of the product and you can create or design it to your exact specifications.
Dream source: Thrift stores and Vintage Shops, Room and Board, Design within Reach, Blu Dot, and Etsy.
Resources:
Entrance: Flocked deer:Johnny, Vintage kids desk: art co-op "free pile"
Living area: Eames rocker: retro pete's vintage, Sofa: room & board outlet, tv stand: ikea, Strut square coffee table & Strut console table: Blu Dot, Rug: ikea, Knock-off Eames recliner and wassily chair: Craigs list, swing: ikea kids dept., Vintage Map: thrift store, arched Lamp: thrift store, blue mid century chair: Swank Retro vintage store, book shelf: ikea, Paintings: Stacie
Dining area: Stut X-Large Table: Blu Bot, Eames Shell Chairs: University of Minnesota Reuse Center, Deer Art: Johnny, Ceramics & Flower Painting: Stacie, Zenith console record player and radio: Craiglist, red rotary phone: art co-op "free pile"
Studio: Desks, shelf, and counter top: Johnny, baby blue real good chair: Blu Dot, Green office chair: Swank Retro, flat files: Craig's List
Kitchen: Island and Stools: ikea, Vintage Pyrex, Globes, cups: Thrift stores, Posters: Johnny
Bedroom: Midcentury Dresser: our parents, hot-pink deer lamp:Urban Outfitters, baby blue knock-off Eames shell chair:Animal Arc thrift store, blue trunk:artist co-op "free pile", night stands:ikea light-up shelves, dinosaur painting:Stacie original, octopus painting:wedding gift from artist Scott Bergmann, turtle woodblock print: Tugboat printshop