Jennifer's High/Low Home in the Hills
We
independently
select these products—if you buy from one of our links, we may earn a commission. All prices were accurate at the time of publishing.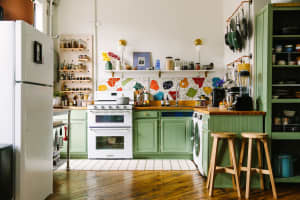 Can't-Miss House Tours Straight to Your Inbox
Keep up with our latest house tours each weekday with our House Tour of the Day newsletter
Name: Jennifer Dyer
Location: Hollywood Hills, California
Size: 2960 square feet
Years lived in: 1 1/2 years
Jennifer has a designer's eye for confidently pulling together different styles across a mixture of unique furnishings. She loves scavenger finds — her leather dining room side chair was found on the side of the road. She is not afraid to shop at high and low sources to create a personal and unique home. At the end of the day, it comes down to the design and not the price tag.
APARTMENT THERAPY: Do you have a method for finding great deals on furniture or accessories?
JENNIFER DYER: No. There is no rhyme or reason to it. You almost have to treat it like a hobby. Look when you don't need anything because that is when you find something you love. If you are looking for something, it is Murphy's Law that you won't be able to find it.
APARTMENT THERAPY: What is your best scavenger find?
JENNIFER DYER: My eat-in kitchen table. It was painted a horrible shade of pink and sitting in the back of a truck at a flea market. However, the style and size was perfect. I bought it for $125 and refinished it. It ended up being walnut and turned out beautifully.
APARTMENT THERAPY: What is your favorite resource for finding great steals?
JENNIFER DYER: Definitely flea markets.
APARTMENT THERAPY: What do you look for when you are shopping flea markets?
JENNIFER DYER: I am not specifically shopping for anything. I go and if I see something I love, I buy it. If I leave with nothing, that's OK too.
APARTMENT THERAPY: Any advice for mixing scavenger finds with expensive furnishings?
JENNIFER DYER: If you are buying furniture, you are more than likely need to fully repurpose it (ie: refinish it, reupholster it and change the hardware). You can't expect that keeping it as is will be OK beside expensive pieces. However, if you put a bit of money into it, it will coordinate nicely. It may be more than you expected to spend in the end but you can't put a price on uniqueness, which is hopefully the reason you bought it in the first place.
Apartment Therapy Survey:
My Style: I do not like to define myself as having a specific style. I combine many styles and genres. If I see something I like I usually buy it and make it work. This way, my house looks collected, not designed, and that is my goal with all projects. I will leave an area empty before simply filling it just to have it complete. Buying the right thing takes time and patience. I like to walk into a room and not know what to look at first. So often people are too concerned about the furniture and rugs, but it's really the art, lighting, accessories, and smaller details that pull a home together. I am a huge proponent for originality and purposely shop at vintage stores, markets, and antique stores and I often repurpose old furniture.
Inspiration: Travel is always such a huge inspiration for me. For this house specifically, I just kept thinking 'eclectic Hamptons.' I make an effort to buy something for my home every time I am abroad, even if it means rearranging what I currently have. My inspiration changes constantly and I won't repeat color combinations from previous homes.
Favorite Element: This is so simple – I love that 80% of the house is on the same floor and that the house isn't too large. I love single story homes. I think they have a better flow and energy. I get to enjoy all of my house all of the time since the family room and kitchen are on opposite ends and I have to walk thru most rooms to reach either. I also love that the house was built in 1947. Yes, older houses can be more maintenance, but it adds a character that becomes harder to attain with new construction.
Biggest Challenge: Deciding what to do. As a designer I see so many things, new fabrics, lighting, rugs, color combos, and furniture all the time. I can easily tell a client what their home needs to look like, but when it comes to my own…I am often indecisive. I am careful not to be too trendy as I prefer things to be timeless.
What Friends Say: Just today I had a friend say that if she had the money to gut her house that she'd have me do everything and she said "you're style and eye for details are top notch. Your work is just as good as anything I have seen in a magazine." I was so happy to hear she thought that. I am hard on myself. I can be a perfectionist.
Biggest Embarrassment: Nothing. I am happy and thankful to have such a nice home.
Proudest DIY: I hire professionals to take care of painting, construction, and all install details. I am not good at DIY projects, so it's best that I stick to what I know: choosing colors, fabrics, lighting, designing furniture, and shopping for the perfect vintage accessories.
Biggest Indulgence: Artwork and rugs. Those are two items you cannot skimp on. Cheap is cheap and it shows with these items, so spend the money. You will have the art forever and good rugs get better with age. I have art clustered together even in the hallway leading to the laundry room.
Best Advice: Designing a house correctly takes time and the biggest mistake you can make is three fold: First, if you buy things quickly just to fill a space, you won't love it and will grow tired of it. Most likely you will re-do it within a few years, thus ending up spending twice the money you would have if you had just waited to find the right pieces. Second, buy classic sofas, chairs, and larger items and accessorize with trendy pieces. The design world is constantly evolving and you don't want to be stuck with certain styles when they are no longer popular. Third, do not match. There's nothing worse than having a set of furniture that is the same design, so mix side tables, cocktail tables, nightstands, and beds.
Dream Source: Estate sales. Most antique and vintage stores in Palm Beach and Miami. Weekend markets in Bangkok, Sol Art Gallery in St. Petersburg, Russia, and Portabella Road in London.
Susanne Hollis

Ralph Lauren

Dan Marty

McGuire

Holly Hunt

Mostly vintage and custom designed pieces
ACCESSORIES
Mostly collected from travels domestic and internationally, Santa Monica swap meet, eBay and Juxtaposition in Crystal Cove.
BEDS
Christian Liaigre and Hickory Chair
FLOORING
Wood…ebony finish
TILES & STONE
Walker Zanger
LIGHTING
Kentfield Collection by Boyd, Jonathan Browning, and vintage pieces
ARTWORK
Collections from markets in St. Petersberg, Russia, Bangkok, Thailand, estate sales, framed original blueprints of the home, photography from Holly Hunt circa 2005, and vintage furniture store finds.
• HOUSE TOUR ARCHIVE Check out past house tours here
• Interested in sharing your home with Apartment Therapy? Contact the editors through our House Tour Submission Form.
• Are you a designer/architect/decorator interested in sharing a residential project with Apartment Therapy readers? Contact the editors through our Professional Submission Form.