Michael & Anna's Rustic Modern Loft
We independently select these products—if you buy from one of our links, we may earn a commission. All prices were accurate at the time of publishing.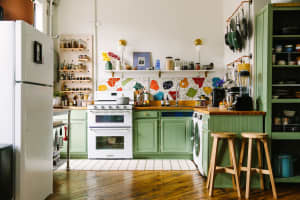 Can't-Miss House Tours Straight to Your Inbox
Keep up with our latest house tours each weekday with our House Tour of the Day newsletter
Name: Michael & Anna
Location: Chicago
Size: 1750 square feet
Years lived in: 2 years
Follow Topics for more like this
Follow for more stories like this
Michael and Anna (who work in advertising and as a chef, respectively) live in a heavy timber loft in a former garment factory in Bucktown. Their design aesthetic fits right in with the architecture of this historical space, where the huge windows overlook long-overgrown abandoned railroad tracks. With influences of natural materials (plants, wood, leather) combined with a strong nod to the industrial (pressed tin patterns, pipe fittings and metal), its got a highly unique rustic modern vibe that really works.
There is a strong sense of history informing the design decisions here, but it's not heavy handed – the generous natural light, flourishing plants and quirky-beautiful bits of artwork throughout keep things modern, fresh and alive. This interior feels like a celebration of the design influences of the past, not a stodgy museum display. The more one investigates Michael and Anna's loft through the photos, the more intriguing it becomes – items as varied as 19th century bronze chandeliers from Uruguay to explosion-proof coal mine lights co-exist in this one-of-a-kind home. Happy exploring!
Apartment Therapy Survey:
Our style: Polystylism. Though that term is usually used in the context of music, I believe it applies to my aesthetic & application. There are modern, rustic, industrial, vintage, natural, baroque & improvised elements throughout the space. The only cohesive aspect, then, is the incongruity.
Inspiration: Inasmuch as I like the fruit of my labor, just as important to me is the process of turning a piece of whatever into a finished item: I like to MacGyver. Just as a knitter might enjoy or find a certain satisfaction in the process of creating his or her work, I find great satisfaction (albeit via frustration, impossibility, trips to Home Depot, consulting Wiki-what-the-hell-am-I-doing) in achieving my mission. I have neither power tools (save my drill,) workspace, nor do I hunt for inspiration. If I'm trolling an alley and see something that compels me to sniff, I'll drag it home and start to repurpose it.
Favorite Element: Amidst the indoor forest, looking through a windowed wall on to the abandoned, overgrown, pastoral railroad tracks (future Bloomingdale Trail,) briefly forgetting that we're in the heart of the city.
Biggest Challenge: Refraining from over-personalizing the space.
What Friends Say: : "Wow, this feels like an aquarium; where did you get all of the plants?" (I realize an aquarium is for fish – comment prompted by all of the windows that reach to the 14′ ceiling; the terrarium comment stems from the variety, scale, vigor & intimidating plants.
Biggest Embarrassment: Kitchen cabinets?
Proudest DIY: Hanging a labyrinth of conduit for the repurposed light fixtures
Biggest Indulgence: Kitchen knives
Best advice: A corded drill is probably the only power tool you need; The person who made the rule that items look better when grouped in odd numbers probably watches too much QVC.
Dream source: Architectural Artifacts, Chicago, IL (architecturalartifacts.com), Get Back Inc, Oakville, CT (getbackinc.com), Scout, Chicago, IL (scoutchicago.com)
Main Room (dining/ living)
Teak dining room table – Design Within Reach
Red dining room chairs – Salvation Army
19th century bronze Uruguay chandeliers (pair) – Architectural Artifacts
Drop (tin) ceiling – DIY – American Tin Ceiling Company
Leather sofa – Room & Board
Coffee table DIY– Salvage One industrial trolley; wood top [Goncalo alves] pieced together from Wood World.
Silver resin pheasants – Vintage Pine
Quartz votive holders – Jayson Home & Garden
Weathered teak patio chairs – found in alley
Milking stool – garage sale
Burnt wood cone-shaped statuesque? – found, burned on beach.
Green locker – salvaged from basement of old apt
Vintage Marx pressed steel airplanes – Ebay
Plants – Jayson Home & Garden; Gethsemane Garden – and a few from Jewel. I've had the poinsettia for 12 years. Let me know if you have questions about the plants!
Leather chair & ottoman – Crate & Barrel
Salvaged white windows – PACA, Champaign, IL
Teak buffet – Crate & Barrel
Bronze shoe sculpture – Anna Jones
Kitchen
Explosion-proof coal mine light fixtures – Crouse Hinds Vapor Master – Ebay
Toledo Stools – Ebay
Knife Magnets – Northwestern Cutlery
Master Bedroom
Bed – Design Within Reach
Headboard – DIY – tin ceiling – American Tin Ceiling Company
Curtains – DIY – green silk from Jo-Ann Fabric; rod is water pipe from Home Depot.
Green Locker – thrift store
Dresser – IKEA
Reading Lamp – Architectural Artifacts
Graphite Drawing – Anna Jones, after photo by A. Stieglitz
Teak rocking chair – thrift store
Guest Bedroom
Bed & headboard – found in alley [new mattress☺]
Elk shed – thrift store, Arizona
Mirror – Crusaders (thrift store, now out of business,)
Book shelving – DIY – found lumber in alley
Globe – antique store, Gilman, IL
Sheepskin Rugs – Room & Board
Night stands – (antique sewing cabinets) passed down from grandparent
Reading lamps on night stands – antique store, Gilman, IL
Study (repurposed bedroom)
Sofa – Anthropology
Wool Blanket – Helsinki, Finland
Chandelier – bronze & crystal – French. Lamp Doctor, Brooklyn, NY
Coffee Table – DIY – Register grill from PACA, Champaign, IL; industrial castors – Ebay
Oak Armoire – Time Well, Chicago, now out of business
Vine on wall – found in alley
Desk – Goodwill, Champaign, IL
Sewing table – found in alley
Yellow cargo trunk – thrift store
G. Schirmer Vocal Scores (Clothbound) – Wagner Operas – Used book stores
Hallway
Graphite drawing – Anna Jones; Picture frame – DIY – found lumber in alley.
Explosion Proof pendant fixtures – Killark Vapor Guard
Oak Dresser – garage sale, Chicago
12′ ladder – parents' garage, Oak Park
Art Deco sconce – thrift store, Arizona