A 325-Square-Foot NYC Studio Is Cute and Sophisticated
We
independently
select these products—if you buy from one of our links, we may earn a commission. All prices were accurate at the time of publishing.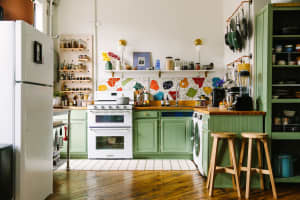 Can't-Miss House Tours Straight to Your Inbox
Keep up with our latest house tours each weekday with our House Tour of the Day newsletter
Name: Lauren Rubcic
Location: Upper East Side — New York, NY
Size: 325 square feet
Years lived in: 10 months, renting
When Lauren found out that she would be relocating to New York City for work, she only had three weeks to find the right apartment. To her surprise she found an affordable studio apartment on the Upper East Side, an area of NYC that she associated with Carrie Bradshaw and a heavy price tag. Another great selling point: the layout of the 325-square-foot apartment. With a lofted sleep area, the small studio ended up being significantly larger than it would have been if she had to dedicate floor space to a bed, giving Lauren more freedom to design her living space.
To top it all off, Lauren felt an instant connection to the space and could immediately envision what it could be. "I wanted to create this female sanctuary where my friends, sisters, and mom could feel at home to take a load off, engage in girl talk, and watch Sex and the City marathons over a bottle of wine," she says.
Apartment Therapy Survey:
My Style: Sophisticated Cute, Feminine Fun
Inspiration: The women in my life always inspire me and were definitely the primary inspiration for my apartment. When I saw my place for the first time it had such a feminine energy to it, I immediately knew I wanted to create this female sanctuary where my friends, sisters, and mom could feel at home to take a load off, engage in girl talk, and watch Sex and the City marathons over a bottle of wine! I wanted the decor to be both laid back and elegant to reflect the essence of women everywhere.
In a way, I think my apartment embodies characteristics of all the different women in my life — She's gracefully refined, sophisticated, yet playful and youthful; she constantly strives to be the best version of herself, but accepts and honors her flaws; she's love, and attitude, and silliness all wrapped up into a pretty, refined package. And if you look closely in all the little cracks and corners, you'll see she's really this beautiful mess of imperfections that somehow make her completely perfect.
Favorite Element: I LOVE my big framed windows and tall ceilings. They make my place feel so much bigger and wide open.
Biggest Challenge: The limited space. Welcome to New York living! For example, I've been searching for months to find the perfect solution for a dining table and chairs, but there are very few options in terms of placement and storage for it. So I currently manage by either eating standing up or carefully eating while sitting on my couch/floor – bohemian style. Totally normal…
What Friends Say: "Omg, your place is so cute!" is the most common reaction I get when my friends see my place for the first time.
Biggest Embarrassment: Whoever painted the walls in my apartment before I moved in did an awful job and didn't use the right kind of paint. So now it's starting to crack/peel in my bathroom, and it's super embarrassing! It's only a matter of time before I fix it, but that day can't come soon enough!
Also, I've always secretly hated the HUGE marble wall mural above my fireplace. I've done a fine job of incorporating it into the color scheme and décor throughout the rest of my home, but it would otherwise be such an eyesore!
Proudest DIY: Aside from investing in a power drill and installing my own shelving, mirrors, hooks, etc., I'm practically one step away from having my own HGTV show. I would say my proudest DIY is the fact that I installed my air conditioning unit ON MY OWN! I wasted three days on Bumble swiping relentlessly to find a sucker who'd be willing to lend me a manly hand. There were no takers, so I finally grew the figurative "balls" to just do it myself. It wasn't easy, but I sure was proud when I finished!
Biggest Indulgence: My Room and Board pull-out couch. It was a big splurge and required some financial help (thanks, Mom!). But I've gotten so much use out of it that I can't imagine life without it. It's perfect for when guests are visiting as it provides additional sleeping options, and I can comfortably sleep four in my apartment when necessary.
Best Advice: My best advice is to work with what you've got. You may never find an apartment or a home that suits every need, or is completely perfect. And if you're living in a city like New York, you'll be lucky to find a decently priced apartment that's not infested with rats. So if you do get lucky to find a place with minimal flaws, try to accept and work with those flaws to help your home become the best possible version of itself. This requires being resourceful and creative to find solutions for covering up or distracting from imperfections. A wise man once said that a successful person turns every negative situation into an opportunity. Keep that in mind. Some of my favorite elements in my home resulted from trying to cover up huge eyesores or solve practical storage issues.
Also, when decorating, be sure to work with the bones, structure, and theme of your place. Every home is a character. It has a personality and a vibe that's unique from other spaces. Therefore, don't try to force a piece furniture, artwork, or paint color in your home that simply doesn't honor who your apartment is! You wouldn't want to dress yourself in clothing that doesn't represent your personal style or flatter your frame, would you? So don't do that in your home either. Decorating a blank slate is really challenging, so when you're looking at your empty home try to imagine who it would be if it were a person. Is it feminine, masculine, youthful, mature, glamorous? Then try to find colors and décor that accentuate and complement those features.
Dream Sources: I usually scour Apartment Therapy, MyDomaine, West Elm, CB2, Restoration Hardware, Pinterest, and Anthropologie for inspiration and education on the latest trends.
BEDROOM
Blush Silk Duvet – West Elm
Polka Dot Sheet Set – West Elm
BATHROOM
Floating Wedge Shelf — West Elm
Rose Gold Gallery Frame – West Elm
Faceted Porcelain Vase – West Elm
Riko Knobs – Anthropologie
Shower Curtain – Kate Spade (TBD)
Grey Toothbrush Holder – Anthropologie
Grey Trinket Dish – Anthropologie