Color, Light & Life in a Puerto Rican Home
Name: Sylvia De Marco
Location: Ocean Park — San Juan, Puerto Rico
Size: 2,500 square feet
Years lived in: Rented 2 years
Live a Great Story. The front of Sylvia's house boldly displays the slogan on a pink wall, with potted plants and bright flowers on the wall ledge. The facade says a lot about what guests will find upon entering. Like her bright and hip Ocean Park neighborhood, Sylvia's home is filled with an array of colorful furniture, lively plants, and unique art. These are the things Sylvia wants in her home: Elements that she is connected to and tell a story.
---
"Everything that has a story attracts me and inspires me."
---
If Sylvia is attracted to and inspired by an object, she will likely bring it into her home. "I love looking around and seeing objects or pieces of furniture that bring me back to a different time in my life," she says. "I also have a lot of pieces from my family, pieces that no one of my generation wanted. They remind me of that person that is no longer with us: my grandmother, aunt, great aunt, and so on."
Though Puerto Rico isn't short of beautiful things, Sylvia says it isn't as easy to come across well-designed furniture as in the mainland United States. However, coming from a movie set and interior decorator background, she has a ton of sources where she can find inspiring art and pieces that complement her home. She lives by the expression "More is more," and her home showcases it perfectly.
→ Want to see more of Sylvia's style? Check out The Dreamcatcher Guesthouse.
Apartment Therapy Survey:
My Style: Eclectic, vintage, mid-century, antique
Inspiration: Everything that has a story attracts me and inspires me. I also have accumulated a great deal of pieces from my friends. Everything has a story and I feel connected to everything in my house.
Favorite Element: Lamps and wall art. I studied photography and lighting and its quality fascinated me — how light could transform, accent or dim shapes, corners, textures. Also, the playfulness and mysteriousness of patterns that they create on the walls and ceilings, and how these patterns could also rest in the most intricate ways. They help create very dynamic spaces. The options are endless.
Biggest Challenge: Convincing people that more is more.
What Friends Say: "I don't know how you manage to harmonize all of these items in one place."
Biggest Embarrassment: I don't think there is anything that embarrasses me about the house, but maybe the facade, which is very bulky and doesn't represent the magic inside. But I like it, because then when you come in, it's a big surprise.
Proudest DIY: Lamps
Biggest Indulgence: Artwork
Best Advice: Get comfortable with layering. Even if you have an industrial or modern space, there are always some corners that can be a bit more overdone. With layering, you can create a special corner or area, and if you have a very simple modern space, it will create a bit of tension and a nice dialogue with the simplicity of the rest.
Dream Sources: Cosas de Ayer y Hoy in San Juan, garage sales, family and friends' houses, Finders Keepers
---
Explore this style: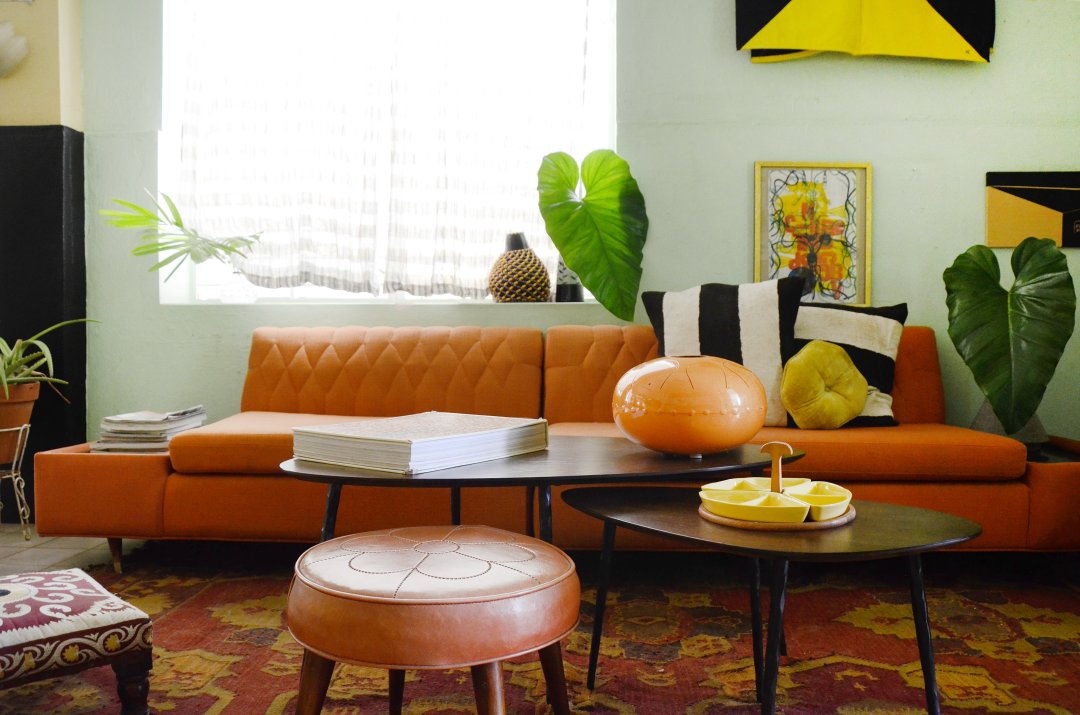 ---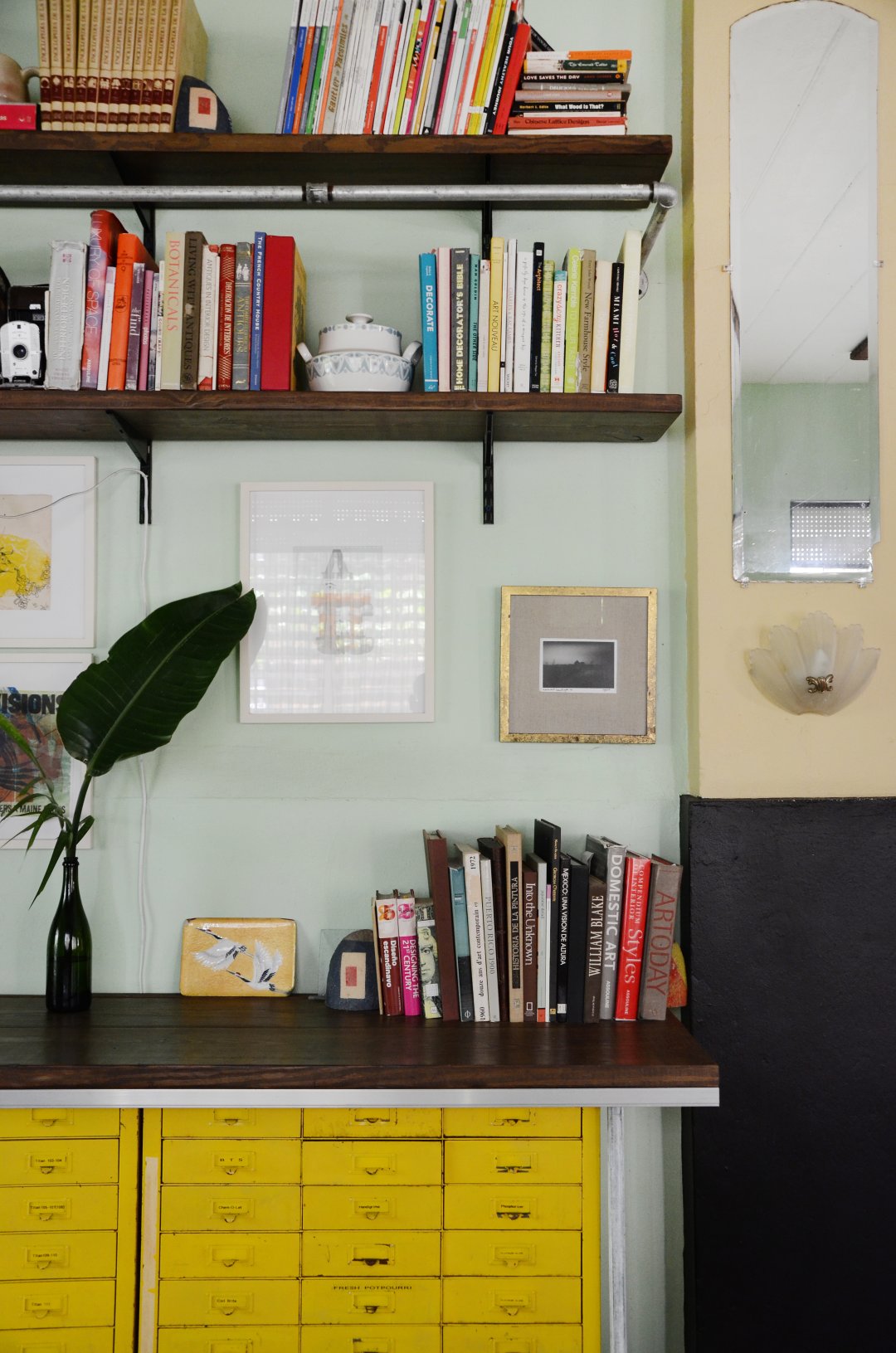 ---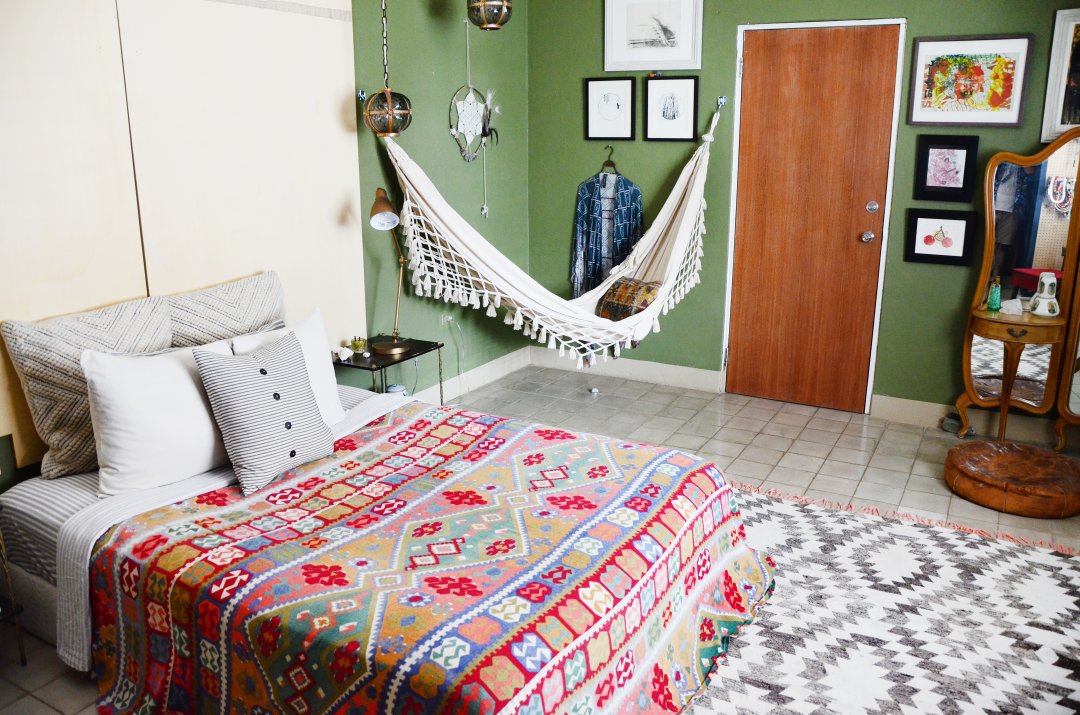 ---
More resources:
FRONT PORCH
Hanging chairs — Vintage from the '60s
Ceramic white baskets — Welst Elm
Woven basket — Morocco
Ceramic green plates — Local artisans
Table — DIY
Mirror — Belonged to my aunt
Tiles — Original from the 1920s
LIVING ROOM
File cabinets — Embeleco
Prints — Local artists
Vintage wood hutch — Made in puerto rico in the '30s
Dreamcatchers — Gifts or made by me
Sofa — Cosas de Ayer y Hoy
Side chair — Purchased from a mechanic's shop for $15!
Tables — West Elm
Wall art — Puerto Rican artist Rogelio Baez
Poncho — Alana Iturralde
Prints — Grimaldi Baez
Rug — Gift from family member
Magic drum (piece on center table) — Made of gas tanks (sounds really cool)
Ottoman — From Morocco
BEDROOM
Hammock — From Costa Rica
Headboard — Puerto Rican painter Efrein Candelaria (now in Chicago)
Wall art — Various artists, including Amanda Sanfiorenzo and Grimaldi Baez
Bed cover — An original table cloth from the '60s that belonged to my grandmother
Rug — West Elm
Pendant lamps — Cosas de Ayer y Hoy
Dreamcatcher — A costume piece I made for Pablo (my now husband!)
Dresser mirror — Vintage from Cosas de Ayer y Hoy
Small ottoman — From Morocco
KITCHEN
Buffet table and wall piece — Made in Cuba (repurposed)
Piece to the stove — A chemistry lab file cabinet
Lamp chandelier — Street find
Lamp on far right — Old milk crate and jars
Porcelain sink — Antique
Altar in the kitchen — Family photos, plus a shark tooth from the shores of Morocco and other stones
BACKYARD
Rocking chairs — Belonged to my grandparents
Hanging chair — From Pinones
Thanks, Sylvia!
---