A Modern Memphis Bungalow Filled with Love Equity
We independently select these products—if you buy from one of our links, we may earn a commission. All prices were accurate at the time of publishing.
About this tour
Location
Memphis, Tennessee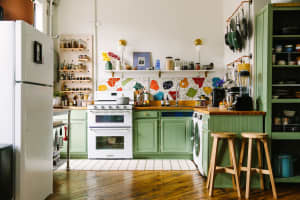 Can't-Miss House Tours Straight to Your Inbox
Keep up with our latest house tours each weekday with our House Tour of the Day newsletter
Name: Kat and Brett (pit bull Burger and corgi Fitz)
Location: Cooper-Young District in Memphis, Tennessee
Size: 1,970 square feet
Years lived in: Owned 1.5 years
Kat and Brett's beautifully maintained 1920s bungalow in Memphis introduces itself with a beautiful wrap-around porch, a spacious living area, and two of the friendliest dogs on the planet, Fitz and Burger. Though Kat and Brett grew up in the Midwest and are Memphis transplants, they are no strangers to the South; Kat went to school at UGA in Athens, Georgia. And after spending an afternoon in their house, it's clear they have soaked up the Memphis vibes in the year-and-a-half they have lived in the city.
Their house has been a source of creative energy since the couple moved in and they have both been very hands on with the ongoing renovation. They design the updates and contract the major aspects of the necessary repairs and changes. But though they get help on the big things, Kat takes great pride in the love equity she and Brett have built via the scraping, painting, and elbow grease that has gone into every room.
Their hard work and dedication to the house has paid off in a space that it is lovely and well designed and inspiring. Each room has its own special touch — from unique flooring to diverse textures and wall decorations.
Apartment Therapy Survey:
Our Style: Brett: Warm modernism. I'm drawn to clean, stripped-down minimalism, but I've realized that splashes of color and life can make living spaces more comfortable and welcoming.
Kat: Per AT's style quiz: organic modern. I crush so hard on Scandinavian monochrome, but somehow I always end up going home with rich colors and warm woods. A lot of what I see on Australian design blogs feels pretty me.
Inspiration: Brett: I appreciate the theory behind Scandinavian design, the idea that beauty shouldn't be accessible only to the wealthy. As such, I find sleek functionality more appealing than ornate objects that may lack in utility. The democracy of design is immensely important to me.
Kat: My dad's the rugged outdoorsman type, so there were a lot of antlers, skulls and taxidermied animals in my formative years, but he's also a lifelong artist (and from a whole family of artists), so that meant a lot of paintings and sculptures and creativity in general, as well. I also inherited my mom's love of history; I'm nerdily obsessed with backstories… "That's the wooden chest our family brought over from Germany in the 1700s," or, "Your great-grandfather pulled that walnut wainscoting out of the original farmhouse while it was burning down." So I just love the process of balancing the character and quality of an old house with some more modern finishes and organic textures.
Favorite Element: Brett: Our kitchen, which was the first room we re-did when we moved in. There's space enough for an island, but we decided against it, aiming instead for an open space with an uninterrupted flow.
Kat: The floor plan is what sold us immediately. It's more open than most of the craftsman bungalows we've seen in Memphis. Plus the big wrap-around porch. I love thinking about all the parties that must've been held out there over 90+ years. It's got great vibes and reminds us so much of the porch on my family's farmhouse back home in Illinois.
Biggest Challenge: Brett:Keeping up the motivation for continuous improvement.
Kat: Minimal closet space. Dog hair galore. And WHY did we ever think we'd be capable of keeping white grout clean?
What Friends Say: "You guys should be on Apartment Therapy or something!"
I've gotten "Will you do my house next?" a couple times as well, which is flattering. I think our place is enough of a hodge-podge that all kinds of people feel comfortable here. The house is far too big for just two people, so we try to host parties and guests frequently to put it to good use.
Biggest Embarrassment: Brett: The exterior. I like the brick, but I'd prefer to have it painted to distinguish it from some of other red brick bungalows in the city. But we have a small second bathroom (currently ripped down to the studs) that's a higher priority at the moment.
Kat: In terms of ignorant mistakes, I'd say discovering, after paying astronomically high heating bills our first winter, that an HVAC duct in a far corner of the attic was detached from the vent. We effectively heated the whole neighborhood for four months.
Aesthetically, our iron security doors and bars on some windows. I hate them so much, and I hate having to have them. Unfortunately we and most of our neighbors have experienced break-ins, and we don't want any more of our beautiful antique glass broken.
Also, the old popcorn ceiling in our attic is super gross, and I cannot WAIT to have it redone.
Proudest DIY: That whole sweat equity thing is legit! I've (Kat) done a lot of fun decor DIYs, but it's the unsexy stuff that gives us the biggest feelings of accomplishment — every kitchen cabinet we assembled, the miles worth of gross yellowed trim and moulding we (and our parents…thanks, guys!) repainted, every window pane we razor-bladed.
Biggest Indulgence: Shipping cement tile over from Sweden.
Best Advice: Always Google around for a promo code or sale schedule, or better yet, the same item you want on a resale site. Go to the as-is section first. Ask for discounts on display items. I pretty much refuse to pay full price for anything. No shame!
Thanks, Kat, Brett, Burger and Fitz!