A Cozy & Creative DIY Minneapolis Retreat
We independently select these products—if you buy from one of our links, we may earn a commission. All prices were accurate at the time of publishing.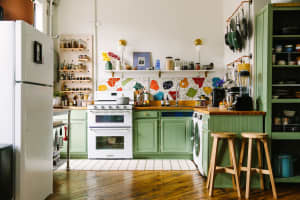 Can't-Miss House Tours Straight to Your Inbox
Keep up with our latest house tours each weekday with our House Tour of the Day newsletter
Name: Thomas Wegner
Location: Longfellow — Minneapolis, MN
Size: 1,400 square feet
Years lived in: 20 months; Owned
Longfellow, one of south Minneapolis' tight-knit neighborhoods, is full of row after row of early 1900s gems. The exteriors of these houses—which are found throughout the Twin Cities—share many similarities, so walking into a unique interior like Thomas' is a special treat.
With his background in interior design, Thomas has a keen eye and strong design convictions. After purchasing his home, he was able to fully create the space he had always wanted: something simple and minimal, with a lot of thoughtful details and well-designed functions. There isn't a room that doesn't contain a one-of-a-kind feature handmade by Thomas.
Thomas' home has a typical early-1900s Minneapolis floor plan. He has taken its long and narrow loft-like main living space and made it relevant and workable for today's comfortable and casual style of living. He designed a floor-to-ceiling bookshelf at one end that serves as both a bookshelf and a rotating art gallery, keeping the room fresh and ever-changing while grounding the wall with purpose. At the other end of the space is more of his handiwork in the form of a custom-made ceiling light, a rehabbed buffet cabinet, and art pieces displayed against a wall covered in a large-patterned wallpaper.
A favorite space in Thomas' home is the guest bedroom upstairs. The moment he saw it, Thomas knew its destiny. Immediately upon entering you, feel you've been transferred back in time as the overwhelming feelings of coziness and the charms of northern Minnesota hit you. With the sloped ceilings and a pair of twin beds, you can't help but feel nostalgic. The room began as a bare cedar-wood closet space, but after a few coats of paint and the addition of well-chosen and carefully placed accessories, the room invokes a real summer camp, bunkhouse feel. Numerous guests have commented on the wonderful "lake house vibe." (As an added bonus, he shares the room with others via Airbnb.)
Apartment Therapy Survey:
My Style: I think of my style as a combination of warm minimalism and rustic modern with just a bit of DIY gentleman's lounge thrown in for good measure.
Inspiration: I have always liked the design work of classic, Mid-century modernists with their clean lines and minimal material use. I am also drawn to weather-beaten objects with a bit of wabi-sabi, items that are genuine and display a perfect imperfection. When it comes to designers, I appreciate the work of the Eames and the philosophies of Frank Lloyd Wright and William Morris. I'd like to think my home is in some way a combination of all these elements
Favorite Element: I love how the custom-built, floor-to-ceiling bookcase turned out—it adds so much drama and depth to the main room.
Biggest Challenge: Finding the time (and the talent) to execute my design ideas.
What Friends Say: "This looks so great," "I love your place," "You seem like you're always ready for a photo shoot," "Love the color behind the bookcase," and "It's cozy, welcoming, and inviting."
Biggest Embarrassment: The lack of space and flow in the kitchen can be a challenge at times.
Proudest DIY: I recently completed the light fixture above the dining room table and am very happy with how it turned out. I had the design of it in mind for over a year and after not finding it anywhere, I created it myself.
Biggest Indulgence: I have several classic pieces of Knoll furniture and really enjoy what they bring to the space.
Best Advice: Start with a big picture of how you want your space to look and feel, focus on the larger elements first and then build towards it slowly, don't rush and don't buy something unless you know where it's going to go.
Dream Sources: E's Emporium, thrift and vintage stores, Knoll, a well-stocked workshop.
Porch: Ralph Lauren Urban Haze
Entry: Glidden Navajo Sand
Living room: Ralph Lauren Lamp Room Gray
Paint behind bookshelf: Dutch Boy Tantalizing Teal
Dining room: Ralph Lauren Lamp Room Gray
Dining room wallpaper: Opera Retro Leaf from Arthouse Wallpaper in the UK
Kitchen: Glidden Navajo Sand
Guest bedroom: Dutch Boy Mount Rainier
Guest bedroom closet: Pittsburgh Paint Summer River
Bathroom: Glidden Frost Morning
Bench: made and upholstered by Thomas
Table: vintage, refinished by Thomas
Chairs: vintage, refinished by Thomas
Flooring: all-season carpet (color: Cezanne)
Coat rack and bench: custom-made by Prairie Woodworking
Rug: FLOR
Prints: made by Thomas, gifts from friends
Custom bookcase: designed by Thomas, installed by Twin City Handyman
Plant stands: made by Thomas
Rug: Crate & Barrel
Armchairs: Risom Side Chairs by Jens Risom for Knoll
End table: Saarinen for Knoll
Pillows: made by Thomas
Couch: Craigslist
Soap Factory commemorative print: Andy Ducett
Large black-and-white cloud art: by Heather Rae Tietz, on loan from the Minneapolis Art Lending Library
Buffet: flea market, refinished by Thomas
Dining table: Tulip Table by Saarinen for Knoll
Chairs: Straight Chairs by George Nakashima for Knoll
Mirror: St Vincent De Paul
Light fixture: designed and fabricated by Thomas
Vases: E's Emporium
Candle holders: E's Emporium
Wooden sculpture: made by Thomas
Gray art: Gray Can Be A Little Tricky by Thomas Wegner—I created the piece with the 11 shades of gray that I considered but did not choose for the room.
Center cabinet: Roadside Attraction
Stool: flea market
Spoon rest: made by Thomas
Painting: Thomas Wegner
Comforter: St Vincent De Paul
Chair: flea market
Bed linens: St Vincent De Paul
Bedside table: made by Thomas
Desk table: E's Emporium
Radio: made in the USSR, found at a flea market
Shelves: made by Thomas
Arrow: St Vincent De Paul
Books: Minnehaha Mile
Knickknacks: Minnehaha Mile
Wall art: made by Thomas, taken from family photo albums
Doorstop: made by Thomas
Cabinets: Custom Martha Stewart Living Cabinets from Home Depot in Sharkey Gray
Lounge chair: Jehs and Laub for Knoll
→ And see all of our past house tours here
Updated daily with fresh tours full of photos for you to pin & enjoy!