A "Modern-ish" Renovated Portland House & Jewelry Studio
We independently select these products—if you buy from one of our links, we may earn a commission. All prices were accurate at the time of publishing.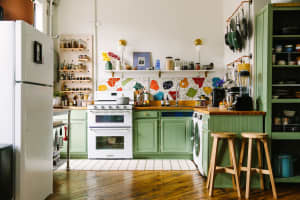 Can't-Miss House Tours Straight to Your Inbox
Keep up with our latest house tours each weekday with our House Tour of the Day newsletter
Name: Teresa Robinson
Location: Portland, Oregon
Size: 1,150 square feet
Years lived in: Owned 8.5
For Teresa Robinson, maker of the gorgeous jewelry line, Tiro Tiro, a home of one's own is best filled with things that bring a feeling of warmth. With an eclectic mix of vintage and modern furniture, as well as a healthy dose of DIY, Teresa's home of nearly nine years captures that feeling in every room. Having been raised in a household that embraced the DIY home improvement mantra, her proudest recent project was building the trundle bed for her daughter, Olive (while seven months pregnant!). Now, that is definitely a can-do attitude.
Not only has Teresa renovated each room in the house over the last eight years, she has also turned the old garage into a cozy, Scandinavian-inspired jewelry studio. Outfitted with an office area, a few work benches, and wood-burning stove (to help her survive the PNW winters), the space is what one's work-from-home dreams are made of! Thanks for the tour, Teresa.
Apartment Therapy Survey:
My Style: Cozy vintage modern-ish
Inspiration: I think that my house itself really inspires the way I've chosen to fill it. I obviously take a lot of inspiration from classic mid-century design, without being too stringent about it. Really, I just want to walk into a room and feel a sense of warmth and calm, so I'm always trying to achieve that feeling.
Favorite Element: I really do love the knotty pine, it's such a defining feature of the house, and plays a huge part in creating the overall mood. I've toyed with the idea of taking it out, but it would just completely change the feeling of the house, and I think I'd be bummed about it.
Biggest Challenge: Budget and indecision. I've spent years going back and forth on what to do with the kitchen counters, and really haven't made a solid decision yet.
What Friends Say: I get a lot of 'Your house is so cool/cozy!'
Biggest Embarrassment: Almost 9 years in, I still haven't finished the trim. Also, the kitchen counters. The kitchen counters are an embarrassment! Who thought it was a good idea to put fake wood countertops with real wood cabinets? Did they think no one would notice the difference?
Proudest DIY: I built the bed frame for my daughter's room while I was 7 months pregnant. I wanted to have a bed in there so that the nursery could still function as a guest room when needed, and I couldn't find a trundle that I liked (seriously, google 'trundle bed', it is a sea of ugly.) so I decided to build one. My friend Shelley came over and helped me, and it was a pretty fun little project. It's just dimensional pine and two by fours, so it's nothing fancy, but we were pretty proud of ourselves for our first furniture endeavor. And maneuvering a very pregnant belly around while building a large piece of furniture was no small task! (Hat tip to my friend Levi, whose style was the inspiration for the whole thing. )
Biggest Indulgence: Probably building out my studio, if that can count as an indulgence. It was originally the garage, and I converted it about 4 years ago with my friend Rachael, who was my awesome contractor. The design of the space was collaborative, she did the build out, and I did all the final cosmetic work (painting, tile, work surface). Having the freedom to create a space essentially from scratch, and really envision and bring to life the space that I wanted was pretty awesome.
Best Advice: I can't think of any one specific piece of advice, but my parents built the house we lived in when I was a baby, and remodeled every place we ever lived to some capacity, so they're definitely my go-to for house/project advice. I take a lot of my design cues and DIY ethos from them. When I bought this house, I called it "the clown house." The interior was painted a million different crazy colors in hideous patterns all over the walls, there was no trim anywhere, stained carpet, fake wood paneling, and cracked linoleum… It was a really ugly little house. But I really liked the layout, so I sort of nervously sent my mom the listing, and she was like, "I love it!!!" I love that she saw the potential for this ugly duckling to turn into something great, and knew that I could make that happen. So yeah, I've learned so much just from watching my parents over the years.
Dream Sources: The Good Mod for furniture, Ben Medansky for some new ceramics, weavings from Megan Shimek, anything and everything Alma Allen has ever made.