Scandinavian Simplicity Meets Victorian Charm in East London
We independently select these products—if you buy from one of our links, we may earn a commission. All prices were accurate at the time of publishing.
About this tour
Location
London, London, England
Style
Rustic, Scandinavian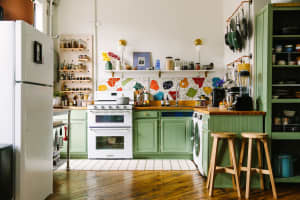 Can't-Miss House Tours Straight to Your Inbox
Keep up with our latest house tours each weekday with our House Tour of the Day newsletter
Name: Irina Melsom and Hans Askheim (and kids Aleksandra, Markus)
Location: Bethnal Green — London, UK
Size: 1000 square feet
Years Lived In: Owned for 4 years
Originally from Norway, artists Irina and Hans have shared this Victorian three-bedroom terrace in East London with their daughter Aleksandra and son Markus for four years. The couple made London their home after they graduated from The School of the Art Institute of Chicago where they studied fine art — and they have been collaborating together ever since, like on these tiny miniature oil paintings of people. In many ways, this house renovation is an extension to their art collaboration, and what I love about them is that they are not afraid to let their kids be creative and be a part of this process too.
Scandinavian interiors are clearly all the rage at the moment, but when I first asked this very Scandinavian couple how they would describe their style, Hans laughed and said, "To me, this is Victorian!" There are still Scandinavian details throughout the house, like the muted earthy tones and the simple decor, but the family have also brought a real whimsical feel to the interior; they're greatly inspired by art, architecture and popular culture.
Doing a renovation with children is tough, which is why the family has been tackling this process slowly. They lived in the house for a few years before they started doing any work to it, so they could get a feel for the layout and plan what they would like to do. Their extension is only recently finished, which created a snug space next to the garden at the back of the house. It's a really lovely space to hang out in, especially in the summer when the doors are fully opened.
The next project they tell me is the bathroom, which has only been partly renovated — they bagged this vintage blue bathroom suite on ebay for £300! They plan to build a wall to hide the exposed beams, but secretly, I actually quite like the lines that they create, and I thought it was intentional. The original exposed brickwork also gives this bathroom a lot of character.
Hans works full time as an artist in their rented studio nearby, whilst Irina splits her time in the studio and works part time as a designer at an advertising agency, as well as recently starting her business designing colourful, fun and sustainable clothing for kids! All of this on top of the madness of doing a house up, whilst looking after two children? Nope, I have no idea how they've managed to do this either.
Apartment Therapy Survey:
Our Style: Scandinavian/Indian/Victorian
Inspiration: Victorian interiors, Disney like Peter Pan, Mary Poppins.
Movie interiors like Capote, A Swedish Love Story, Astrid Lindgren's movies.
Art: Carl Larsson (Swedish illustrator), Vermeer, Hammershøi.
Architecture: Adolph Loos, Frank Lloyd Wright
Favorite Element: The fireplace, the mirror, windows
Biggest Challenge: Living on a building site with children.
What Friends Say: Open, simplistic, sensible quality
Biggest Embarrassment: Beautiful floor just varnished and sanded down, brutally ripped up again by an electrician due to lack of communication.
Proudest DIY: Look and feel in the extension.
Biggest Indulgence: Sliding oak doors.
Best Advice: Spend time on finding the right people. Spend time and money on planning.
Dream Sources: Maxwell Pinborough Ltd. — cabinet makers based in London Fields. Google image search. Ebay, Pinterest
KIDS BEDROOM
Bunk bed — Ebay, sprayed by Siteworx Ltd, Woolwich
Bed sheets — Zangra
Beveled mirror — Etsy
Bed sheets — pipstudio.com
Mushroom lamp — Columbia Road
BATHROOM
Lamp shade — Habitat
Plastic flowers — Ikea
Blue bathroom suite — ebay
Thanks, Irina, Hans, Aleksandra and Markus!