Dancing & Design in a Couple's Romantic Barcelona Flat
We independently select these products—if you buy from one of our links, we may earn a commission. All prices were accurate at the time of publishing.
About this tour
Location
Eixample, Barcelona, Spain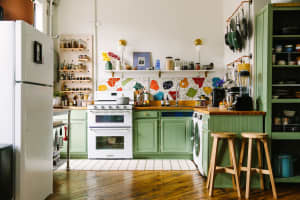 Can't-Miss House Tours Straight to Your Inbox
Keep up with our latest house tours each weekday with our House Tour of the Day newsletter
Name: Dora and Oliver
Location: Eixample Quarter — Barcelona, Spain.
Size: 1.291 square feet
Years lived in: Rented for 5 years
Dora and Oliver are like colorful, fascinating characters from a novel. They've filled their eclectic Spanish home with travel souvenirs, great design…and dancing!
Dora is a fashion designer currently working for Uterqüe; Oliver is partner and design strategist at The Bold Studio. With their home you can see that they're both passionate about art, design, books and any good self-respecting celebration with charm and class.
Dora's work in fashion design enables her to travel often to unexpected and exotic destinations: China, Eastern Europe and the leading European capitals. They often take advantage and Oliver will meet her on travels, where they explore new places, take pictures and bring little gems like clothing and objects back for their home.
When you're with them, they both tell you thousands of stories that make you laugh, interspersed with personal jokes while exchanging knowing glances. If I had to describe them with a song, I think it would be "My baby just cares for me" by Nina Simone, laughing and dancing as if there were no one else in the room but them.
Apartment Therapy Survey:
Our Style:
Dora: Free inspired/Modern/Vintage/Artsy
Oliver: I do not have a definite style. I mix antique, classic, new — I play with them; I'm not influenced by standard trends. It's clear to me that I'm a design lover and that makes me want certain objects. When I want one I want it forever; usually timeless pieces, such as chairs, tables, vases, art…each piece is part of the mental puzzle of what for me is my home. Dora often says that I make "still lives" of objects :).
Inspiration:
Dora: It may sound like a cliché, but for me, anything can serve as inspiration; from the interior of a new premise in my city, places that have been open for a lifetime and still keep their charm, travelling and getting to know new styles, trends, artists, ways to do things…social networks, exhibitions, magazines… Nowadays we receive a large amount of information, especially dedicating ourselves to the design world on a daily basis and it's easy to get caught when you see what people "in the know" make.
Oliver: I get inspired by everyday life. Luckily, Dora and I share a love for our professions, which work in parallel and get fed by several common scenarios. Right now, the networks have absorbed much of my attention when it comes to inspiration, but I still find moments of inspiration travelling, pedaling through our Barcelona, having breakfast and reading a good magazine, resting in our house in the mountain; those would be my basics.
Favorite Element:
Dora: The tiles, rosette ceilings and antique sliding shutters, for me are the key; this is the skeleton of a flat in which I'd always wanted to live.
Oliver: The Bertoia diamond chair, he said he made them mainly out of air and that gave more beauty to the piece: his story. Every morning I pick my briefcase up from it and drop it there when I'm back from my studio. It tells me good morning and good night.
Biggest Challenge:
Dora: First, reform the entire flat and make it look to my taste. Years later, do it and make Oliver feel it is as much his as mine.
Oliver: I was lucky that Dora, before we met, had reformed an old flat to what it is now. My role has been the easiest; making my objects coexist with hers and make small adaptations of space. Luckily everything fits in and is balanced, like us; a good tandem.
What Friends Say:
Dora: That it reflects the mix of the two of us in it. And that it gives off a "good vibe." In general, girls love the dressing room… they say it's like a small shop, hahaha!
Oliver: They like it, but rather than decoration or space, it's because we treat them as if they were family. We like to be good hosts and make them feel at home. As Emerson said, "The only way to have a friend is to be one."
Biggest Embarrassment:
Dora: The clothes; when it piles up on the dressing table…or the study…that we have used for storage for over a year.
Oliver: We don't have a shower, just a bathtub. I'm 1.9m tall and I have to bathe on my knees or sitting…With time I've gotten used to it and I've ceased to be a human waterfall. In fact…if I've had a stressful day I usually take a bath and relax as Chandler did in the 8th Season of Friends.
Proudest DIY:
Dora: Pink shoe closet because I inherited it from my aunt; she no longer uses it. Oliver has rebuilt it on the inside and I have restored it on the outside. In addition we dared to go with pink, a colour that I love; soft and full of prejudices. The result is original and fun.
Oliver: I am proud of how our styles have connected our vision of what represents us, whether or not it's made by us; how we are added together. All that we acquire or build has a common new character.
Biggest Indulgence:
Dora: No curtains on the bathtub to make it look pretty.
Oliver: Dora loves the canopy we have on our bed; I allow myself to sleep like a princess every night for love.
Dora: A mosquito net, Princess.
Best Advice:
Dora: Don't be in a hurry to decorate your home the first year. The more you live in it and more time passes, the better it will look and it'll reflect your personality.
Oliver: Get rid of things. Eventually change is inevitable and your home must change with you. Get rid of what no longer speaks about you. Give air to your space and allow time and destiny for things to happen. It helps you to recognize those objects, that no matter what happens with you, will continue every day reminding you of who you are.
Dream Sources:
Dora: There's No specific brand, arrows shot just happen and no matter what brand they are or where they come from. You can fall in love with something walking, traveling, at a flea market, a luxury store, or when you glance Ideat , AD, Apartment Therapy or Pinterest….
Oliver: Freunde von Freunden, Apartment Therapy , Convoy, Designboom, AD Magazine.