This 366-Square-Foot Studio Has Some of the Best Small-Space Ideas Ever
We independently select these products—if you buy from one of our links, we may earn a commission. All prices were accurate at the time of publishing.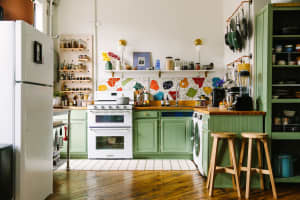 Can't-Miss House Tours Straight to Your Inbox
Keep up with our latest house tours each weekday with our House Tour of the Day newsletter
Name: Mary Lee, her partner Jacob and her sweet chihuahua Kyley
Location: Seattle, Washington
Size: 366 square feet
Years lived in: 1 year, owned
The amount of blood, sweat and tears in any home remodel is substantial. But can you imagine the amount while making over a 366 square foot studio when you're still living in it? A space that you share with your partner and a dog? It's extraordinary, chaotic, and in Mary Lee's case, ultimately worth it.
Designer and DIY mastermind Mary Lee first charmed us when she shared the itsy bitsy studio she called home in Austin. Bursting with clever storage ideas and tons of style, it's no surprise it's one of our most popular house tours ever! Though she's moved on from that small space, we're back with a tour of her most recent home, this time in Seattle. And yes, she's done it again: She's made a super small studio a stunning, functional home!
"As a designer by trade, my personal style is always paired with design thinking. I think about how I want to use the space, I think about the constraints, I think about the content or materials I need to achieve those things, and the hierarchy of how important they are. On top of that, I try to create flexibility in its functionality and maximize space by thoughtfully creating the framework to achieve optimal use."
There's nothing in this tiny home that Mary didn't improve, either with her design smarts, her bare hands or both. The plain kitchen was modernized with an exceptional attention to detail. The small bathroom was updated and upgraded. The living room area and the bedroom were fine before, but Mary designed them to with an eye for how she (and her pup!) uses the spaces. The compact outdoor area was transformed into an al fresco dining room to free up more space in the interior. She even created some of her home's most lovely pieces of art (which she also sells).
"More isn't always better when it comes to stuff and space. I believe everything in your environment needs to have a purpose and each detail needs to be cared for and cherished. If that isn't possible, get rid of it (or don't have it in the first place)."
Perhaps most impressively though, the bedroom nook's minuscule closet was completely overhauled. It's now a wide open, ultra organized closet and laundry room.
You know how on Apartment Therapy we often emphasize the fact that putting money, time and effort into wherever you're living pays off? Mary's hard work has proven that…twice! You can check out more of Mary's Artwork or follow her on Facebook. You can also see what her kitchen looked like before she remodeled it.
Apartment Therapy Survey:
My Style: Scrappy, bold, refined character
Inspiration: Botanical, nautical, vacation, happiness
Favorite spot to hang out in: Ooh, that's a tough one. After living in this small space while remodeling it at the same time, I cherish every little detail. I'll go with the bed, even though you are technically not in another room; it still feels private and relaxing. I think in part because of the simplicity. Despite being a multi-functional space, you can still get lost in a book and relax. Also, I love that there are multiple options in how I can position the queen-size bed in that small space.
What do friends say? I'm new to the area, but the space is highly functional for entertaining despite its size. Most people usually are shocked that it feels so big. The subtle distinction of the living space and sleeping space helps a lot in going from cozy personal space to entertaining up to around eight. There are many pieces that can turn to seating and my ideal night in with the squad might involve something as simple as crowding around the coffee table with some wine chowing on some fancy cheese talking about nothing and everything. In the summer, sharing margaritas and guacamole on the patio are perfect!
Proudest DIY: Everything at this point has been remodeled and removed in this unit. In the kitchen I removed the visually heavy old cabinets by the sink and replaced them with heavy duty floating shelves with a tile backsplash underneath them. I wanted to only have the most used dishware displayed and readily available and easy to put away right there by the sink.
Biggest Indulgence: My biggest and necessary indulgence was the closet for sure. Before, the door frame was too small to really utilize the entire space of the closet. Believe it or not, I share that closet with my significant other, an all-in-one washer dryer, and a water heater. I also store things I need somewhat often up higher like guest sheets, luggage, and an air mattress. I wanted every inch accessible and usable, which is why it was imperative for the door opening to be as large as possible and the doors to be able to be fully pushed out of the way. All totally worth it — a functioning closet and an in-unit laundry are priceless in a studio.
Best Advice: Try to practice thoughtfulness with how you organize your space and consume in your lifestyle. Give yourself constraints when adding more. More isn't always better when it comes to stuff and space. I believe everything in your environment needs to have a purpose and each detail needs to be cared for and cherished. If that isn't possible, get rid of it (or don't have it in the first place). I think that your home should grow with you and it should never become stale but always remain full of life. As your life evolves, so should your home.
Best online sources for small spaces: In small spaces, I think you have to be scrappy. The layouts are all over the place in studios and you have to be creative to make it work for you. It's possible, it just takes a little more effort. It's can be difficult since most of the US is more focused on big houses to put lots of big stuff in. When I'm getting settled into a new small space I have some go-tos like Urban Outfitters, CB2 and Ikea for some things or browsing but Etsy and Chairish or local thrift stores are usually where I end up getting the best pieces. Don't be scared to draw out your idea and research how to make it happen. If there isn't a couch that fits in the space, maybe what you are looking for is a couple of super funky chairs, or maybe you just need to go to Home Depot and get help getting some wood cut, build the frame, and find or make some cushions to put on top. Living small is anything but traditional; you have to approach shopping for it the same way.
PAINT & COLORS
White. Clean pure white. It's the best bang for your buck in the long term and always is a clean palette for your evolving home. I'm not opposed to color, but I find it more economical to change other things like pillows and sheets if I want to evolve my color palette.
ENTRY
Wooden Artwork made into coat hooks — Etsy
LIVING ROOM/ DESK AREA
Large Abstract Original Artwork — Marycentral Studio
Coral — Limited edition print by Marycentral Studio
Vintage leather couch, Vintage Danish Secretary Desk, Blue Lamps, Handpainted coffee table, vintage african cloth blanket — Chairish
Vintage Eames Style Black lucite desk chair — Etsy
Geometric black and white pillow — Target
Yellow Velvet Pillow — Urban Outfitter
DIY TV table — Craigslist & Home Depot
Vintage brown chair — Local thrift store
Storage boxes — IKEA
Gold side table — Target
Curtains — DIY
DINING ROOM (OUTDOOR)
Black bar table — Wayfair
Vintage bar stools — Chairish
Saint Tropez Indoor & Outdoor Tapered Vase Planter — Pots, Planters & More

KITCHEN
Cabinets — Cabinetpak
Studio Size appliances like the Stove, dishwasher and Bottom Freezer Narrow Refrigerator — Home Depot Online
Dishware — Target, Etsy, TJ Maxx Thrift Stores
Cabinet Hardware — Amazon
BEDROOM
Bohemian wooden platform bed — Urban Outfitters
Blue & White Comforter — Urban Outfitter
Classic White Sheets — Brooklinen
Black & white throw pillow — Target
Closet Bypassing Barn Style door — Artisan Hardware
Closet infrastructure — Container Store Elf Systems
Mattress — Casper
Vintage Gold Lamp — Goodwill
Old step later (night stand legs/storage) — Goodwill
Record player (night stand table) — Crosely
Black storage buckets — Target
B&W area rug — TJ Maxx
B&W small rug — Urban outfitters
Metal Legs for DIY bench — Amazon
Colorful Pattern Pillows — Handmade from textiles from Turkey
BATHROOM
Hipstory Nelson Mandela Shower Curtain by Amit Shimoni — Society 6
Green, B&W pattern towels — Target
Wooden engraved towel hooks — Urban Outfitters
Oval towel storage — World Market
Bamboo Mirror — Serena & Lilly
Flamingo Art — Etsy
Sunshine Art — Society 6
Marine Animal Prints — Ryan Berkley
Drip Original Artwork by John Medina — Alamo Basement
Pink and brown handmade rug — Etsy
Flamingo rug — Target