The Dreamy DIY Remodel of a 1972 Airstream Home
We independently select these products—if you buy from one of our links, we may earn a commission. All prices were accurate at the time of publishing.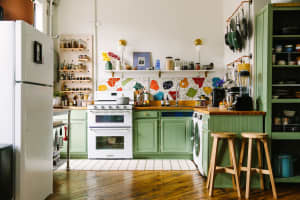 Can't-Miss House Tours Straight to Your Inbox
Keep up with our latest house tours each weekday with our House Tour of the Day newsletter
Name: Brandon and Gabi Fox
Location: All over (Loosely based in the Pacific Northwest)
Size: 27-foot, 190 square foot 1972 Airstream Overlander
Years lived in: 3 years, owned
Gabi and Brandon Fox are wedding photographers, educators, and climbing enthusiasts and the owners of this gorgeous 1972 Airstream Overlander they call home. Though their plans to travel the country in a tiny trailer caused some concern among friends. Living in such a small space with another person is too challenging, right? Not for this creative couple. "Turns out we get along together just fine, sharing less than 200 square feet, 24/7/365. In fact, throughout it all we ended up getting married and starting a wedding photography business together, so I think it's worked out pretty well so far," wrote Gabi.
"But the spontaneity of it all, even the not-so-fun parts, is what makes this life so much fun, inspiring, and always interesting."
Gabi and Brandon shared what is challenging about Airstream life below, including all the things that make it completely worth it:
"We have plenty of storage for everything you'd need in a typical apartment, plus a bunch of things you definitely wouldn't. We travel with enough tools to do a whole 'nother Airstream reno, which are kept under our front seating area. Also stored under those seats is additional bedding for the "guest suite" (the table drops down to form a second bed), climbing area guidebooks, games, important documents, and anything else we don't want to look at but need to haul around. And the bed lifts up to reveal another huge storage area where we keep more bulky things, like all of our camera and climbing gear, camping equipment, and our power center (batteries, inverter, etc.).
The challenges more frequently come in the form of trailer, car, and general road life problems — flat tires and other car issues in remote areas (which happens frequently at 255k+ miles), frozen water lines during intense cold spells, random things breaking (at least once a week), not knowing where you're going to park and sleep when rolling into a new area (and getting kicked out of areas you thought were okay) — these are the things that can wear on you over time and make you seriously consider returning to a more routine life.
But the spontaneity of it all, even the not-so-fun parts, is what makes this life so much fun, inspiring, and always interesting. We never get bored, because whenever we start to get restless we can just pack up and move on to some place new. More and more though, we're spending longer periods of time in our favorite areas. This provides a good mix between crazy travel mode and routine."
"Really, we could go on and on about things we love in this Airstream, because every little thing was custom-designed and has its own special purpose."
Apartment Therapy Survey:
Our Style: Clean, modern, and above all, functional. With warm rustic/vintage touches.
Inspiration: We wanted to travel full-time, living in the mountains and largely off-grid. But to make it sustainable long-term, we needed our home/office-on-the-road to be beautiful and cozy and inspiring. That's why we chose to renovate an Airstream, which already has such a unique, classic style. The interior was largely inspired by other Airstream renovations we studied, like the gorgeous Hofarc Airstreams, which are clean and spacious, yet extremely efficient.
Favorite Element: Wow, that's a tough one to answer. Every little appliance and feature — the things you take for granted in a typical house or apartment — seem so much more incredible when you're parked in the middle of a desert with no hookups. Like running water and a double-bowl sink, or our catalytic propane heater.
But above all else, our favorite element has got to be our solar system. Without it, we couldn't work, charge our camera batteries, light the trailer, have running water, or indulge in the occasional Netflix binge. Next to that, our hand-made walnut dinette table is where we spend about 75% of our time, whether it's working, eating, or hanging out with friends. And then we have a bunch of awesome artwork from friends that has really spruced up our white walls. Really, we could go on and on about things we love in this Airstream, because every little thing was custom-designed and has its own special purpose.
Biggest Challenge: Starting with an empty shell with absolutely no experience renovating Airstreams, let alone wiring, plumbing, carpentry, and everything else that goes into building a fully functional home. Thankfully, the internet is an amazing place for DIYers. We learned as we went, making lots of mistakes, correcting them, making some more, and eventually getting to where we are today. Living together in it, despite the small size, is the easy part.
What Friends Say: The first thing people notice is how open and spacious it feels. That was a major priority when designing the layout, and we accomplished it by limiting dividing walls and removing the overhead storage bins that you see in most Airstreams. They're also impressed when we show them all the storage space we have tucked away under our seating and bed. Little do they know just how much stuff we really crammed in there. It's almost hard to say that we downsized.
Biggest Embarrassment: Not that we're particularly embarrassed by it, but as of now we are showerless. It's one of the few remaining projects we just haven't tackled yet, probably because rivers, lakes, gyms, and campgrounds have been doing the trick just fine for three years. And we can always use the extra storage. We do have a bathroom with a composting toilet and space prepped for a shower though, so it's only a matter of time…and procrastination.
"Go for it. Just go for it. If a project seems too big or too hard or too daunting, it'll for sure never happen if you never start it."
Proudest DIY: When we still lived in the city, we did little DIY projects here and there, like building a coffee table and such. But gut renovating this Airstream was worlds beyond that. Really, the Airstream as a whole, with all its functioning parts and systems, is our proudest DIY. Just the fact that it has now traveled around the country 1.5 times and stills works like it did when we first set out is kind of mind-blowing.
If we're getting specific though, we'd probably go with the flush ceiling lights that run the length of the trailer. It's unique to our Airstream, because to create this kind of lighting you have to rewire everything while the interior aluminum skins are off, which is no small task. Fun fact, we probably drilled several thousand rivets removing the interior panels. And of course, all new rivets had to go back in eventually. But it was so worth the work. At night, the trailer lights up with a warm glow and no awkward dark spots. And each puck light is LED, using just 1 watt of power, so it's perfect for running on solar.
Biggest Indulgence: I don't know if you'd necessarily call it an indulgence, but there are two big things we tried to skimp/save money on at first — our fridge and fresh water tank. Turns out two-way electric/propane fridges are extremely expensive, so we hunted around on Craigslist for a while for a used one. But after a very, very strange Craigslist encounter with too many crazy parts to describe here, we took it as a sign to suck it up and buy a brand new fridge, one with a whole FIVE cubic feet. Luxurious. As for the water tank, they're another high-ticket item. Basically, anything still being designed specifically for a 1972 Airstream is a high-ticket item. We had hoped to avoid this cost as well, but after seeing some ungodly things leave the original tank, we decided to indulge yet again.
Best Advice: Go for it. Just go for it. If a project seems too big or too hard or too daunting, it'll for sure never happen if you never start it. But if you start it, even if you suddenly find yourself in waaay over your head, you'll at least learn something new. And chances are, you'll work through it and end up figuring out a way to make it happen. This is how we approached both moving to a full-time life on the road, and renovating the Airstream. Both took a ton of work and suffered many moments of crippling self-doubt, but pushing through those times made the eventual success that much sweeter.
Dream Sources: We are extremely proud of the work we did to renovate our Airstream, but if money wasn't an issue, we'd have the insanely talented folks over at Hofarc take over for Airstream #2. The things they do to Airstreams is just unbelievable.
PAINT & COLORS
Stix Primer, White – couldn't have painted the mixed vinyl/plastic/fiberglass interior without this seriously sticky primer, which is amazing.
Eggshell White Paint on the walls
The cabinet doors are a very light bluish grey, can't remember exact color though.
FRONT SEATING AREA
Marley Bluetooth Speaker – Amazon
"Be Wild" Letterpress Print – Hannah Dwyer
Airstream framed artwork – Jessica Lau
Pedestal Table Leg – Amazon
Throw Pillows – Homegoods
Assorted vintage cameras collected over the years
Custom Walnut Table
Wrap-around Curtain – fabric from Joann Fabrics
Curtain Clips – Ikea
Roller Blinds – Ikea
Catalytic Heater – Amazon
Recessed Ceiling Lights – Amazon
22″ Samsung TV – Amazon
Wall Mount Basket Organizer – Homegoods
HUGE thanks to Gabi and Brandon for sharing their home on the road and giving so much information.
Be sure to also check them out on Facebook: The Foxes Photography. And you can even check out their climbing photography on Instagram @JustGoClimb (yep, they climb, too.)
*This tour was updated with the couple's most recent website on 5/28/2020.