A Designer's 490-Square-Foot Studio Transforms into a Festive Wonderland
We
independently
select these products—if you buy from one of our links, we may earn a commission. All prices were accurate at the time of publishing.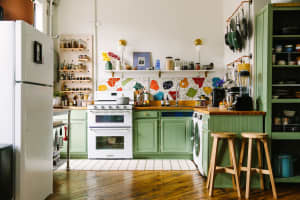 Can't-Miss House Tours Straight to Your Inbox
Keep up with our latest house tours each weekday with our House Tour of the Day newsletter
Name: Amelia Nicholas
Location: Hell's Kitchen, New York City
Size: 490 square feet
Years lived in: 3 years, renting
Simultaneously moody and soothing, designer and organizer Amelia Nicholas' talents for interior design and entertaining are apparent—and her home transforms into a cozy festive wonderland during the holidays. It's especially impressive how she's able to infuse her home with holiday cheer in such a small studio space. Just the right amount of decor, a modern yet festive color palette and a warm and welcoming vibe… you can see why Amelia's friends describe her home as a "warm hug!"
Amelia has transformed her 490 square foot studio in Hell's Kitchen into a luxurious, modern home. Every section of this well-designed studio makes such a huge impression, you forget you are in a small space.
Apartment Therapy Survey:
My Style: Urban Cottage, which I'd describe as being equal parts modern, industrial, glam and cozy. (It's also the name of my design business Urban Cottage NYC.)
Inspiration: My years working in the fashion and beauty industries, along with my love of flea markets and street finds, continue to influence me. I've had the good fortune to work with some exceptionally talented people who ended up becoming my teachers. I also believe in being a student of the world around you.
In the beginning, I had NO idea what my personal style was or might become. So I started keeping these visual journals (basically a prehistoric version of Pinterest) where I glued down ideas gathered from magazine tear sheets. I think I'm now up to volume 18. I'm constantly going back and referring to them. As far as my inspiration for this space, it felt like it wanted to be a boutique hotel room or mini-loft, so that concept became the initial spark.
Favorite Element: The windows make this apartment feel so much more open than you'd expect. With a studio, the key is to create many rooms within one without losing a sense of space. The alcoves were helpful in establishing those zones. In my old apartment, I was living with roommates. I found myself daydreaming and sketching studio apartment floor plans constantly. I sometimes feel like I willed this place into existence. I feel very lucky I get to come home to this space.
Biggest Challenge: Having everything in one room (including the kitchen), meant each of the areas still had to speak to one another. It made the most sense to keep things neutral and to create interest by layering pattern and texture wherever I could. The goal was to build a space that feels visually engaging, calming and cohesive.
What Friends Say: I once had a friend tell me that walking into my apartment felt like getting a warm hug. Getting a compliment like that is so much more meaningful than someone just liking a style. Let's face it — with style, everything is borrowed from somewhere else. How you or your guests feel when they come through the door is an experience only you can provide. It's another way of letting people know who you are. When I design a space, I always try to put myself into the footprint. How does it feel when you walk through the door? How does the story of your home unfold? You can tell when something is off and when the flow is right. It's an instinctual thing. Sometimes, you have to walk away and then later the solution presents itself.
Biggest Embarrassment: This changes constantly, just so we're clear. But currently, it has to be the faux fur pillow on my bed. I tried to Frankenstein two smaller pillows together and now there's this weird seam down the middle. It is what it is.
Proudest DIY: I found the mid-century chair in the living room at an antiques place in Pennsylvania for around $30. The vinyl upholstery was intact but the color was kind of a dated red-orange. I decided to roll the dice and try painting the vinyl green, and it worked. A week later, I was walking through Chelsea and saw a similar chair being sold for a LOT more.
Biggest Indulgence: The television. As for the rest of the pieces — if I really like or envision something specific, I try to wait for a sale or hunt it down on KRRB or Etsy. I'll hit up thrift stores like Housing Works or a flea market. If you're willing to be patient and a little stalk-y, the world is your oyster.
Best Advice: Don't rush the process. A home is never really done — just different. Over time, it will change along with you. Know where things go. Edit so you are always living with the things you love, here and now.
LIVING ROOM/DINING AREA/KITCHEN