A Home with a History in East Nashville
We independently select these products—if you buy from one of our links, we may earn a commission. All prices were accurate at the time of publishing.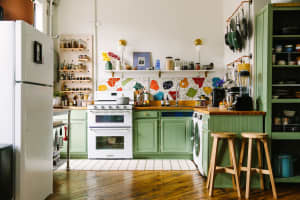 Can't-Miss House Tours Straight to Your Inbox
Keep up with our latest house tours each weekday with our House Tour of the Day newsletter
Name: Jim Manning
Location: Nashville, Tennessee
Size: 1,400 square feet
Years lived in: 15 years, owned
Some homes just have a story. In this case, Jim's two-bedroom East Nashville home has quite a few of them! He is one of just three owners and has lived here for 15 years, which is very unusual for Nashville these days. Jim remembers his neighborhood long before the trendy restaurants and hip bars opened up around the corner, but he has always loved a mix of "old and new" so it suits him just fine!
Full of eclectic, vintage furnishings and decor, Jim's home has true character and really showcases his personal style. Each piece of furniture in the home has a story, too — his grandfather's desk, cabinets built by hand from years of theater tech experience, a clawfoot tub resurrected from the basement — and it brings an enormous sense of comfort to the space. Jim is not bound by interior decorating trends; he is led by history, sentimentality and his own creativity.
Apartment Therapy Survey:
Inspiration: I love a mix of old and new together. It seems like modern pieces update the antiques, and older elements give the newer ones some credibility.
Favorite Element: The China press in the master bedroom sold me on the house. I love how they built an extension onto the house just for this piece of storage. It houses a dentist's skull from the '50s that comes apart like cabinetry, and a vintage camera collection that I've put together over the years.
Biggest Challenge: After World War II, housing was scarce, so the daughters of the couple who built the house lived in the basement with their husbands. The room was tiny, and you can barely stand up straight due to the exposed pipes, but there was a bathroom down there. When I did the guest bath on the main level, I pulled the clawfoot tub out of the basement with the help of some friends, and refinished it. That was a thrash, but it's a nice historical piece with a story now.
What Friends Say: "Why am I not on the wall?!?" A few years ago, I started a collection of friends' photos in the sunroom. I snapped some of those photos, but many are stolen off Facebook and turned into black and white. Because if it's black and white and in a grouping, it suddenly feels like art. All the frames are super-cheap (some even spray painted). When friends ask why they're not on the wall, I direct them to one frame that has a mirror in it. It's a bad joke. A really bad joke.
Biggest Embarrassment: The master bath is a combination of yellow, blue, and black tile. It's a great look in some spaces, but it's not me at all. Deciding that if you can't beat 'em, join 'em, I found a plaid shower curtain with matching colors. That bathroom isn't long for this world.
Proudest DIY: The back room was scary when I moved in. I'm not sure how the space was configured originally, but when I bought the house, it had small windows, knotty pine walls, a low ceiling, and a sunken floor that sloped. I changed all of that and built the TV cabinet — thank you tech theater skills! Now, it's the official "hang" room when friends visit — many of whom are featured in the pictures on the wall.
Biggest Indulgence: It's not the costliest piece I own, but the bulb-shaped red lamp in the living room came from a local store named Lumen. I saw it in there one day and thought it was cool, but didn't purchase it. For the next three months, I thought about that lamp. I finally decided that if I was still thinking about it, maybe I should just take the plunge. Surround yourself with the things (and the people) that you love.
Best Advice: I love a high-gloss ceiling. When the light hits it through the windows, you get so much variation in color — almost iridescent. People told me the shiny paint would show all the flaws in the ceiling. I told them the flaws are the reason I got a house this age. I love that this space has some history behind it.
Dream Sources: I like a home with a story. So my dream sources are more about plot lines than stores. Like my grandfather's desk: My grandmother confessed she thought he was cheating on her because of the amount of time he spent at work — at that desk. The painting a friend did for me based on a photo of me from high school. A metal dining room table I built and everyone made fun of me for picking such an odd material — until the next month, when Pottery Barn came out with theirs.
PAINT & COLORS
Living Room — Ceiling painted Behr's Sterling in high gloss
Dining Room — Walls painted Behr's Oyster Pearl
Kitchen — original cabinets, painted Behr's Carriage Door
Guest Bedroom Closet — Behr's Carriage Door
LIVING ROOM
Sofa — My grandmother purchased this the year my mother was born. Still a classic, just like her.
Zebra pillow — from a trip to South Africa
Plate — Versace
Red bulb lamp — Lumen Lamps
Red painting — local artist Hollye Gallion
Fireplace faux finish — local artist Macon Kimbrough
Mirror table — Target
Mis Vender chairs — knockoffs from an antique store
Mirror above radio cabinet — made by my grandfather
Revolving bookcase — vintage
Green glass torso sculpture — Studio Inferno in New Orleans
Arabic art — An 1875 print of a Horace Vernet work, watercolored by my mom, Nancy Manning
Drum Table — vintage
DINING ROOM
Dining table — I built it with materials from Home Depot
Black Dining Chairs — IKEA, each upholstered with a different fabric from JoAnn.com
End Chairs — IKEA
Side boards — both vintage
Paris Opera House art — Harper's Weekly print watercolored by my mom, Nancy Manning
Greek Key artifact — a friend was doing construction on Nashville's Parthenon and salvaged this piece
Bat skeleton art — Josh Hydler
Black drapes — salvaged from a theater
Bamboo blinds — purchased from Target, cut to half the window length and attached to the lower half of the window.
Monk's bench — vintage
KITCHEN
Burma Artwork — print from 1875 Harper's Weekly watercolored by my mom, Nancy Manning
White cabinets — Home Depot
Green cabinets — Reused the kitchen's original cabinets for extra storage and painted Behr's Carriage Door
Utility latches on green cabinets in satin nickel — Restoration Hardware
Porcupine quill boxes — vintage
Indian art — from trip to Delhi
Burlwood bowl — vintage
SUNROOM
Sectional — find from Habitat
TV cabinet — built by me
GUEST BEDROOM
Metal bed frame — the bed my grandfather and his brother grew up on
Metal bed frame faux finish — painted by local artist, Macon Kimbrough
Closet nook — built by me, painted Behr's Carriage Door.
Bedside lamps — IKEA
Chest of drawers — vintage
Curtains — felt from JoAnn.com lined with curtains from ikea.com
Stool — made from a hot water heater stand
GUEST BATHROOM
Sink, mirror, and sconces — Home Depot
Tub — salvaged from basement
MASTER BEDROOM
Desk — my grandfather's
Leather chair — Sprintz
White comforter — Target
Drum stand side table — lumenlamps.com
Black and white photos above the bed — shot by me