Anna's Light-Filled Lakeview Studio
We independently select these products—if you buy from one of our links, we may earn a commission. All prices were accurate at the time of publishing.
About this tour
Home Type
Studio Apartment
Location
chicago, Chicago, Illinois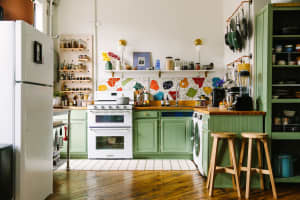 Can't-Miss House Tours Straight to Your Inbox
Keep up with our latest house tours each weekday with our House Tour of the Day newsletter
Name: Anna Curtis
Location: Chicago, Illinois
Size: 350 square feet
Years lived in: 7 months; rented
Small space living isn't for everyone, but when Anna returned from a trip to Berlin, she was ready to come back to a familiar well-loved Chicago neighborhood. She jumped on this tiny 350 square foot studio. Immediately after setting foot inside, Anna agreed to take on the previous renter's lease along with all of his much-too-large-for-a-studio furniture. In the seven months since that decision, she has phased out the previous guy's stuff and phased in her own, with assembly assistance from her boyfriend, Eric.
Anna's quick decision later resulted in a few "wait a minute" moments when managing the logistics of her new space. How would she entertain friends? And where would her kitchen utensils live? Anna solved a these logistical troubles with an easy-to-move dining set and a television that mounts to the wall and can be turned on an angle as needed. And a kitchen without a single drawer was saved by Grundtal kitchen rails from IKEA.
In a short seven months, Anna has made this space her own, bringing in furniture that isn't too overpowering and learning the ropes of entertaining friends in this potentially awkward space (hello bed immediately upon opening the front door).
Apartment Therapy Survey:
My Style: Natural, minimal, clean with organic elements
Inspiration: I traveled to Berlin right before moving into my apartment, and the entire city inspired me! Our Airbnb was amazing with tall ceilings, minimalist furniture, and beautiful views. I also draw inspiration from other traveling I've done. I'm on Instagram constantly (hey, it's part of my job), so I'm always following creative people and finding new blogs to pull inspiration from. I have found myself integrating my fashion sense into my decorating style as well.
Favorite Element: Hardwood floors! I have a hatred for rentals that have carpet (my last studio did and it was not pretty) so I'm happy to have brand new hardwood in my current place.
Biggest Challenge: The size! I lived in a studio after graduating college, but it was much bigger than this one.
What Friends Say: "This is so you"
Biggest Embarrassment: Also the size. It took me a long time to feel comfortable hosting people here. But now it's perfect for a wine and movie night with my girlfriends or to cook a special meal for my boyfriend.
Proudest DIY: Not much is DIY'ed, and I have to thank Eric, my boyfriend, for hanging 90% of my pictures and assembling most of the Ikea furniture! But I have managed to keep my plants alive, so there's that.
Biggest Indulgence: My bedding and mattress. It takes up a majority of the space in my apartment and they say we spend 25 years of our lives sleeping, so I didn't want to take any shortcuts with my bed.
Best Advice: Don't buy everything at once. When I moved in, I really wanted to decorate it all and have everything hanging up ASAP. But I had to take it slow and make sure that what I purchased was not only reflective of my style, but was also a practical use of space.
Dream Sources: West Elm, Design Within Reach, William Sonoma
Futon: Thrifted
Pillows: Target and IKEA
End Table: IKEA
Bike Print: Cavallini wrapping paper and IKEA frame
This Is The Futura Print: Medium Control Screenprint
Painting: Thrifted
Table: Thrifted
Plants: Home Depot and Halsted Flower Shop
Storage Bar: IKEA (Grundtal)
Paper Towel Holder: Bed, Bath, and Beyond
Media Console: IKEA
Rug: Target
End Table: Target
Baskets: various Homegoods finds
Bedding: Target
Yellow Clock: Restoration Hardware
Eyes Print: Olle Eskell (purchased on Etsy)
Hand Print: Cavallini wrapping paper and IKEA frame
Brain Print: Cavallini wrapping paper and IKEA frame
Typewriter Print: Cavallini wrapping paper and IKEA frame
Edinburgh Print: Bronagh Kennedy Prints (purchased on Etsy)
Cross Stitches: Purchased on Etsy
Shower curtain: Target
Photograph: gifted
Clock: Target
→ And see all of our past house tours here
Updated daily with fresh tours full of photos for you to pin & enjoy!