A Simple-Chic Small Flat in London
Name: Sheyee Wong (and sometimes Anthony Lau)
Location: Stoke Newington, London
Size: 575 square feet
Years lived in: Owned for 3 ½ years
Originally from Hong Kong, Sheyee Wong moved to Calgary in Canada with her family when she was young, before coming to London on her own over a decade ago. Having rented all over the place, she finally settled down in this one-bedroom flat in Stoke Newington three years ago.
Sheyee fell in love with Farrow & Ball's paint colours and textures when she did a short course in Interior Design at Central Saint Martins in London, just before buying this flat. So the first thing she did was buy three sample pots, "I painted three big patches and just sat there for days," Sheyee tells me, before eventually choosing Slipper Satin (an off white) for most of the flat, apart from one wall in the dark grey Downpipe.
Living so far away from her family, Sheyee's made a feature of sentimental pieces like her mum's drawing, her sister's handmade fridge magnets of her niece, and even the "ridiculous looking metallic silver half-bird half-robot" that her dad gave her as a present. Small things like these certainly make the long distances feel just that bit less further away.
Stoke Newington is renowned for its hidden gems of vintage yards and quirky furniture shops, which is where Sheyee's sourced most of her furniture from, like the roped chairs, the dining table and the ladder in her bedroom. The wired lamp was bought from Merci in Paris whilst she was there on a weekend trip. The cute little fat lady soap dish was a gift from her sister from Calgary. The pasta containers were from her dad's old tea shop in Hong Kong, which were originally used to hold Chinese herbal medicine. I love that everything has a story in this flat, and I'll have to agree with Sheyee's advice — "Don't buy something unless you absolutely love it. Also try to collect the things that will create good memories and have good stories to tell."
Apartment Therapy Survey:
Our Style: Simple plus fun?
Inspiration: I get inspired through our travels and from bike rides we love doing on weekends where we often stumble upon cool little streets and shops around different parts of London. I've found that the neighborhood I'm in (Stoke Newington / Hackney) is full of people who are funny and like to do things differently from the rest of London — this also inspires me.
Favorite Element: That things that remind me of my family are dotted around the flat. I live away from my mom, dad, sister and nieces who are in Calgary and Hong Kong and I miss them so much. So having subtle things around me that remind me of them means a great deal to me. My sister made me fridge magnets of my niece Ginny with many different outfits so I can change her look every day. My mom does Chinese drawing and she drew me some prawns which, in Chinese, sounds the same as laughing all the time. They make me smile every time I pass by.
Biggest Challenge: Trying to fit in the flat this ridiculous looking metallic silver half-bird half-robot that my dad got me as a present. My dad has rarely bought me a present since I was a kid so when he did give me this weird robot-bird I wanted to feature it somewhere in the flat but it's just so ridiculous. I've put it on top of the shelves in my living room now so it looks like it's looking over the flat, and somehow that kind of works!
What Friends Say: Different friends say they like different walls in the flat. Others say they like coming over to bake or they like the chairs, the lamps and the ladder. One said my flat was wonky, which is probably true because it was built before 1900!
Biggest Embarrassment: The shared hallway that leads up to my flat — it has all these marks on the walls from us carrying up bikes to the flats. One of my 2017 goals is to arrange a painting party with my neighbors to get to know them better and the hallway looking nicer.
Proudest DIY: Not so much a household DIY but definitely one I am proudest of, is my bike in the living room that I built with my boyfriend Anthony. I got to pick every single part of how I wanted the bike and we spent a weekend putting it together from scratch in a garage. His name is Pony and he's definitely part of the flat.
Biggest Indulgence: Buying this flat! Before this flat, I rented all over London and the most recent rental was a basement flat for three years that rarely had daylight in. So the biggest indulgence is just being able to live in a sun-filled flat where my plants grow and don't die one by one anymore.
Best Advice: This is coming from having such a small flat but I think I would still apply it if I had a lot of space — don't buy something unless you absolutely love it. Also try to collect the things that will create good memories and have good stories to tell.
Dream Sources: There are a couple of places that make me dream when I walk in: Merci in Le Marais Paris, the Farm Shop in Dalston London, twenty-twenty-one in Islington London, Plant in Inglewood Calgary.
---
Explore This Style: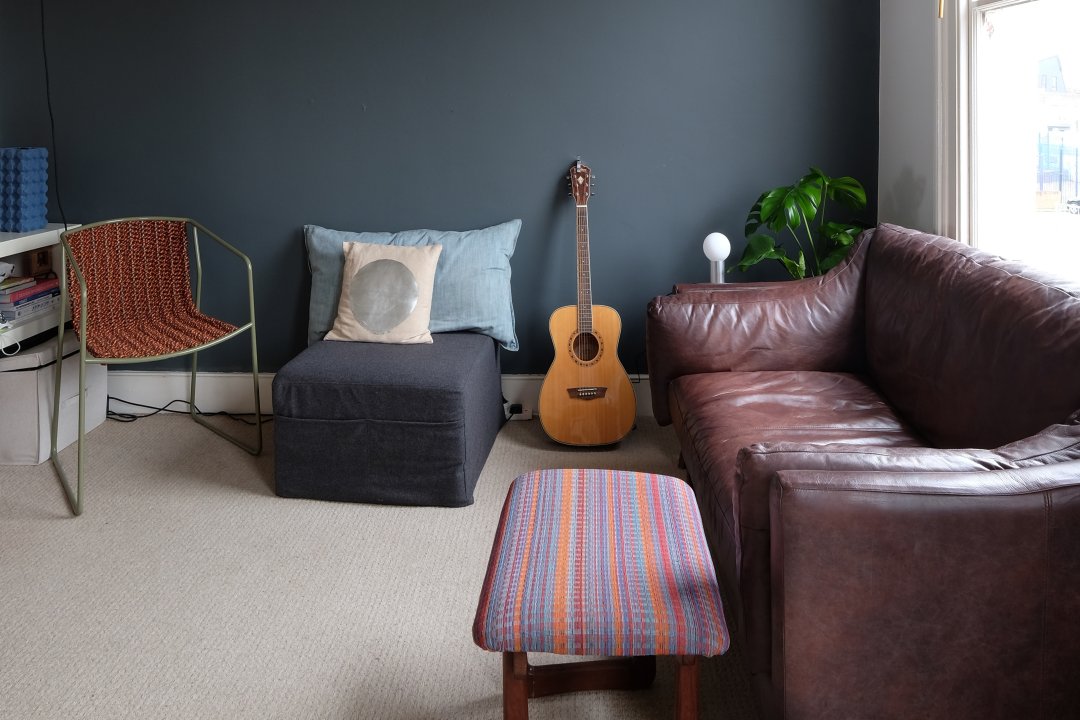 ---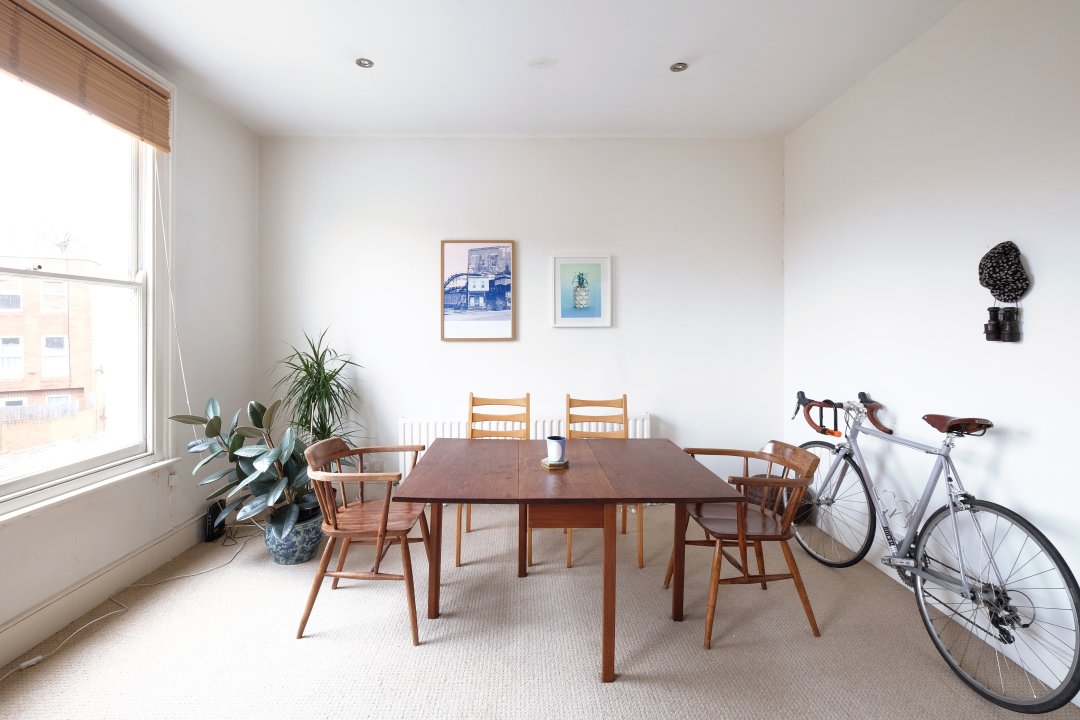 ---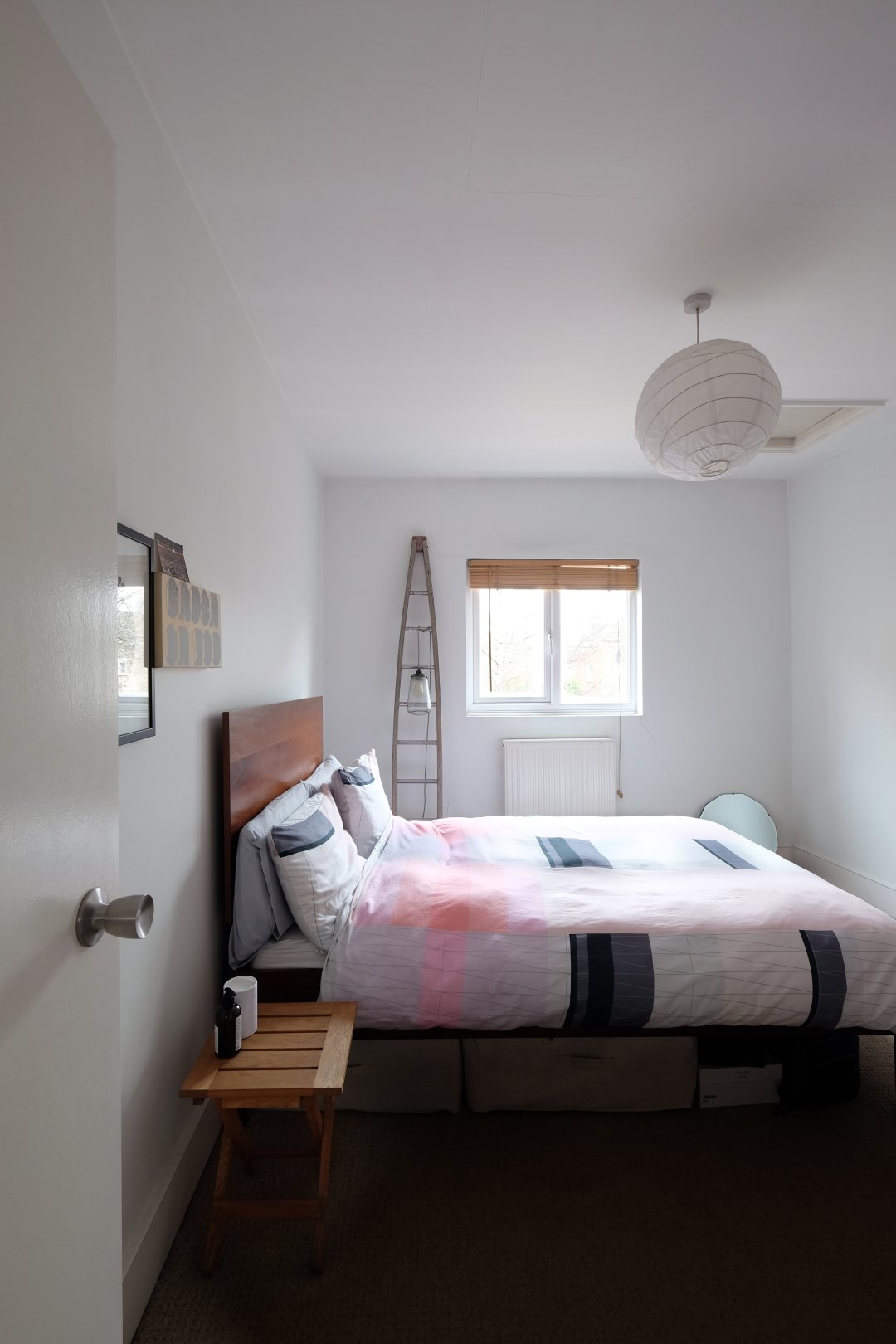 ---
More Resources:
PAINT & COLORS
Farrow and Ball — Downpipe (the dark grey wall in the livingroom)
Farrow and Ball — Slipper Satin (the off-white in most of the rest of the flat)

LIVING ROOM
Roped chairs — Search & Rescue (They probably don't have these anymore but there is always really well-restored furniture in their shop.)
Wired lamp — Merci
T2 Footstool/Mattress — muji.eu
Vintage planter — From an alley way off Stoke Newington Church Street
Cheese plant — FARM:shop
Dangling plant — Conservatory Archives in Hackney
Prints — Print Club London
Vase – Tom Dixon

DINING ROOM
All chairs — Ebay
Table — Cobbled Yard
Binoculars — Sunday vintage market in Avignon
Bicycle — built ourselves

KITCHEN
Pasta containers — My dad's old tea shop in Hong Kong, used to hold Chinese herbal medicine
Milk jug — Stelton
BEDROOM
Bed – Feather & Black
Bed linen – HAY
Vintage ladder — Search & Resuce
Lamp — Pedlars
Paper-cut art — Paper Moon, Greenwich Market

Thanks, Sheyee!
---