An Artist's Smorgasbord of Decor
We independently select these products—if you buy from one of our links, we may earn a commission. All prices were accurate at the time of publishing.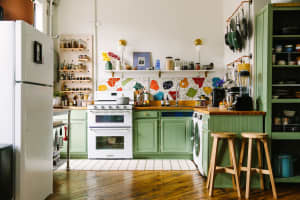 Can't-Miss House Tours Straight to Your Inbox
Keep up with our latest house tours each weekday with our House Tour of the Day newsletter
Name: Ashley Mary
Location: Minneapolis, Minnesota
Size: 650 square feet
Years lived in: Renting 1 year
It's no surprise that abstract artist Ashley Mary's home is a blend of textures, styles and materials. Her art features soft color palettes melding with gentle shapes with the occasional pop of black drama…just like her Minneapolis rental apartment.
Perhaps even more impressive than the balanced, harmonious look of Ashley's home is the way she was able to carve out space for her creative endeavor. Creating an art studio in the narrow dining nook in this small apartment might not work for everyone, but it's the perfect set-up for Ashley.
Apartment Therapy Survey:
My Style: My personal interior style is smorgasbord of décor! There's something interesting to be taken out of most styles so I try to blend where it makes most sense for my space without it getting too busy. I tend to be drawn more to specific colors (neutrals/soft tones), interesting textures, and modern shapes.
Inspiration: Scandinavian design, mid-century modern era, South Western influences, my aunts! I follow lots of stylist and designers on the Insta that I'm inspired by as well.
Favorite Element: I'm a bug to the flame; I love the light coming into my space. I also love my big pink piece above my couch my boyfriend gifted me (painted by Matt Semke). The story is lovely behind it and it's been a great conversation starter.
Biggest Challenge: My art "studio" (studio is a generous term) is the space next to my kitchen meant for a small breakfast table but it's where I paint out of (and my dining table sits in the main living room space instead). It's narrow, poorly lit, and has zero storage. Not having a big studio and working out of home has been a challenge as the scale of my paintings has increased over the last year and my supplies have multiplied. I find I end up having to bring paintings into other spaces and the mess goes with it. Clothes, hair, no surface left behind when my paint is involved. So many of my belongings have tiny spots of paint. But working from home fits my personality and work flow best. I'm in the process of moving studios though and am feeling lots of life from being able to stretch out more. It's amazing what changing a space can do for your creative spirit.
I really prefer white walls in my space too but wasn't allowed to paint over the oatmeal color. It could have been worse though so I tried to make sure I kept most of my furniture lighter to brighten the space up.
What Friends Say: Where's the wine? Kidding (sorta). Friends usually love my space, how bright it feels, they'll ask for me to come do their own (which I always say "yes please!" to). My aunt Sally tells me to lower my paintings. HA! She's right.
Biggest Embarrassment: I didn't have a couch for awhile because I sold the one I moved in with promptly after realizing it was too dark for the space. I have been through maybe 10+ couches in 9 years. So when girlfriends came over we would saddle up (down) on the floor next to the coffee table until our butts fell sleep. I also tried to spray paint a metal table I found at Room and Board outlet without stripping it first. That was a large scratched-up fail that now lives in a garage in an undisclosed location. Whoops! Lesson learned.
Proudest DIY: I'm currently refinishing and adding legs (found on ebay) to an old Paul McCobb dresser (found on craigslist). The chair in my living room was from my dad's place growing up and it's been tossed around between family members. It had dark rusty red upholstery when I inherited it and then I had a friend reupholster it two year ago. She was the true DIY'er though.
Anytime I can get exposed shelves up in a kitchen I'm a happy camper. Even if it just means taking off the cabinets. It helps create a platform for curated kitchen goods and keep me from hoarding kitchen crap. I tossed shelves above my sink within a week of moving in and it changed the space instantly. More than I am proud of DIY, I am proud of my finds on Craigslist and ebay. I have spent months searching for something specific and it's always worth it in the end.
Biggest Indulgence: My couch I suppose. I didn't have one for awhile and when guest came over we would picnic on the ground because they're good sports. Then last fall someone enquired about renting my place for a shoot and I was like, "BRB, gotta get a couch!" literally days before they came over to check it out. I called around to shops about their floor models because I didn't have time to order something and I tend to lead toward compulsive when given the right setting. Who doesn't love a good, expensive impulse purchase to keep you up at night? I ended up scoring mine at West Elm (floor model). The shoot didn't end up happening but it definitely lit a fire under my butt to get a couch! Worth every cent though and it gets lots of adoring eyes.
Best Advice: I live by the white-wall rule and find it gives me the best platform for switching up my décor seamlessly (which is inevitable), keeping a room bright, and making a small space feel bigger. Anytime I painted a room a color in the past I ended up painting white over it anyways. I also try to keep things around that I either find useful or beautiful/interesting. Everything else I try to ditch and assess my belongings pretty constantly. There's always a solid pile of stuff I'm getting rid of in my car or place for friend's to rummage through.
Dream Sources: Minneapolis has dozens of retro and vintage home and occasional shops like Golden Age, Retro Wanderlust, and Find Furnish (GREAT mid-mod furniture) so it's all about keeping tabs on events and hunting. There seems to be a good sale every weekend somewhere, not to mention flea markets and garage sales. It's excessive and I love every second of it. Some great shops selling newer home things I love to visit are Forage Modern, Foundry Home Goods, Golden Rule, and Room and Board outlet. I can't give away all my secrets though. 😉