An Industrial Minneapolis Loft of Memories
We independently select these products—if you buy from one of our links, we may earn a commission. All prices were accurate at the time of publishing.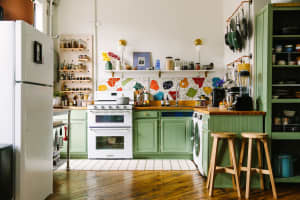 Can't-Miss House Tours Straight to Your Inbox
Keep up with our latest house tours each weekday with our House Tour of the Day newsletter
Name: Matthew Hodgman and his dog, Brinkley
Location: Northeast Minneapolis, Minnesota
Size: 700 square feet
Years lived in: 3 years; Rented
Have you ever walked into a rummage sale, antique shop, or flea market and spent hours admiring every little piece that evokes a bit of nostalgia? Have you ever wondered what it might be like to live inside an antique shop? Wonder no longer—Matt's historic loft is your answer. Upon visiting his small space, you may struggle to focus on any one object for long, or you may find yourself poring over every single object and chatting with Matt for hours about each one.
As Matt's visitors can attest, this is certainly not the living space for everyone, but for Matt, nothing could make it better. While some people crave empty white walls, a clear view across the room, and clean lines, Matt prefers to surround himself with as many happy memories and associations as he can.
These items aren't only garage sale finds and antiques grabbed from the trash—each object and piece of furniture in Matt's loft holds an important meaning for him. From his childhood bike on the wall to the model vehicles from his grandfather's old business to the cymbal with a band-aid on it, Matt has packed his small space to the brim in the most creative and (surprisingly) organized way.
Besides the numerous objects from or representing his childhood and family history, Matt has many images and objects from Braddock, PA, throughout his space. During a turning point in his life, Matt stepped out to help the people of Braddock using his skills and talent as a photographer. His time spent in Braddock, the people there, and especially the mayor and his family have been an inspiration to Matt and a positive influence on his life. In addition to featuring the spirit of Braddock in his home, Matt also has the zip code tattooed on his arm.
Apartment Therapy Survey:
My Style: Great question… I don't really have an identifiable style, but if I was going to label what I like, it would be Eccentric, Primitive, Industrial.
Inspiration: I come from a long line of collectors and draw a ton from them. My mother, JoAnn, has long been my source of design and creative inspiration.
Favorite Element: So many favorites, but I'm going to go with my Profit 1 Basquiat hand-painted reproduction as my favorite because of what it represents to me in my life.
Biggest Challenge: I'd say my biggest challenge is also a good thing and that is space available. It has forced me to really layer and use every nook and cranny.
What Friends Say: To be honest, some love it and some don't… I get, "Wow this is incredible," and watch them look around at everything there is to see. But I also get, "This looks like a museum and it's too full for me." Either way is just fine with me. I'd rather be in a love it or not situation instead of being beige and blah in the middle somewhere.
Biggest Embarrassment: Does a significant build up of dust count??
Proudest DIY: I'm definitely not a fan of the words upcycling or repurposing because they just get overused. I really take pride in being able to create something out of nothing. I've salvaged many pieces that were set on the curb or in the alley as junk and am using them in my loft. For example, the large trunk under the "Out of the Furnace" banner in my hallway. It was thrown out in a snow bank and I grabbed it, fixed it, and made it work perfect for storage, something that most loft owners are short of…
Biggest Indulgence: You mean besides red wine?? I'm a car fanatic!!! My grandfather was a collector and he loved Model Ts so naturally I'm drawn to brass and Prohibition-era vehicles.
Best Advice: Don't let retail catalogs and stores determine your style direction, do it your way. I love my space and that's all that really matters.
Dream Sources: One of my favorite vintage shops is located in Pittsburgh and is owned by my friend Seth. If you're on Instagram, check him out. So my dream source would be to not have a 14-hour drive in between me and the shop!! I'm a flea market find kind of person… The heavier and rustier the better. I draw from past experiences and cool shops to find the best things. I would say my favorites are Hunt and Gather, Find Furnish, and my awesome network of vintage dealers around the country.
I used mostly Restoration Hardware paint colors to create a neutral background for the loft. The red wall behind the Basquiat was chosen from Home Depot to go with the print and make a statement in the living space.
Chest: found in a snowbank, restored
Hamm's sign: used at our old family cabin when I was a kid
Dyckman Hotel valet stand: my friend Ricky's booth at Hunt and Gather
Profit 1 by Basquiat reproduction: painted by an artist in New York—it was too large to go through the doors, so we had to build its stretcher frame in the loft.
Chesterfield sofa: my friend Kurt from Smokestack Vintage—they are getting harder and harder to find.
Auction sale bill: my grandfather's, from his antique car collection
Green chaise lounge: called the "Green Monster"—it was in my grandparents' house and, believe it or not, matched their carpet! I have memories of fighting with my sister, Hilary, over who got to sit in it!
The model semi-truck and front end loader: a very special gift from Kelly, my girlfriend, for Christmas this year—it is a scale model of a W Hodgman and Son's truck that was driven by a guy by the name of Merle. Merle passed away and his son inherited the model truck. Kelly met his son and was able to acquire it from him for me. He said his dad would be very proud that it went back to a Hodgman family member. I would say Kelly wins girlfriend of the year for that gift!
Little red riding tractor: I rode it as a little boy. My grandfather had an International dealership, so of course that's what I was given. I kept leaving it at the end of their driveway after being warned not to and he accidentally ran it over one day. The crack is still in it from being smushed.
Steering wheel: The Bearded Mermaid
Little red TV: The Bearded Mermaid
Dining table: Craigslist—it belonged to a Caterpillar mechanic. It was rebuilt and became my dining table. The heavier the better for me…
Dry sink: It was in the house I grew up in. I created the image panels in the back after my first trip to Braddock. The bottles and bar memorabilia on the top came from my grandparents' bar.
Kitchen: pretty stock, accented with some of my favorite things from my family and friends
Three-ring binder on the counter: a handwritten cookbook from my mom of her favorite recipes
Sailboat: a gift from my mom
Hotel sign: purchased from a vintage dealer last year and put up on the wall with an old aluminum window awning above it
Side tables: made from old Dorman parts bins with custom legs, created as a gift from my family
Vintage American flag: a shop in Duluth, MN
Burlap textile on the wall: Hunt and Gather
Hodgman uniform: from my grandfather's old shop
Blanket: vintage Pendleton via Ricky at Hunt and Gather
Bed headboard: part of an old beer cooler from Blazer Bar in Fairmont—the names of the different brands of beer used to be visible.
Clothes rack: I have a capsule collection of my favorite clothing pieces as well as my shoes and boots. The rack was salvaged before it was cut up by scrappers.
Shower curtain: Restoration Hardware
Towels: Restoration Hardware
Rug: Restoration Hardware
No Swimming sign: purchased at an auction over 20 years ago

Images on the wall: taken in Braddock, PA

Howdy Doody puppet: Ricky at Hunt and Gather
Cymbal: belonged to Metallica, purchased at a charity auction

→ And see all of our past house tours here
Updated daily with fresh tours full of photos for you to pin & enjoy!