A Modern, Industrial Detroit Loft in a Renovated 1920s Building
We
independently
select these products—if you buy from one of our links, we may earn a commission. All prices were accurate at the time of publishing.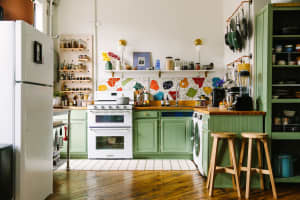 Can't-Miss House Tours Straight to Your Inbox
Keep up with our latest house tours each weekday with our House Tour of the Day newsletter
Name: Jesse and Cali Green
Location: New Center — Detroit, Michigan
Size: 980 square feet
Years lived in: Rented 1.5 years
Jesse and Cali's apartment building is inspiring, not only because they've created a beautiful modern and minimal home without splurging, but because of its deep history in Detroit. The building opened in 1926 as a home to graphic artists working in all of the nearby industries, General Motors in particular. "Using features like reinforced concrete, or the art-deco facade on the front of the building with terracotta, a lot of cues were taken from nearby prolific architect Albert Kahn as well in the construction of the building," Jesse says.
For their part, though, Jesse and Cali took that history and infused in a bit of their own relaxed industrial and mid-century style. One of the things they're most proud of is furnishing the place on a budget, most pieces costing no more than $300. The couple was looking for the lofty feel, without the cold industrial tones, and they've succeeded.
"We wanted to feel at home, and for our guests to feel at home, right in the middle of Detroit," they said in their Apartment Therapy survey. "Pair that with some awesome local art and letterpress prints, and we think we honored the past and the people who worked their days away in this space, while staying true to our style and vision as well."
Apartment Therapy Survey:
Our Style: A mix of mid-century modern (both vintage and new pieces), as well as a touch of industrial to play off the historic space we were given.
Inspiration: The history of the building, with our own relaxed industrial and mid-century style infused.
Favorite Element: The original, hand-stitched, nine-foot wide, 48-star American Flag on the curved living room wall. We had no idea what we'd do with that huge wall, and found this flag with our friend Greg, an antiques dealer here in Detroit and couldn't pass it up. It makes a massive impact no matter which door you enter through, and we love the stature and history it brings to the room.
Biggest Challenge: Making it fit all of the needs of the space. This place has a lot of uses at various times (home, office, photography studio, rental, small gathering space) and we had to find ways to bring in our own style, but still make it flexible and movable enough that we could change and morph the space when we needed. For example, the wall that the record console is on was purposely kept clean and white without any hanging art. When I [Jesse]need to do a photo session, I simply move the record console and Eames lounge chair and I've got a built-in studio with great natural light ready to go. Same thing goes with most of the living room furniture, if we're ever having a group dinner or small party with friends or family, that entire space can be moved out and tables setup for a sit-down dinner in a matter of minutes. It was a challenge finding the right pieces to make that happen, but in the end we love exactly how it turned out.
What Friends Say: Friends are usually pretty well-amazed when they walk into the space. The huge factory windows, wide open space, concrete floors, and vintage furnishings and exposed original elements of the space just kind of take your breath away the first time visiting (and the 100th time, to be honest). The light that comes in is gorgeous, and the serenity of the space (concrete construction means you almost never hear any neighbors), just make for the most perfect and calming of setups.
Get the look! → Minimal, Modern & Affordable
Biggest Embarrassment: The bathroom or storage room are probably our least favorite rooms in the place. Storage room just because it's a catch-all for an apartment that has no closets or storage. The bathroom because we never really got around to infusing any of our own style in there. We're not huge fans of the green paint, and we didn't update any of the fixtures or add any decor in there. Just one of those projects that hasn't quite hit the priority list yet.
Proudest DIY: Really, one of the only DIY pieces in the space is the small dresser in the bedroom. It was garbage picked from some neighbors about three houses ago, and sanded down, stained and painted in our little garage pretty early on in our newlywed life. It's got some pretty cool mid-century leg elements to it, and the memories of finding it and putting it back together with each other makes it one of those things you never really want to get rid of. Our proudest re-purposing (albeit simple) would probably be using the vintage tool salesman briefcase as our magazine rack (complete with local and national art and culture magazines). Also, the sofa in the living room was a basic IKEA sofa from a previous office. We spruced it up by having my aunt — who is a master seamstress — tuft the back pillows and cover the buttons with matching fabric to create a higher-end, mid-century look for an IKEA sofa.
Biggest Indulgence: Honestly, besides the replica Eames lounge chair (still '60s vintage Selig), no single piece in the place cost us more than $300. There wasn't much splurging here. Much of the furniture we already had from previous places we lived, or previous projects, and what we didn't we sourced from a lot of really cool places. All of that being said though, the Eames lounge chair was a piece we've longed for years and years and we found a set of two matching ones like this on Craigslist for $650 three or four years ago. We only ended up needing one and sold the second for more than we paid for both, but we'll likely never get rid of this bad boy now. It's just iconic, and perfect for this space.
Best Advice: Stay true to the space, and stay true to your vision. The style of your decor and the vibe you put into the space doesn't have to match exactly what the building or home was in the first place. Norms would've dictated that this space would be 100% designed in an industrial manner, but extremely industrial just isn't our style, and we wanted a bit more of a cozy, lived-in feeling by bringing in some of the mid-century touches. In addition, doing this doesn't have to break the bank. We setup this apartment almost completely from scratch (bed, linens, pots and pans, dishes, furniture, etc.) with some previously-owned pieces of our own, but mostly buying from Craigslist or friends and whatever other new sources we could find that matched our design identity (Target + IKEA). The loft was setup within a month of taking possession, and for less than $2,000 spent. Good design and good vibes don't have to break the bank.
Dream Sources: West Elm, Restoration Hardware, Article.