A New Yorker Transforms an 1890s Michigan House into a Hip, Cozy Home
We independently select these products—if you buy from one of our links, we may earn a commission. All prices were accurate at the time of publishing.
About this tour
Location
Ann Arbor, Michigan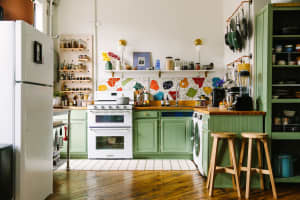 Can't-Miss House Tours Straight to Your Inbox
Keep up with our latest house tours each weekday with our House Tour of the Day newsletter
Name: Diana Marsh
Location: Ann Arbor, Michigan
Size: 1,000 square feet
Years lived in: 2 months!
After living in New York for many years, Diana decided to go back home to Michigan. But that wasn't the only big life change she made, she also purchased a house, fully renovated it AND opened a store in downtown Ann Arbor. Called Thistle and Bess, Diana's store offers one-of-a-kind treasures and goods to those seeking a luxurious lifestyle. And thankfully, after a year-long renovation process of this house, Diana can now enjoy the luxurious lifestyle she's created.
Before Thistle & Bess became the brick and mortar Ann Arbor store it is now, it was an antique and vintage jewelry line inspired by history and "unusual trinkets that tell a story." According to the store's website, the shop name was "inspired by Diana's Scottish and English heritage. The tough but beautiful thistle is the emblem of Scotland and Bess is for Queen Elizabeth I, nicknamed 'Good Queen Bess.'" In Diana's newly renovated house, this love of history is filtered through personal experience and mixed with quirky modern designs, making it both an expression of her personality and a darn hip space.
Apartment Therapy Survey:
Our Style: Collected Eclectic. I don't think that my home necessarily fits within one style, as I find inspiration from many different styles. I try to fill my house with things that make me happy, from iridescent insects that I bought at a taxidermy shop in Paris to an air plant holder that looks like a La Croix can. When you create collections of things that you love, they end up coming together to create a unique, personal style.
Inspiration: My inspiration for designing this house was the 11 years that I spent living in Brooklyn, New York (which is very evident in the bathroom) and my love of English history and classic English estates. I also find design inspiration from following the work of my style hero, Emily Henderson.
Favorite Element: My retro-style mint green refrigerator. For some reason, I was adamant that I wanted a mint green fridge in my all-white kitchen. I spent months and months researching brands and styles, until I ended up deciding to go with the Retropolitan refrigerator by Big Chill. This particular model has the retro feel and bold color that I was looking for, with a more modern size. It was a gamble to put a huge green fridge in a clean, all-white kitchen, but it definitely payed off. I adore it.
Biggest Challenge: Size and general constraints during the renovation process. The house was a cozy 917 square feet when I purchased it. I had to work with my contractors and the strict city ordinances to make modern updates to this house, which we think was built around the 1890s. In the end, we were able to design an addition that fits perfectly with the rest of the house and added some square feet and conveniences, like a first floor powder room.
What Friends Say: I asked one of my closest friends and he said that it is the perfect tiny dollhouse, for a very tiny human (I am pretty little!). I have been entertaining frequently and love how cozy the dining/kitchen area feels. Friends tend to gravitate to the dining table and kitchen island. Although the house is small, this area in particular feels open, bright and airy.
Biggest Embarrassment: There is a large hole in the exposed brick from the old fireplace. I chose to leave this original brickwork exposed. I thought it was a nice design element and added a bit of warmth to the space. There is a hole where the old radiator pipes would have come out to heat the house. I have been searching for the perfect element to hide it — a vintage heating grate or piece of art, but just haven't found the right thing yet, so the big hole remains open for all to see!
Proudest DIY: My macrame plant hanger! It is a great way to add greenery in a small space. I learned how to make it at a macrame workshop that I hosted at my shop, Thistle & Bess.
Biggest Indulgence: The Brooklyn Toile wallpaper in my bathroom. I have admired this wallpaper by Flavor Paper for years. It is screen printed in my old neighborhood in Brooklyn. After a long renovation process, I thought I was going to have to hold off on some design elements, like wallpaper, and add them later. In the end, I ended up splurging and installing this wallpaper now. It is one of my favorite parts of the house. From afar it looks like traditional French toile, but upon a closer look, you find scenes of Brooklyn, including The Notorious B.I.G. and Nathan's Famous Coney Island.
Best Advice: Stick to your gut and fill your home with things that you love! Let your personality and interests shine through. Don't take the design process too seriously, switch things up and have fun!
Dream Sources: ABC Carpet and Home, Liberty of London, House of Hackney
PAINT & COLORS
Entry — Pure White, Sherwin-Williams
Parlor (front room) — Pure White, Sherwin-Williams
Dining/ Kitchen — Pure White, Sherwin-Williams
Study (back room) — Pure White, Sherwin-Williams
Powder Room — Wrought Iron, Benjamin Moore
Guest Room — Aloof Gray, Sherwin-Williams
Bedroom — Portland Gray, Benjamin Moore